The Object of Romance: Sorry OUT OF PRINT. I have found used copies available on Amazon.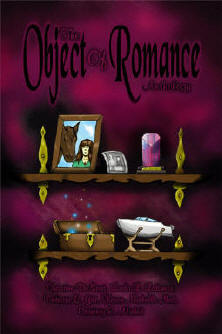 The Magic of Romance
My Novella, "Mr. O'Grady's Magic Box": "Fae Magic is powerful. Make a wish and  see what the faeries have in store for you."
In this Anthology, you will find Five stories from five authors. Each tale surrounds  an object that defines a romance and brings everlasting love.

Stolen Pleasures by Christine DeSmet
Iris Beale always dates the safe, temporary 'door mat' men—like those who make deliveries to her antiques shop. But danger lurks when Iris's boyfriend is murdered right before a burglar attempts to steal the famous 'Lady in Green' portrait. Iris comes under suspicion by her next 'door mat' man—the handsome but mysterious new cop in town, Jonathon Sparrow. Iris realizes that to break the case she may have to risk breaking her heart.
Summer Breeze by Linda L. Lattimer
A mother desires for her daughter to find love. A daughter desires her mother to stop mourning and begin anew. A young man carries a photo of the one girl he loves after all these years. Will the three be able to ease the other's pain?

Life's Choices by Patricia E. Gitt
When Elizabeth Barnes receives a coveted industry honor for outstanding leadership she finds her achievement an empty footnote to her dynamic career. Running away to Vermont to reevaluate her life's choices, she runs into Jack Lawson who unleashes emotions long suppressed during her drive for success.

Mr. O'Grady's Magic Box by Karen Michelle Nutt
Aubrey Jules, a reporter from Unbelievable Finds is sent to investigate a box, which is reputably older than time and crafted by the wee folks. Mr. O'Grady, owner of the bed and breakfast in Dana Point, California, convinces Aubrey to wish for a soul mate. When Ian Quinn, who abandoned Aubrey ten years ago, walks in she's convinced the fairies have a wicked sense of humor.

Double Booked by Courtney E. Michel
Cullen Porter is finished with dating. He wants a quiet vacation in a rental at Lake of the Ozarks where he once worked as a landscape architect. Unfortunately, he is double booked into the same house with another couple. When Mina Tracey, a fourth guest, arrives with her cherished boat, De Dame Kaptien and daughter in tow, fire works will fly during this unexpected Fourth of July weekend.

Reviews:
"It has been my pleasure to review 'The Object of Romance Anthology". These five talented authors have created a collection of stories that will grace your bookshelf. Sweet and romantic, each one is centered about an ordinary object or idea that becomes extraordinary in the light of love. I recommend it! "Reviewer: Jeanne Treat, author of Dark Birthright
"From murder and mysterious maladies to missed chances, magic, and mix-ups, this collection of contemporary shorts will keep you on the edge of your love seat." Loretta A. Murphy, Author of The Pipes Are Calling
"Each unique story has it's own symbol of love that adds to it's flare, from something as simple as the secret meanings of flowers, a once sought after award, a lovely pretty blue dress, a mysterious Civil War era portrait, and a last but by no means least at all, a Carved Celtic Box linked to the realm of Fairies and their magic. A must have for the collection of any lover of sweet romance and true love." Stephanie McGrath PNR
Magical things are important to me. Ms. Nutt weaves a story that is full of dreams coming true. Any story that involves fairies is close to my heart.
I could not get enough!
Krista
Reviewer for Coffee Time Romance