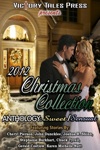 2012 Christmas Collection
Publisher: Victory Tales Press
Book Cover Artist: Laura Shinn
ISBN-10: 1480166855   ISBN13: 978-1480166851
Digital ISBN#: 9781301388271
Print $       E-book: $3.99
Available at:
Amazon Kindle
Smashwords
My story is: Mistletoe, Stakes and Yuletide Cheer
What's a hunter to do when she's fallen for the vampire she's been sent to stake?
Cassandra Hayes has been dating Tremayne Graystone, the vampire she's been sent to eliminate. To stake or not to stake is the least of their problems when masked men kidnap them and hold them hostage. They realize all they want for Christmas is a chance to make their relationship work. Kisses under the mistletoe may not make this holiday merry, but they're willing to give it a shot.
The other stories in the collection:
The Wishing Tree by Cheryl Pierson
A war veteran with visible and invisible scars, mostly a loner, meets a special woman and her son. Will he provide their tree for Christmas and change his own life forever?
Holiday Surprise by John Duncklee
Joe and Marge, once high school sweethearts, travel different paths when Joe decides to become a cowboy. Years later, on a special Christmas Eve, Santa Claus brings Joe a surprise.
Snowy Cocoon by Joshua R. Shinn
Ryan Yamada meets his former childhood email pal, Yuki Stanton, during high school. Will their friendship and blossoming love for each other persist despite her domineering father?
Gifts by Stephanie Burkhart
Will Christian and Famke's attraction interfere with them earning a spot on the Netherlands Olympic pairs skating team? Must they push aside their feelings to succeed?
Kimberly's Christmas Cake by Chuck Tyrell
The year Kimberly turned eighteen, she made an extra effort to learn lots of woman things. Would baking a special Christmas cake for Russ Taklin help prove she had grown up?
Family Heirloom by Gerald Costlow
Alone at Christmas, Marian discovers an antique angel in ornaments from the attic. When she places it atop the tree, she begins a journey through time and her life will never be the same.
Awards: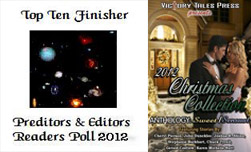 *************************************************************************************************
Reviews:
Sizzling Hot Reviews

Mistletoe, Stakes, and Yuletide Cheer is a paranormal Christmas romance. Mistletoe, Stakes, and Yuletide Cheer is Tremayne and Cassandra's story. It is a story of opposites attracting. In this case it is the hunter falling for her prey. Cassandra's family hunts down things people don't believe exist. She has been a vampire slayer for as long as she can remember. Her parents gave her a slayer kit when she was a just a girl. She was sent to kill Tremayne but from the moment she saw him she was attracted to him. Tremayne is a Vampire and he is attracted to Cassandra but she was a hunter sent to kill him. He is tormented by a past that has left a hole in his heart that no one has been able to fill. He wouldn't even let him try because he felt so guilty. Will meeting Cassandra change everything? Or will he let the past ruin their future? How will they make things work with their families are so different?
"I enjoyed the magic of the tale! My favorites were The Wishing Tree and Mistletoe, Stakes, and Yuletide Cheer. The anthology is a delightful group of Christmas stories. I loved that they were set during the holidays it added to the magic of each of the stories. I would love to read other stories by each of the featured authors. I would recommend the anthology to anyone who enjoys Christmas romances."