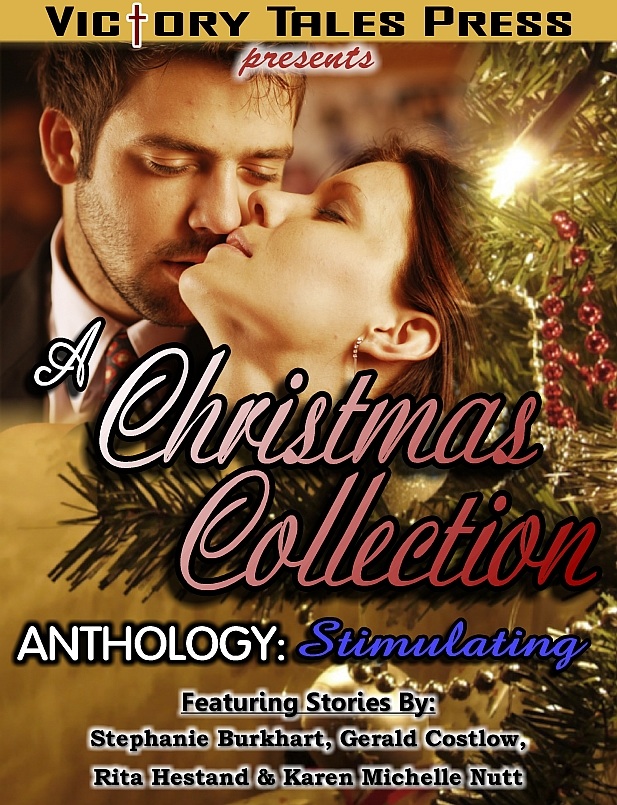 A Christmas Collection Anthology--Stimulating
Stimulating stories to satisfy your romantic cravings.
Print: 9.49        E-book: 3.99
Publisher: Victory Tales Press
Page Count: 156
10-ISBN: 1456304410
EAN-13: 9781456304416
Ebook available at:
Victory Tales Press Online Store
Amazon Kindle
Barnes and Noble Nook
Smashwords
Create Space

Print Available at:
Victory Tales Press
Amazon
Barnes and Noble
Signed Copy
Blurb
"Wanted"
Sheriff Jace Kelly's wife died giving birth to his remarkable daughter, Emma. She inherited the families' seer abilities, but being only six-years old, she has the tendency not to know the difference between a vision and just an ordinary dream. So Jace doesn't put too much faith in Emma's recent premonition: marriage for him and a new mother for her, all because she wished upon a Christmas star.
When JoBeth Riley arrives in town, Emma is convinced this is the woman she dreamed about: dark hair, green eyes and shamrocks in her pocket. Only there's one problem, she's the notorious outlaw, Baby Face Jo.
JoBeth's stay in the lumber town is meant to keep Shane Maverick, the leader of the outlaw gang from finding her and breaking her out of jail before the authorities have time to devise a plan to capture him.
JoBeth finds the Kellys a strange lot. A little girl, who believes her dreams are tales of the future and the rugged sheriff whose kindness proves a distraction. She's an outlaw for heaven's sake, but Jace is bound and determined to steal her heart.
Blurb for the other stories: Authored by Stephanie Burkhart, Gerald Costlow, Rita Hestand,
Christmas in Bayeaux by Stephanie Burkhart
The ravages of war have taken their toll on Aiden and he travels to Bayeaux, France, on a pilgrimage of sorts. Noel provides a place for him to stay and acts as his guide. Will Noel be able to help him feel again and can Aiden find what he is searching for?
Mars Needs Men by Gerald Costlow
Carla, a communication specialist, tries to help an astronaut who will be in space for another year not have an unhappy Christmas. Now she is the one with a problem. Next Christmas the astronauts will return and her secret will be revealed. Only a miracle can keep her world from falling apart.
Fast Forward Love by Rita Hestand
Connie and Ed are both widowed and everyone thinks they would make a great couple. Connie is interested, but Ed seems to have an on-again, off-again attitude that rocks her self confidence and adds to her loneliness. What is wrong with her? Or is it him?
Excerpt for Wanted:
JoBeth leaned her back against the wall of the jail, stretching out her weary limbs on the cot. For the first time in ages, she didn't fear for her life. Jace Kelly may be a sheriff, but he proved a man of honor. She couldn't remember the last time anyone addressed her as a lady. She snorted with amusement. Do I call you Miss Maverick or is it Misses? God, the man was too polite for his own good. Nice on the eyes, too, with his sandy colored strands draped over his ears from lack of a trim. Blue-gray eyes looked at her with curiosity and not disdain. He stood perhaps six feet or close to it with a build that told her he didn't sit behind his desk all day. She wondered if the good sheriff had a wife tucked away at home. Seemed like all the polite men did. They were snatched off the market the moment they were available.
"Papa, Papa." A little cherub, in the lovely form of a child came traipsing in the door. Her blonde braided-ponytails bobbed behind her like a flag. She flew into Sheriff Jace Kelly's outstretched arms.
"Hello darlin'." His large arms encircled the little girl with affection. "Where's Mrs. Gunthry?"
"Oh, you know how her old bones don't move so fast. She's right behind me, only not so close 'cause I ran." Her lips curved into a bright toothless grin.
So the sheriff was married. Had a little girl too. She was cute as a button with rosy cheeks and big blue eyes, a brighter blue than her father's. As if the little girl sensed someone staring at her, she turned. Her gaze fastened onto JoBeth before widening in surprise.
She tilted her head to the side then squealed in delight, clapping her hands together as if someone handed her a present. "She's here. She's really here."
JoBeth's brows drew together in a frown. She turned to look beside her, half expecting someone to be standing next to the cot. Her gaze fastened onto the little girl once more with a frown.
"Now, Emma, don't be making this out to be something it's not."
Her hand went to her mouth, cupping it as if she were going to whisper, but her voice rang clear as day. "She has dark hair and green eyes. Didn't you notice?"
JoBeth looked at Jace and by damn he turned two shades of red. Interesting. She looked at Emma again. Who did the child think she was?"
"That's enough, Emma. We'll talk about this later."
"But she's my Christmas present." Her hands flew to her waist and she stomped her foot with indignation.
JoBeth's brows rose on their own accord. A Christmas present, now this she had to hear.
"I tell you, Emma Kelly, you're faster than anyone I know." An older woman with gray hair and round figure strolled in with purpose. "You can't be bothering your Papa at work."
"Oh, he don't mind. Do you, Papa?" She looked up at him with her baby blues.
Good Lord, JoBeth thought. Even she'd be hard press not to fall for the sweet-as-pie expression the child gave her father.
"No, I don't mind, darlin'." He patted her head. His lips curved into a smile, but his eyes said it all. He loved his little girl.
"See." Emma faced the older woman again. "He don't mind." Now she leaned close to Mrs. Gunthry as if to tell her a secret, but obviously no one explained the art of whispering. "Did you see? She's here."
"Who's here?" Mrs. Gunthry asked, looking at the sheriff for the explanation.
"No one," the sheriff insisted, his skin still sported a nice crimson color.
The child simply would not take the hint. "My mama, she's here." Emma looked right at JoBeth and pointed her finger.
JoBeth thought the sheriff would have liked to hide under his wood carved desk, but the man apparently didn't high-tale it at the first sign of trouble. His gaze wavered over to her with an apologetic shrug.
JoBeth chuckled, enjoying the sheriff's discomfort. "Please do tell, Sheriff. Why would such a sweet angel think I'm her mother?" Her fingers feathered down her dirt-worn threads. She hadn't heard a good story in a long time and this one ought to be good.
Mrs. Gunthry looked uncomfortable and pulled the child closer to her, making JoBeth laugh even harder.
"My, my, do you think I can slink through the bars here and steal the child away?"
Emma shrugged out of Mrs. Gunthry's arms. "Can you truly slink through bars?" Her blue eyes widened with awe.
For a moment, JoBeth lost her haughty disposition wondering if she'd ever been so innocent. Then her features hardened. It was better this child knew now there were monsters in the world. She threw her legs over the edge of the cot and stood. Her steps took her to the bars. Her lips curved into a smile and she outstretched her hand. "Come here, child, and let's give it a try, shall we?"
Emma only took a step before her father's hand flew out and snagged the child by the cuff of her jacket, bringing her back to safety. "You go home with Mrs. Gunthry, Emma. I'll be along later."
Mrs. Gunthry took the little girl's hand and ushered her out of the office, ignoring Emma's complaints.
Jace turned to JoBeth then, his gaze latching onto hers with what looked like pity. This threw her off. She expected a tongue lashing at the very least.
"I'm sorry Emma put you on the spot."
He was sorry?
"She… well, she never knew her mother. It was a difficult birth and …Emma's mother didn't survive." His sad smile pulled at her heartstrings, making her feel uncomfortable. She didn't want to hear anymore, but the man obviously had mistaken her for a preacher and continued to bare his soul. "Emma had a dream last night about me finding a wife."
"And she'd have a mother again," she added understanding perfectly and wishing she didn't.
He nodded. "Yep, she'd have a mother."
She sat back down on the cot. "Guess, you should explain to her some women aren't cut out to be mothers." She leaned her head against the brick wall and closed her eyes.
"Are you one of those women, JoBeth?"
Her gaze riveted to his to see if he mocked her, but, by golly, the man stood there waiting for her to answer him.
"Were you not there when the deputies brought me in? I rob stagecoaches for a living, Sheriff. Does it sound like I'm mother material to you?"
He gave her a long, even look before he answered. "I believe there's more to you, JoBeth, than meets the eye. No one is one way or the other. We're like onions with layers needing to be peeled back so we can discover the real person."
She snorted in disbelief. "No wonder your little girl has her head in the clouds." She leaned against the wall again.
"You're all a little touched in the head here." Her forefinger tapped her temple for emphasis.
He chuckled, not in the least bit offended. "I think if you get to know us, you'll find we're a pretty likable bunch."
His sure steps took him to his desk. He plopped down in his chair, riffling through his paperwork.
Sheriff Jace Kelly and his family might be likable, but she wouldn't be here long enough to find out. Good riddance too. She didn't need their fairytale existence clouding her judgment of what awaited her outside of these bars. There wouldn't be a happily-ever-after for her.
Professional Reviews
~Coffee Time Romance~
Christmas in Bayeaux by Stephanie Burkhart
Aiden is an American soldier who after losing his parents retires from military life. He is weary and lonely so he heads to Bayeaux, France in search of some peace and in hopes of healing his grief.
Noel's family manor house has been turned into an inn and as a former foreign exchange student who stayed with Aiden and his family she offers him a place to stay in hopes he can recover from his loss.
Nine years ago when they were both teenagers they experienced strong feelings for one another but never they never acted on that attraction. Now as the holidays approach can the holiday season bring these two lonely people together and will they be open to a future together?
Stephanie Burkhart soothes both the lead characters' and her readers' souls with this lovely tale of love and redemption. While staying true to the serious tone of the hero's situation this story left me with a light heart and hope for the future.
Mars Needs Men by Gerald Costlow
Carla is a nurturer at heart, she only wants everyone to be happy. She enjoys her job at the space agency where she monitors communications between the orbiting astronauts and their friends and family.
On the eve of Christmas 2046, after an unsuccessful attempt to establish a base on Mars a group of astronauts are starting their year-long journey home in a small malfunctioning space capsule.
What started off as an attempt to protect a co-worker from heartache by stopping him from getting a "Dear John" letter in space has backfired and now Carla risks losing everything, including her job as well as her heart.
Gerald Costlow thoroughly entertains with this inventive short story. Any tale that can successfully use toilet humor while still weaving a believable love story is a winner. This one made me cry and giggle and I enjoyed every second of it.
Fast Forward Love by Rita Hestand
Connie is a widow who lives in a small town and while she loves her life and her children she is lonely. The one man she is interested in seems completely ignore her.
Ed feels he is living his life under the careful scrutiny of his small town friends and neighbors but he wants to make his own decisions not simply do what everyone expects of him.
As the coach of one of her son's Ed finally finds a chance to speak with Connie but his odd hot and cold behavior towards her leaves Connie doubting his interest.
Rita Hestand gives her readers a quick story about finding a second chance at love. Maybe it is just me, but I was a little put out by how old Connie kept implying she was. Is thirty five middle aged? I felt like the characters should have at least been in their late forties or early fifties.
Wanted by Karen Michelle Nutt
Small town Sheriff Jace Kelly's six-year-old daughter Emma has the remarkable gifts of a seer but because of her age she sometimes mistakes ordinary dreams for visions.
JoBeth Riley has made some very unfortunate decisions in her life and she is now a wanted outlaw who will be used as bait to catch her dangerous lover Shane Maverick.
Emma wished upon a Christmas star for a new mother so she believes JoBeth is the one when they take her in to their home in order to protect her. JoBeth finds herself falling under the spell of the Sheriff, his daughter and the entire town. Perhaps they both have the opportunity for a second chance.
Karen Michelle Nutt produces a fabulous old-west love story with a slight paranormal twist. Every character is so well developed especially for a short story and I look forward to seeing how many of Emma's predictions come true in the future. This was a warm-hearted entertaining holiday read.
Overall Review: This is a wonderfully diverse collection of short holiday stories great to read curled up by the fireplace with a giant cup of coffee or hot-chocolate. These tales range from a foreign feel-good, a fun futuristic, a mature modern-day and a whimsical western. The variety is sure to contain something for almost everyone's taste and these four stories can be read all in one sitting or one at a time to draw out the pleasure.
Venus
Reviewer for Coffee Time Romance & More