My Story is "The Spirit of Love"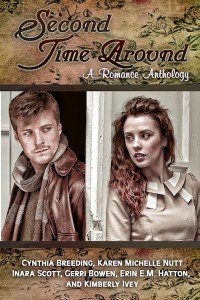 From Highland Press
Second Time Around Anthology
Romance Anthology
Cynthia Breeding, Kristen Scott, Karen Michelle Nutt, Erin E.M. Hatton, Gerri Bowen, and Kimberly Ivey Wuttke
Paperback:
Publisher: Highland Press Publishing (October 20, 2009)
Heat Level: three flames (sensual)
ISBN-10: 0982361572
ISBN-13: 978-0982361573
E-book: $6.49   Print: $9.49
Cover Artist: Cheryl Alldredge
Buy this book at Amazon Print and Kindle
E-book
Love's more comfortable the second time around. Just as wonderful with both feet on the ground . . .
Winds of Destiny

- Sitting alone in a bar on her fortieth birthday wasn't something Katherine Armand had ever planned. With her marriage over, better to pay attention to her career. A big-shot developer was flying into her sleepy, coastal fishing village to discuss building a resort. Katherine was a top-notch negotiator for her law firm. Anderson was eager for the land. This should be as smooth as sailing gentle Gulf waters. Except Anderson sent his top man to broker the deal . . . and Katherine hadn't planned on having to bargain with Michael Whitfield, the man who had broken her heart fifteen years ago, ever again.
Lizzie's Laces

- Two years ago, Lizzie Rawlston left her home in Boston for Liverpool, determined to start a new life and forget all about Tony Sinclair, the handsome packet captain who had once been her best friend-and with whom she had the misfortune of falling in love. However, Tony had made it clear he wanted only one thing in life: the sea. He didn't want to be bothered with a family, or worse, a wife. Now, with Lizzie's father sick, possibly dying, Tony has appeared to bring Lizzie home. As they race against time to get Lizzie home before her father passes away, Tony and Lizzie rediscover the magic they've always shared. But when a storm blows up, threatening the ship and all of their lives, Tony will have to confront his greatest fear. Can he love Lizzie and still love the sea? Does being the fastest also have to mean being alone?
The Spirit of Love

- A tragic accident leaves Brynna and Travis devastated. Instead of turning to each other for comfort, they drift apart. However, they must complete one more assignment-set on an old ship, The Queen Mary, during Yule, one of the most haunted times in the Celtic calendar. It is believed souls of the dead prevail and anam cara-soul friends can visit. Will Travis and Brynna confront the spirit of love, allowing them a chance to heal and find their way back to each other?
The Garden Swing

- Tess Murphy loves hearing stories from her elderly patient, Emmeline. When the woman dies, she leaves a dilapidated Victorian house that may be more trouble than it's worth. But when Tess tries out an old, unique swing in the garden, she hurtles back in time, and to the arms of the house's handsome owner, Hugh MacAllister. She faces the hardest choice of her life: to return to her own time, or to stay and become a part of history.
Only and Always You

- Ten years ago, two hearts were broken. Will Viscount Seton and Lady Claire be able to set aside their hurt and betrayal to have a second chance at love with each other?
Special of the Day

- Nick Delatorre's college sweetheart who dumped him years ago is back in town. Trouble is, she's opened a restaurant next door to his and is stealing all his customers. For Nick, revenge has never tasted sweeter, and now he's going to dish it back out-a la mode!
Excerpt for The Spirit of Love:
Travis walked by Brynna , obviously preoccupied.
"Travis," she called to him. He turned and for a moment stared at her as though he didn't recognize her. How annoying. Already forgotten and it had only been a week since she moved out.
"Brynna?" His gaze roamed over her, a slow slide from her head to her toes and back up again, finally settling on her face.
His scrutiny made her uneasy. She tucked a strand of her hair behind her ear. "Yeah. You were expecting someone else?"
"Uh . . ."
"Well, where is it?"
His eyebrows furrowed as he carefully asked, "Where's what?"
"The boxes with the props and the equipment. I had them sent ahead, but they weren't in the pool room."
"Yeah, they arrived, but because of security reasons, they couldn't leave the boxes unattended." He looked down the hall and pointed. "I was told they're being stored in one of the cabins."
"It would have been nice if someone had informed me."
He looked at her intently as if she'd spoken a foreign language and couldn't decipher meaning of her words. "Uh . . . well . . . the manager couldn't reach you on your cell. So they called me."
"Hmm. I see." She couldn't understand why he'd lie to her about the manager trying to reach her, but his nervous stance and the tensing of his jaw gave him away.
"Do you want to check it out?" He motioned with a quick nod toward the hall.
She didn't answer, but walked past him expecting him to follow . Instead, he stood frozen in his spot. She turned to look at him. "Are you coming?"
"Yeah, right behind you."
* * * *
Travis couldn't believe how she looked—energetic, so alive. She wore her favorite jeans that hugged her in all the right places, and he liked the way the green long-sleeved shirt brought out the color of her eyes. He scrubbed a hand across his face as a dangerous curiosity danced inside him. Why was she here? That hadn't been part of the plan.
She wore her golden-red hair loose and tumbling carelessly down her back, enticing his fingers to slide through the stands. Blood pounded in his temples as he absorbed the idea of working with her again. He had loved her so much. Who was he fooling? He still loved her. It had been so difficult to let her go, and now she was here, speaking civilly to him—a complete contrast to the last time they 'd spoke.
He accepted the blame for their marriage ending. He'd screwed up big time. The moment he had opened the hotel room door in London, he should have closed it again. Instead, he allowed his loneliness to rule, and invited Tanya in for a nightcap. They polished off two bottles of wine and in the morning he woke up in bed next to her.
He would be the first to admit his guilt , but for the life of him, he couldn't remember sleeping with her. Making it even worse, he didn't even like Tanya or her crass ways of doing business. So, he not only hurt the woman he adored, but had insulted another, all in one night.
Tanya couldn't wait to tell Brynna about the one-night stand. Her way of getting back at him for rejecting her, he supposed. Brynna packed up her belongings and moved out, though mentally she 'd moved out months before that.
"Earth to Travis." Brynna snapped her fingers. "Quit the daydreaming. We have work to do."
Travis blinked, coming back to reality and looked at the woman he would always love. God, she was as beautiful as he remembered. B oth delicacy and strength were in her face, and her skin held a smooth color of peach-tinted cream. His eyes lingered on her lips. He wanted to reach for her, pull her into his arms, but he hadn't the right. Not any longer.
"Are you going to help me or not?" She clearly wondered why he was staring at her.
He nodded and set down his camera cases. "I didn't think I would ever see you again."
Her brow arched . "I know I haven't been reliable lately, but we co-own 'Smith and Jones' or have you forgotten?"
"No, I haven't forgotten. I'm just surprised to see you is all. You haven't joined the team on an assignment in a long time."
"I wanted to be here for this one. I . . ." Her gaze met his. "I need this." One shoulder lifted in a shrug. "Is there going to be a problem?"
"Of course not." He never wanted anything is his life as much as he wanted to work with her one more time.
"Good, because it's going to be a long night. Who else is showing up?"
His cell vibrated, making him jump. The theme music from the Ghostbusters' movie broke the silence. He didn't move.
"Are you going to answer that?"
That snapped him out of his trance. "Yeah, of course." He walked away as he flipped his phone open. He spoke to the caller briefly then turned to Brynna. "That was Kenneth. The others already said they couldn't make it, and now Kenneth bailed. He forgot about his nephew's Christmas concert." He tried to smile, but it felt more like a grimace. "It's just you and me, kid. Like old times." He held his breath waiting for her to respond.
"I'm okay with that. Working together is the one thing we do well."
"Ouch."
" Sorry, I didn't mean it as a dig." Her chin jutted out with resolve, disproving her statement.
"I guess I deserve it." He gave her a loose-muscled shrug to show her remark hadn't hurt, yet her words stung like needles and his voice betrayed him.
Her features softened and she closed the distance between them. Her light caress on his forearm made him flinch and her hand fell away. "I don't want to fight."
"I don't either." He reached for her, but had second thoughts and shoved his hands in his pockets. "I never meant to hurt you."
"I know. I didn't mean to shut you out."
He swallowed the lump of emotion lodged in his throat.
"Come on." Her eyes sparkled with the possibility of adventure. "The ghosts are waiting to be found and we have work to do."
Professional Reviews
~RT Reviews~



RT Reviews

RT Rating
A wonderful romp. These authors hit the nail on the head in their forays into the mysterious realms where people go bump in the night. This anthology has four pure gems and two well-done tales.
Karen Michelle Nutt enthralls with a married couple who must complete a paranormal investigation aboard The Queen Mary in "The Spirit of Love." Erin E.M. Hatton introduces Tess, a nursing home worker who inherits a house with "The Garden Swing" — a magic swing that allows her to travel through time.
Gerri Bowen's "Only and Always You" has an ice-cold Regency viscount melting when a lady from his past reappears. Cynthia Breeding's divorcée heroine deals with her ex in "Winds of Destiny"; she needs to close a real estate deal, and he needs a shot at redemption.
In Kirsten Scott's "Lizzie's Laces," the captain reappears to take Lizzie across
the ocean to her sick father, and romance blooms again. Kimberly Ivey Wuttke's humorous "Special of the Day" has grudge-holding college sweethearts running competing restaurants. (HIGHLAND PRESS, Oct. 2009, 208 pp., $9.49)
Reviewed By: Amy Lignor
~Paranormal Reviews~
Paranormal Reviews
"Fantastic collection of stories of love, the second time around"
This is a collection of stories of love, the second time around. There are six stories included in the anthology. I will comment briefly on all of them.
WINDS OF DESTINY:
This story was one of reconnection, and rekindling a love that still burned, even if it was somewhat buried away on Katherine's part. It's made clear from the very beginning that she is still attracted to him, and that Michael never stopped loving her. I thought that the two main characters were believable and that Katherine fought a very believable conflict: should she allow herself to become vulnerable and love Michael again, or should she just walk away? I really enjoyed this story.
LIZZIE'S LACES:
This historical mostly takes place on Tony's ship. I like historicals, and this story did not disappoint. As it's a shorter story, it has to move faster than a full-length novel, and I think the pacing was well-done. I enjoyed this story as well.
SPIRIT OF LOVE: After a tragic accident devastates Brynna and Travis's marriage, they drift apart. But as paranormal investigators, they must complete one more assignment together, on The Queen Mary during Yule, the most haunted time in the Celtic calendar. It is believed that during Yule, anam cara (soul friends) can visit. Will they be able to reconnect and heal the rift between them?
This was one of my favourite stories in the anthology. There was something about the setting, and the concept of anam cara that appealed to me. Travis and Brynna's backstory—the accident that tore them apart—is touching and devastating at the same time, and I can understand why an accident like that would have torn them apart. There was a twist in the story that I was able to figure out, but the story didn't end there. Instead, there was another twist that allowed for a happy and positive ending. I thought that both plot twists added to the depth of the story. I thought this was a fantastic read.
THE GARDEN SWING:
I'm usually wary of time travel stories, but I enjoyed this one. However, from Emmeline's stories, I knew the ending would be bittersweet. I'd hoped that there would be another explanation for the ending as told in Emmeline's stories, but unfortunately there wasn't. Regardless, it was a touching love story, especially since Tess embraces her future, even though she knows what will happen to her.
ONLY AND ALWAYS YOU:
I liked this story, but it seemed a bit too brief for me to truly get to know the characters, which was unfortunate as they were both interesting characters and I wanted to get to know them a bit more. My favourite scene in the story is Lady Claire's showdown with Viscount Seton's mother. It showed Lady Claire's feistiness, but also her ability to stand up for herself.
SPECIAL OF THE DAY:
This is my other favourite story in the anthology. It is more light-hearted than the others, and I loved reading about the sniping between Nick and Sunny. They're both still clearly attracted to each other and are hiding the fact that there is something there. As a result, they seem to be channelling that attraction into antagonism, which leads to some witty and sarcastic conversation. I thought the two characters were great, and I wouldn't mind reading a full-length novel about these two.
Overall, I thought this was a great anthology. The stories are all different, and yet they all present the idea that love is out there for everyone, even if it takes a little longer to find that special someone. All of the included stories were great, and they all stood out for me in one way or another. I highly recommend this anthology.
Reviewed by Charlotte Cowie
Posted June 20, 2010
~Night Owl Reviews (NOR)~
4 Stars!
As far as romance anthologies go this one had several stories that will stay with me for a long time. The key to great storylines is the unforeseen occurrences that can alter and change a reader's perspective by the end of the story.
1. Winds of Destiny by Cynthia Breeding
When Michael returns to town to seal an important sale, Katherine will have an important decision to make as to whether to she forgives him for what happened 15 years ago and can have a chance at the happiness she so desires.
2. Lizzie's Laces by Kirsten Scott
Lizzie and Tony have a new chance after 2 years of separation Lizzie's father has taken ill and Tony has come to bring Lizzie back home to see him. Will Tony see that he can have a life at sea and a life with Lizzie, and will Lizzie let him back into her heart after his rejection 2 years prior?
3. The Spirit of Love by Karen Michelle Nutt
Amazing storyline of love lost and love found in the strangest of places. Brynna and Travis meet again after a separation due to a tragedy in their lives. I must admit I saw this one coming, but I loved the story of haunting pain and forgiveness.
4. The Garden Swing by Erin E.M. Hatton
Another favorite of mine, in this story Tess and Hugh meet across time. The unlikely encounter occurs after one of Tess' convalescent patients passes away and wills her home to Tess. Lots of surprises and tough choices are made in this short story. Leaves you thinking, how far would you go for true love?
5. Only and Always You by Gerri Bowen
Historical short story of love lost and reunited. Harry and Claire were sweethearts, but because of her unsuitable Irish background, Harry's mother intervened and meddled in their affairs by causing misunderstandings that sent Claire off to marry another man she did not love. Interesting storyline and manipulative/meddlesome characters bring to life a second chance at love for these two broken hearts.
6. Special of the Day by Kimberly Ivey
Present day tale of love lost and re-discovered in, of all places, Galveston, Texas. Nick and his high school sweetheart lost touch in college, when he needed to return to help his father through an illness. Hurt feelings and competition ensue; will they be able to forgive each other for decisions made in the past to save their future? This fun story is a great way to end a delightful anthology.
Reviewed by: Lydia Ferrari
~Coffee Time Romance~
Ratings: 4 Cups
Wings of Destiny by Cynthia Breeding
Katherine Armand wants to forget all men after her husband cheats on her with some Barbie doll. With her marriage gone, she concentrates on her career.
Michael Whitfield takes over the land deal negotiations when an associate has a family emergency. It was like icing on a cake running into Katherine again.
Katherine is trying to enjoy her birthday alone when she meets a handsome man at the bar. She had no idea it was Michael who broke her heart years before. No longer married himself, Michael wants to push the card with Katherine. Once he is able to explain the past years, he is certain she will take him back. Will Katherine give her heart back to the man she ached for all those years ago, or will business be the only thing on her agenda?
I really loved this story especially when Michael referred to Katherine as exquisite. They are a loving couple with romance and passion that ignite. Cynthia Breeding incorporates a story that kept this reader tuned to every page, anxious to learn what would happen to Katherine and Michael.
Lizzie's Laces by Kirsten Scott
Lizzie Rawlston has never forgotten Tony or his icy-blue sardonic eyes that mesmerized her. When she learns her father is ill, she immediately joins Tony on the ship.
Tony Sinclair knows Lizzie will do anything for her father. With the love of the sea in her bones, can he survive being in close accommodations with her on the journey?
Lizzie is certain the only reason Tony is at her home is due to her father being ill. She knows it could be nothing more but about her father, certain he no longer cares for her. After hearing about her ill father, she jumps at the chance to go see about him and bring him home. It makes no difference that she will be on the ship with Tony for twenty-five days. The sailing does not bother her since she has always enjoyed the water, but being so close to the man she still loves may present a problem.
Kirsten Scott paints a visual description of the characters, in the story that allowed this reader to get a good scope of everything happening. The wonderful dialogue made this story a page-turner. Lizzie was strong and adamant, and I loved her character. The way Ms. Scott allows Lizzie and Tony to make eye contact is sweetly crafted.
The Spirit of Love by Karen Michelle Nutt
Brynna Jones was a paranormal investigator in San Diego when she first met Travis on a ghost tour. They eventually married, had a son, then complications arose tormenting her soul.
Travis Smith is a certified ghost hunter who fell in love with Brynna and married, forming the Smith and Jones Paranormal Investigations.
It was ten years ago when Brynna and Travis found each other. Three years later, they had a son, but an accident and an affair soon sent their marriage into a separation. Many times Brynna blamed Travis, but in reality, she had never been there for him after the accident. Travis blamed himself for the marriage falling apart. When they are called to handle some business on the Queen Mary, they can only hope love will play a huge part in reuniting them again.
Karen Michelle Nutt fashions a loving story to read again and again. She crafts lovely players that instill just the right amount of paranormal twist to give this reader thought. I love how she spins a tale that stays with the reader once the story is finished.
The Garden Swing by Erin E. M. Hatton
Odessa Murphy, or Tess, cannot believe a dear old woman leaves Tess her lovely home when she dies. Tess had been nice to the elderly woman and this gift is too much.
Hugh MacAllister is the owner of the old house and finds Tess quite unique when they meet. He wants to keep her an active part of his life.
After Tess looks through the old Victorian house, she knows she cannot sell it. When she sees a swing in the yard that seems to beckon her to it, she sits on it and is transported into another time and place. After she meets Hugh, the actual owner of the house, they form a loving bond. Their time together turns to love and romance, but where will their love go if Tess returns to her time?
I found it enjoyable when Tess had the encounter where she was suspected of being a call girl. It was fascinating watching Tess revert to different era. I adore the way she and Hugh casually get to know each other. Erin E. M. Hatton transpires a story that is worth reading again. I love the ambiance spun around Tess and her journey back into time. This is a story truly composed from the heart.
Only and Always You - Gerri Bowen
Harry Seton rides daily and is a solitary rider. Once his sisters are married, he plans to retire from society and stay to himself, since his love married another.
Lady Claire had her reasons for not marrying Harry. Now that she is a widow and returned from India, she hopes to be able to meet with Harry again.
After ten years, Claire still remembers how she and Harry and Claire use to make each other laugh. Still she has not forgotten either how he broke her heart. He likewise still bears the hurt inside where she broke his. Others saw him as ice water Seton, but she saw him as warm and caring. His mother pressed Harry into believing all Claire wanted from him was his title. When she married another, Harry realized his mother had to be correct. When Claire and Harry make a connection again, will his mother break this couple up again, or will the two finally make a stand for each other?
This story had this reader mesmerized. I was saddened, then happy, then anxious with worry for Claire and Harry. The twist with the mother is a nice addition, even though I wanted to choke her at times. Gerri Bowen incorporates a good pen of a read, not only heart-warming but left an impression on this reader.
Special of the Day – Kimberly Ivey
Nick Delatorre only wants to run a nice restaurant to keep the business afloat. When the once love of his life tries to outdo him, he decides to take her to court.
Sunny Day, an ex-model and former soap opera diva, opens a restaurant. She wants to offer her customers healthy choices and not greasy food like her competitor, Nick.
Nick cannot afford to go into a major hole because Sunny's restaurant plans to outdo him. Taking her to court had been a mistake, made even more ridiculous by the Judge's ruling. Now for a week they must eat at each other's eatery until they earn each other's respect. This was not a good way to try to get back the girl he lost fourteen years ago. In fact, it only irritated Sunny even more. Sunny shut Nick out years ago. She does not wish to hear any of his explanations, but being forced to eat in his restaurant for a week allows her to see him differently and the same is true for Nick. But is it enough to help them find what they lost years ago?
I love this delightful read. Kimberly Ivey instills rounded characters with a great sense of humor as they work through obstacles. She creates a story visual enough I could picture the whole scenario in the restaurant and the way Nick and Sunny egged each other on. I loved the part about the salad. I haven't tried the coconut pie recipe yet, but I am sure it is going to be very tasty.
From betrayal, to broken hearts, to finding love again, Second Time Around has a story for just about anyone. The authors really know how to spin some tales and even include some twists along the way. They have created delightful reads that this reader could connect with in many ways. I think the one with Nick and Sunny is one that I will always remember, especially when going to an eatery. Lizzie and Tony will always pop into my mind when I see a boat, for sure. Brynna and Travis will be in the back of my head when I watch Ghost Hunters. I found the story of Tess and Hugh nostalgic, and it will stick with me through many things. As for Claire and Harry, whenever I see lovers holding hands, I will most likely share fond memories of their story. So you see, these fine ladies created stories that will always stay fresh in my heart; ones that I will treasure forever.
Cherokee,

Reviewer for Coffee Time Romance & More