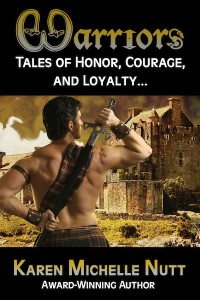 Publisher: Rebecca J. Vickery Publishing
Print: $8.50  Ebook: $2.99
ISBN-10: 1493600931
ISBN-13: 978-1493600939
ASIN: B00FCTL1Y8
SW ISBN: 9781311585264
Heat index: sensual to stimulating (3 flames) Pages: 180
Cover Artist: Karen Michelle Nutt
Available at:
Ebook: Amazon Kindle /Smashwords / ARe / OmniLit /Nook
Print:
Amazon / Barnes and Noble / Book Depository / Createspace
Blurb:
Bestselling author of "Soul Taker" and "Storm Riders" ~ Karen Michelle Nutt ~ offers three of her favorite tales of daring romance in this collection.
Love's Eternal Embrace (Medieval Vampire Tale)
One of the Knights of Templar, Liam Cantwell knew his destiny lay elsewhere, but he never thought it would be in the arms of of the legendary Dearg-du. He wants her, but her Love's Eternal Embrace could prove his demise.
* * * * *
Heart of a Warrior (Goddess Tale/Fantasy)
Trey Brennan knew he was dying, but he awakes in another realm where the goddess Scáthach wants to teach him to be a warrior. He is sure he's dreaming, but what did he have to lose? He would train and he would fight. Perhaps his destiny on the Isle of Skye would also change his path in his world.
* * * * *
The Devil's Wolf (Historical Romance)
Lady Catrione Johnstone knows of the Devil's Wolf and his ruthless exploits. However, the myth is nothing like the man. In his arms, she forgets he is her enemy. Will the magic of love bring peace to the feuding clans or will it only inflame the hostilities?
Excerpt for Love's Eternal Embrace
He'd fought wars, slashing his sword at the enemy and never had Loucetios run away in fright. Yet here he remained abandoned within the haunted forest.
He sat up and regretted the movement as his eyesight wavered in and out. His vision caught movement, light, and a blur of color. His hand went for his sword, withdrawing it. The sharp scrape of metal added to the wails of the wind.
Wanting to meet his foe on his feet, he moved too quickly, causing the world to spin. The whirl of colors taunted him like he was the prey about to be devoured. "Who goes there?" He whipped around at a sound behind him, causing his vision to dim to black. He fell backwards like a felled tree, but before darkness overtook him, he could have sworn he heard a woman's soft whisper.
"You are mine now."
***
Excerpt for Heart of a Warrior
"I'll allow you to dress then meet me outside. You don't have much time to prepare."
He frowned in confusion. "Prepare for what?"
"To meet and destroy the enemy of course." She didn't wait for him to question her further, but whirled around and left the tent expecting him to do as he had been told.
Enemy? Fight? "What the hell?" He glanced around him. Maybe he had hit it on the nail. Maybe this was hell and he would be tortured by having a beautiful woman within his grasp but unable to have her, but have to wage war on some unknown enemy for further punishment. He may have never been a saint, but he hadn't lived a wicked life. He worked hard, paid his taxes and cared for his nephew as if he were his own son. Why was he being punished? There was only one way to find out and she was waiting for him outside the tent. He was no coward and would meet whatever challenge awaited him.
He grabbed the clothes.
***
Excerpt for The Devil's Wolf
Waylon glanced at blood oozing from the cut, a flesh wound only. His pride stung more for allowing the youth to take him unawares. "Now ye've done it." Waylon leveled his gaze on the lad. "We are done here." He charged the lad, lashing out mercilessly. The lad was wearing down, but he refused to surrender. With swirl of Waylon's sword he swung up, flipping the weapon from the lad's grip and pushing him down. Waylon was upon him, his sword at the lad's throat.
"Stop!" the priest shouted, running forward. "Please, I beg of you do not kill her."
"Waylon's gaze riveted to the priest. "What say ye? Her?"
"Do not listen to the old man. He is senile," the lad claimed. "Do what you must and be done with it. Slit my throat. I am ready to die an honorable death."
"No, I say," the priest begged. "Forgive me, my lady." His gaze turned toward the lad. "I cannot stand by and see you slain."
"Mi'lady!" Waylon took hold of the helmet that hid the lad's face and yanked it off his head.
Waves of dark tresses came tumbling out and wide sea-green eyes met his with alarm.
Waylon's mouth dropped open. He had been about to slash the throat of a mere lass. "By all that is holy, are ye mad?" He yanked her to her feet. His gaze took in the length of her and he reprimanded himself for being so blind. Every curve stood out now that he knew the truth. He pursed his lips together. "The lady Catrione, I presume?"
Reviews:
Praise for Love's Eternal Embrace
"Nutt pens a haunting romance filled with yearning and heartbreak in "Love's Eternal Embrace." 
~Stephanie Burkhart, author of the Budapest Moon Series and Victorian Scoundrel~
"I love the dark, gothic tone that complements the overall story so well. There is a mystical feel to the sensual encounters between Liam and Glamis that is poetic and inspiring."
~Laurie, Reviewer, Coffee Time Romance and More~
Praises for Heart of a Warrior
"Knowing people who have fought the tumultuous battle of cancer the premise of Heart of a Warrior is fantastic, and I wish it were true.  I absolutely love the idea that if you were to prepare and fight in a dream world it might have impact on reality. I found Heart of a Warrior well written, a great fast read, and a wonderful concept."  ~Tanya, Joyfully Reviewed~
----------
"I really enjoyed this short novella. I found the plot, characters and unique twist of the story to be very entertaining and captivating. I think that this book would have the potential to be expanded and wish that there were more to it. Despite the quantity of the words, the quality of the novella was superb. I would have no problem recommending this book to someone who wants a short erotic and romantic adventure to escape to for a bedtime read." ~Bitten by Books~
* * * * *
Praises for The Devil's Wolf
"I got swept away by this story. Michelle Nutt went with a Scottish legendary feud between two families in The Devil's Wolf. From the capable pen of Michelle Nutt, The Devil's Wolf is yet another skillfully drawn picture of romantic times gone by." ~Reviewer~