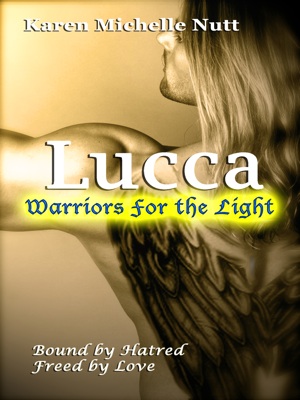 Paranormal/urban fantasy/time travel
Print: $11.95  E-book: $3.99
ISBN-13: 978-1461127680
ISBN-10: 1461127688
Digital ISBN
978-1-4581-3354-0
Pages: 253 (approx. 100k words)
Rating: three flames (some violence)
Book Cover Artist: Karen Michelle Nutt
E-Book
Amazon Kindle /Nook /Rebecca J. Vickery Publishing LuLu Store /Smashwords /iTunes
Print
Amazon / Barnes and Noble /Rebecca J. Vickery Publishing
Lucca Marlowe is half human, half angel, one of the Nephilim. Banished for crimes against one of his fellow brethren, the elders bind his glamour and wings, casting him to the human's realm. He'll either learn to respect his human side of existence or live out eternity trying.
Lucca does not live a mundane life. Angels and demons demand he do their bidding. His estrange father resurfaces after centuries of being absent and he's brought a friend from Hell.
To make his life more complicated, he fears he found his soul mate in a human female. Only Juliet Romeo has a secret that will bring the wrath of Heaven down upon their heads.
It's a race against time to find out who will end up with his soul.
Excerpt:
Chapter Four
Lucca had passed by the shops of the strip mall, halting in front of the Laundromat. He inhaled again and his body shuddered with pleasure, his pulse quickening at the sensation that swamped his body. "Dear Lord." The fragrance came from within the Laundromat. His brows furrowed in disbelief. The scent couldn't be laundry detergent, could it? If so, he wanted a bottle or two to take home.
The white walls of the Laundromat made the place look large and clean. Dryers lined against two walls and the washers were down the middle of the room, eight in all, four in a row lined back to back.
One quick sweep, told him only two humans were in there. His gaze landed first on a boy who was about nine or ten years old. He was a human male with light hair, a towhead as human's would call the shade that looked like moonlight. Then his gaze focused on the female standing beside him, perhaps the boy's mother. The female's locks were a warm color kissed by the sun, making the strands a light reddish blonde. She wore it back away from her face with one of those clippy things he'd seen so many females wear when the weather turned warm, but the majority of the length cascaded down her back in waves of sunshine. The jeans and T-shirt were nothing special, but she might as well have been clothed in fine threads befitting royalty. The cloth flowed over her skin as if they'd been tailored to the way she moved, flattering all her curves.
"It's her." His voice came out in a hoarse whisper even he didn't recognize. The scent wafted off of the female and he must know why it drew him. Why she'd chosen to wear it like a calling card.
Gideon had caught up to him and stood beside him now. His heavy gaze locked onto him. No doubt wondering what held him captive. No longer one of the Watchers, he didn't need to explain his motives. The Watchers left him on his own. They wanted him to interact with humans, learn to respect them. What a better way to do so than by introducing himself to this female. Then he'd find out where she bought the perfume she'd doused herself with and be done with her. His hand gripped the handle of the door, but Gideon's words halted him.
"What are you doing?" Gideon followed his line of vision. "Do you know her?"
He didn't, but he planned on rectifying it. He pushed open the door and entered. He closed his eyes as the intoxicating fragrance poured over him in waves of ecstasy, making him dizzy with lust. "Dear Lord." His eyelids popped open and his gaze riveted to the human female. He wanted her, needed her. The thought consumed him, taking over every other thought.
The female stared back at him. Her eyes, the lovely shade of green wavered over him, assessing the situation. He could see the warrior response in the depths of her eyes. Should she flee or fight? Her back stiffened and her chin rose in defiance. He noticed her hand moving to the back of her shirt. Dagger? No, this was the twenty-first century. She most likely packed a gun. It didn't matter. He had to reach her, touch her to prove she was no illusion.
He moved with purpose, ignoring Gideon who had entered behind him, ordering him to stand down.
What an odd demand. They weren't on a battlefield.
Reaching the woman, he leaned near and inhaled the featherlike remnants of pine. "Rosemary." Soothing, cool… Mint hit his senses next before a sweeter, smoother fragrance teased him. The combination of all three at once proved his undoing. His gaze swept over her. He wanted to kiss her…every inch of her. His eyes narrowed with suspicion, wondering if the woman enchanted him. "What are you?" His voice was raw with emotion.
Her lovely arched brows drew together. He could sense her uneasiness and she jerked away, but didn't run. "Did you just sniff my hair?" she asked.
Even her smooth and musical voice enticed him. "What enchantment have you cast? The scent, the perfume you wear, what is it?"
Her frown deepened and her gaze wavered over his shoulder. Probably looking at Gideon for an explanation, but when none came, her gaze met his again. "I'm not wearing any perfume."
"You lie," he spat, not believing her.
Gideon placed a firm hand on his shoulder, gripping it tight in warning. "You'll have to excuse my friend. His medication has him—"
"I'm not on medication," he snapped. He caught sight of the young boy staring up at him with wide eyes. The child moved closer to the female, wrapping his small arms around her and leaning against her side. The action was not so much as if the boy feared Lucca, but to show him, he would protect the woman.
Brave lad.
"He's not himself," Gideon insisted and squeezed his shoulder again, a warning he couldn't fathom. "He means no harm. Do you, Lucca?"
Harm? Lucca was taken aback. Of course he didn't mean any harm. He just wanted to ... ravish her.
Professional Reviews:
Lucca Marlowe is one of the Nephilim, a child born from the mating of a human and an angel mentioned in the bible.  Taught in the cruelest way possible to hate humans by his angel father, Lucca is banished for the attempted murder of one of his brethren.  Forced to live among the hated humans, the elders bind his wings and his magic, referred to as glamour, to prevent their use.  He may only regain their use and rejoin his brethren when he learns to respect humans and the part of himself which is human.  Even if it takes all of eternity.
Working as a private detective in the world of humans, Lucca must follow orders from angels and demons.  His father, a source of fear and humiliation, has resurfaced after centuries of absence and brought an evil being from hell with him.  Then the horrific murders begin.  Once forbidden to bed humans, Nephilim are now encouraged to find their soul mates.  Lucca, who once scoffed at this recent decree, finds his true soul mate in the human, Juliet Romeo, but the secret she keeps may destroy them both.
Karen Michelle Nutthas written an exemplary story with a wonderful world building and character motivation.  Lucca: Warriors for the Light will break your heart, and then put it back together again.  Although Lucca's story can be read as a stand-alone, I highly recommend reading the story of Eli: Warriors for the Light first to fully grasp the change which occurs in Lucca from his condemnation to his redemption.  I loved the way Ms. Nuttintertwined the real history of Kit Marlowe and Will Shakespeare into Lucca: Warriors for the Light.
I have a very different view of Arc Angels after reading Lucca's story.  The character of Juliet Romeo is powerful and her love for Lucca is undeniable.  Juliet is a heroine to be reckoned with.  There are many secondary characters I would love to see have a story all to themselves such as Owen, Zaiden & Sarice, Blaize and Raziel.  I see that Gideon's story is next and I look forward to reading it, having become addicted to Ms. Nutt half-angel series.  I also enjoyed reading about the resources used by Ms. Nuttand learned Doug's Downtown Grill happens to be a real place.  Readers beware; The Fallen Angels Novels are addictive.
Reviewer: Mac at TwoLips Reviews
TCM Reviews Highly Recommends Lucca: Warriors for the Light!
"This is an excellent paranormal romance novel in the style of Kelley Armstrong that will leave you waiting for the rest of the novels in the series. I highly recommend this to anyone who enjoys this genre." Kristin Arpin, TCM Reviews