All prices are verified before the Paranormal & Urban Fantasy Bargains are posted, but prices are subject to change. Please be sure to verify the price on Amazon before downloading a book.

Don't miss out on these hot daily deals at PNR Books.

Featuring books up to $2.99!
Don't have a Kindle? Don't worry. Read with the FREE Kindle App
.
Word count between 7000-35,000 words.
Hart Medical Romances
All romances will take place in someway at Hart Medical, a fictional hospital located in the 'real' town of Hartsville, SC.Get your dose of romance, STAT!Stories may be about a wounded hero or heroine who ends up at Hart Medical. The story could center the staff, one of the nurses or one of the doctors. It could be about a person who runs the coffee shop inside Hart Medical or the gift shop owner, or a flower shop owner.Adjacent to the hospital, Hart Medical has a Medical Office Building that houses the Hart Medical Sports Medicine and Rehabilitation Center and Cardiac Rehabilitation Department. Stories can be centered there also.
Stories may also be themed around the town's yearly real time events like Arbor Day, Christmas tree lighting, an annual dance. Or make up your own fun event.Genre: M/F (Sweet to Sensual) Romance should be the main focus, but you may add your own special twists to the story as long as Hart Medical is also a part of the story too. Holiday themed is welcomed as well.
***Each story accepted will be published as a single eBook to promote the series.***Series Box Set: 4-5 stories will be chosen by Victory Tales Press to be featured in a box set with special pricing for promotion and holiday sales. (eBook and print)Interested? Then please check out all the details at VTP before submitting your tale.
https://victorytalespress.com/coming-soon---news---announcements.php
***
Coming soon!
Unofficial Blurb for End of the Road
Lars Gunner, the frontman for Silent Plaids, died 23 years ago and is trapped in limbo until his daughter, Cecilia, unearths his journal and is able to see him. His death was ruled an unfortunate accident, but he's convinced it had to be murder despite the fact he can't recall what happened in his last moments of life. Cecilia seeks the help from Kaleb, a psychic, but as they resurrect the past, the secrets and lies surrounding Lar's rock and roll life may end up the death of them too.
***
Oct. 2016 Releases
Two Worlds Collided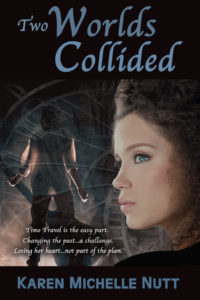 Print: $10.98 Ebook: $2.99
#10 ISBN 1539707121 #13 ISBN 978-1539707127
#ASIN- B01M5ENGMO SW ISBN-9781370872848
Heat index: 17+ years and older
Pages: (about 63k)
Cover Artist: Karen Michelle Nutt (Gillian's Book Covers)
Available at:
Ebook: Amazon / Amazon UK / iTunes / Smashwords /Nook / Kobo
In Print: Amazon / Amazon UK / Barnes and Noble /Createspace

About Two Worlds Collided:
Evie Reid on a whim agrees to travel back in time to 1997 to change bad boy Bellamy Lovel's path of destruction. She's smart with a college degree, but she is still fan-girl crazy for the rock band, Civilized Heathens. Evie knows despite all Bellamy's smiles and enthusiasm on the stage, he's destined to end it all on one lonely night in a hotel room unless she can change his path.
Bellamy isn't keen on having Evie as his personal assistant, hired by his band mates to watch over him, and keep him on schedule. However, there is something about the woman that sparks his interest, despite his best to ignore her. When darkness threatens to consume him, he realizes she may be the only light that will chase the shadows away.
Let's have Wonderful 2017!

Karen Michelle Nutt
Website
Blog
Amazon Author Page
Facebook
Twitter
*********************************************************************************************
Works in Process

Smoke and Mirrors
Another story involving Garran, Harrison, and Isabella. When the dead don't stay dead, the trio sent out to find the Jinn responsible for playing puppet master.
Works in Progress: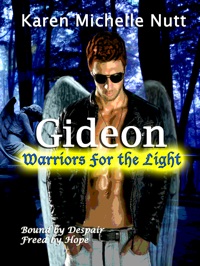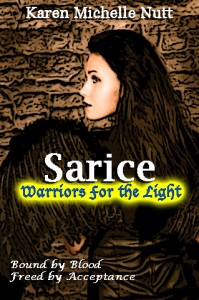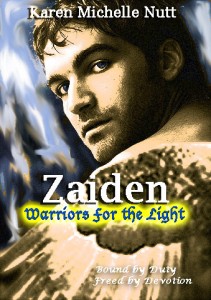 ********************************************************************************************************************

Hell has never been so Heavenly.

************************************************************************************************************
Poetic Justice- Werejaguar Tale
Soul Mate- Time Travel
Save
Save
Save
Save
Save
Save
Save
Save
Save
Save
Save
Save