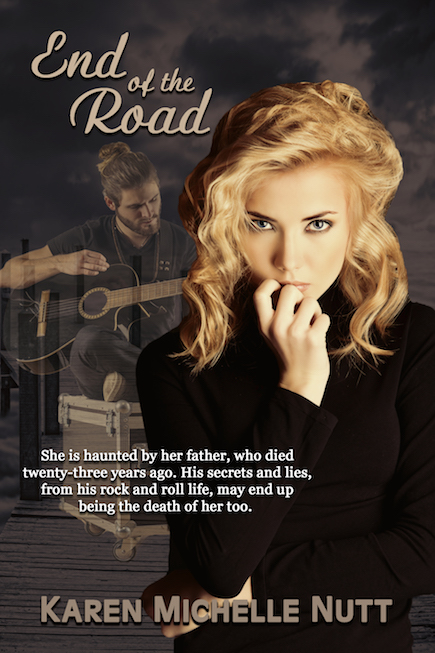 End of the Road (Rock Star Romance)

(Ghost story/mystery/romance)
Rated: *Some language (17 years and older)
ISBN-13: 978-1976310584
ISBN-10: 197631058X
SW ISBN: 9781310385797
About the Book:
Lars Gunner, the frontman for Silent Plaids, died 23 years ago and his death was ruled an unfortunate accident. Despite the fact he can't recall what happened to him in his last moments of life, he is convinced he was murdered. He has been trapped in limbo until his daughter, Cecilia, unearths his journal and is able to see him. She seeks help from Kaleb, a psychic, but as they resurrect the past, the secrets and lies surrounding Lars' rock and roll life just may be the death of them too.
eBook: Amazon/ Amazon UK  / Barnes and Noble  / Smashwords / iTunes /Kobo
Print: Amazon US / Amazon UK / Barnes and Noble / Book Depository/ Createspace
Excerpt:
(It is coming up on the anniversary of rock star legend, Lars Gunner's death, 23 years and counting. Every year, Cecilia's mother remembers the good old days by watching old movies and drinking herself into oblivion. Worried, Cecilia pays her mother a visit.)
"He's here, you know," her mother whispered and her breath smelled like an ashtray.
"Who's here?" she asked.
Her mother moved away from her grip and walked over to the black roadie box, which had wheels and a handle to make transporting equipment, music sheets, and other such items from place to place that much easier. Her father had taken this one with him on the road since his first concert when singing for his supper hadn't been a joke but a reality. He never replaced it with a new one when the band had finally made it big and gourmet banquets were set out for them as if they were royalty. It was like having a lucky sock or coin, but his lucky item just happened to be a beat up old roadie box. Her mother had one too, but hers had been custom made with leopard fur and pink rhinestones.
Her mother's hand slid over the black box, pausing over the dent in one corner as if that particular dent held a fond memory. "Right after your father died, you would come in here and stare at this beat up old thing. I would ask you what you were doing." She glanced over her shoulder at her. "Do you remember what you said?"
She shook her head. Of course, she didn't. She was a toddler and those memories at that age were far and in between and a bit fuzzy at best.
"You would say: Daddy's playing his guitar and singing to me." Her mother pulled her wrap closer around her for what little good the thin piece of material would do to keep her warm. "You were always his little girl. Even in death, you loved him more than me."
Reviews:

5 Stars
I'm giving this book 5 stars, if it were possible I would give more. This book has it all, antst, mystery, romance, and humor. I absolutely loved all the characters nd how each one's personalities wee explained thoroughly. I could not put this book down as soon as I picked it up. There were no holes in the plot and even though I had an idea whom the killer was half-way through the book, that was all it was a suspicion.
The relationship between Lars and his daughter is so bittersweet. He wanted to be with her and how much he missed her. The reader is also informed on the difference between ghosts and spirits. I would recommend this book to all my friends, it's full of love, mystery, a touch of paranormal, and misunderstandings.
5 Stars
Loved it loved it loved it. 
This book is everything that it should be: funny, sweet, well plotted and written. In a world of stories that want to be different, edgier, pack a punch, this one is a breath of fresh air because it doesn't want to be any more than what it is: a good story to let you sit back and enjoy after a hard day at work. Everything is 'normal', and I'm talking about a story with a ghost. 
The thing is, the characters are so real, so well rounded in their normalcy that it could literally be any of us. 
I laughed, I was curious as to see if I was right and the culprit was who I thought it would be (and it was, so maybe it's not heavy on the whodunit, but WHO CARES, it's so bloody enjoyable!!!), and my eyes misted a couple of time. 
I'm glad I read it, and I sure will keep an eye on the Author!
5 Stars
Wow. Just wow.
I'm not even sure where to begin with this book. This is the second of this author's books that I've read and I have to say that I was just as blown away this time as the last. She has a way of weaving such a fabulous tale with well-developed characters, humor, and realistic relationship in the middle of fanciful plots.
In this book, we have Cecelia, the daughter of a deceased rocker. She's managed to put distance between herself and that lifestyle, but her rock star mother still mourns the loss of her husband. While Cecelia attempts to help her mother through another episode, she comes across a journal that had belonged to her dad. And the fun begins.
Not only does the journal reveal glimpses of the man she can barely remember, but it also sets his spirit loose and Cecelia is finally able to see him. Her father wants to uncover the real reason for his death and he suspects it was murder. Yikes. This leads the pair to the doorstep of a psychic medium's son, who has a secret of his own. The three of them set out to solve the mystery of the famous rock star's death in hopes of putting his soul to rest.
The idea of the story intrigued me from the beginning. I know how well this author can do paranormal themes so I was sure it would be an easy read and it definitely was. It was so easy to read that I hung on every word and even read some pages twice. There were at least two scenes that made me cry--like crocodile tears and one or two others where I teared up. It was an emotional rollercoaster, that's for sure.
As for the romance, our couple was completely adorable together. We see the story from both of their points-of-view and I loved getting to know each of them. I was genuinely surprised to learn of Kaleb's paranormal ability and might have shouted "Whoa!" at my Kindle. The bedroom scenes were a little tame but nonetheless enjoyable.
Another solid five sun read for anyone who enjoys paranormal romances!
Dawn West
5 stars
This is my 2nd book by Karen Michelle Nut and cannot wait for that number to rise some more. My first book by her was Two Worlds Collided, it was an awesome book. This book was even better. There re a few references to Bellemy Lovel from the first book in this one. Both books are about heartthrob bad boy Rock and Roll singers who died before their time.
In this book Cecilia Gunner is the daughter Phoebe Keddie and the late great Lars Gunner. Lars passed away when Cecilia was 3 when he drove his car over the edge of a pier.  Was it an accident or murder?
Cecilia finds her father's notebook. He used to write his song lyrics, notes, and more in the book. After finding the book Cecilia starts seeing his father's ghost. Lars is positive he was murdered but cannot remember the remaining minutes of his life. He wants Cecilia to help him find out who murdered him.
Along the way they meet Kaleb. The son of the psychic Lars was seeing before his death. Kaleb can also see ghosts. He begins to help Cecilia and Lars solve the mystery of his death. Along the way many questions come up of who killed him. Was it Pheobe? He had just told her he wanted a divorce minutes before his death. Or was it someone else and why?
Someone breaks into to Cecilia's house and tries to steal their belongings at a magic gig of Kaleb's. Now they need to solve and survive the death of Lars Gunner.
Teresa Noel, T's Stuff Reviews

4 1/2 Stars and Crown Heart
A very heart-warming and emotional story, "End of the Road", will tug at readers' heartstrings. It is an unusual story; the plot is unique, with well-written and dynamic characters. The characters are diverse and their personalities work well together, making for a great story. Karen Michelle Nutt has written a book filled with emotion, and there are times when the story will bring several tears to the eye, a mix of sadness, happiness and loss. It is rare to find a book that can stir up so many feelings. "End of The Road" does just that. A perfect read for sitting in front of the fire on a snowy night with a cup of hot chocolate.
Lynn-Alexandria McKendrick, IInD'tale Magazine
4 1/2 Stars
A big thank you to NetGalley for the ARC. i am voluntarily reviewing this book. First time reading this author. I truly enjoyed the book. It had mystery, a ghost, romance and mayhem. What's not to like? It was a fun, fast read. I loved Lars! I rated it a 4.5. Let me know what you think. Enjoy. ~Susan Mu
4 Stars
The End of the Road by Karen Michelle Nutt is a lovely story of betrayal, redemption, and love. The author has weaved a tale displaying the full range of human emotion from betrayal from those closest to you to familial and romantic love.
This author has a lovely writing style that captivates the reader. Although I worked out who was the villain fairly early in the story; it was still an enjoyable ride to watch how the characters discovered it for themselves.
The characters were so well written that you were invested in their successes and failures, and hoped for a good ending all round.
I thoroughly enjoyed this book. It was a lovely light read that held the reader's attention until the end.
~Nerd View Reviews
4 Stars
Great story idea! The idea hits me in the feels. When a rock legend dies under any circumstances, urban myths flourish. Is he really dead or is he working as a CIA operative in the Mideast? Did he get put in Witness Protection after he turned on a drug cartel? Was he abducted by aliens? Was it murder? This tale takes the rumors to the next level.
An optimistic tone. While the subject matter—murder, death, betrayal, dysfunction—are not the most upbeat, the tone is one of hope and love and optimism. Just the presence of a ghost hints at an afterlife and I like the author's take on that subject—but I can't give away too much. So many modern books take a pessimistic or depressing tone with a bleak outlook on the present and an even worse forecast for the future. End of the Road doesn't do that.
I can cheerfully give this book a 4 out of 5 stars. I recommend it to anyone who enjoys a little chill and a lot of mystery.
-Sorchia's Universe
4 Stars
If you like romance with a Rockstar spin to it, then you will enjoy The End of the Road by Karen Michelle. We have a story about love with some shades of betrayal in it as well. Not only is this a story about falling in love but we see some betrayals from family members too, and some of us can certainly relate to that.
The author has a nice voice to her writing that will easily captivate you and keep you in the novel. The only downfall I found in the story is that I discovered who the bad guy was early on, but it didn't stop me from continuing with the story.
The characters are enjoyable and you do find yourself rooting for them as the story goes along. I enjoyed the book and it's a light read that would be perfect for the beach. ~Kimberly Love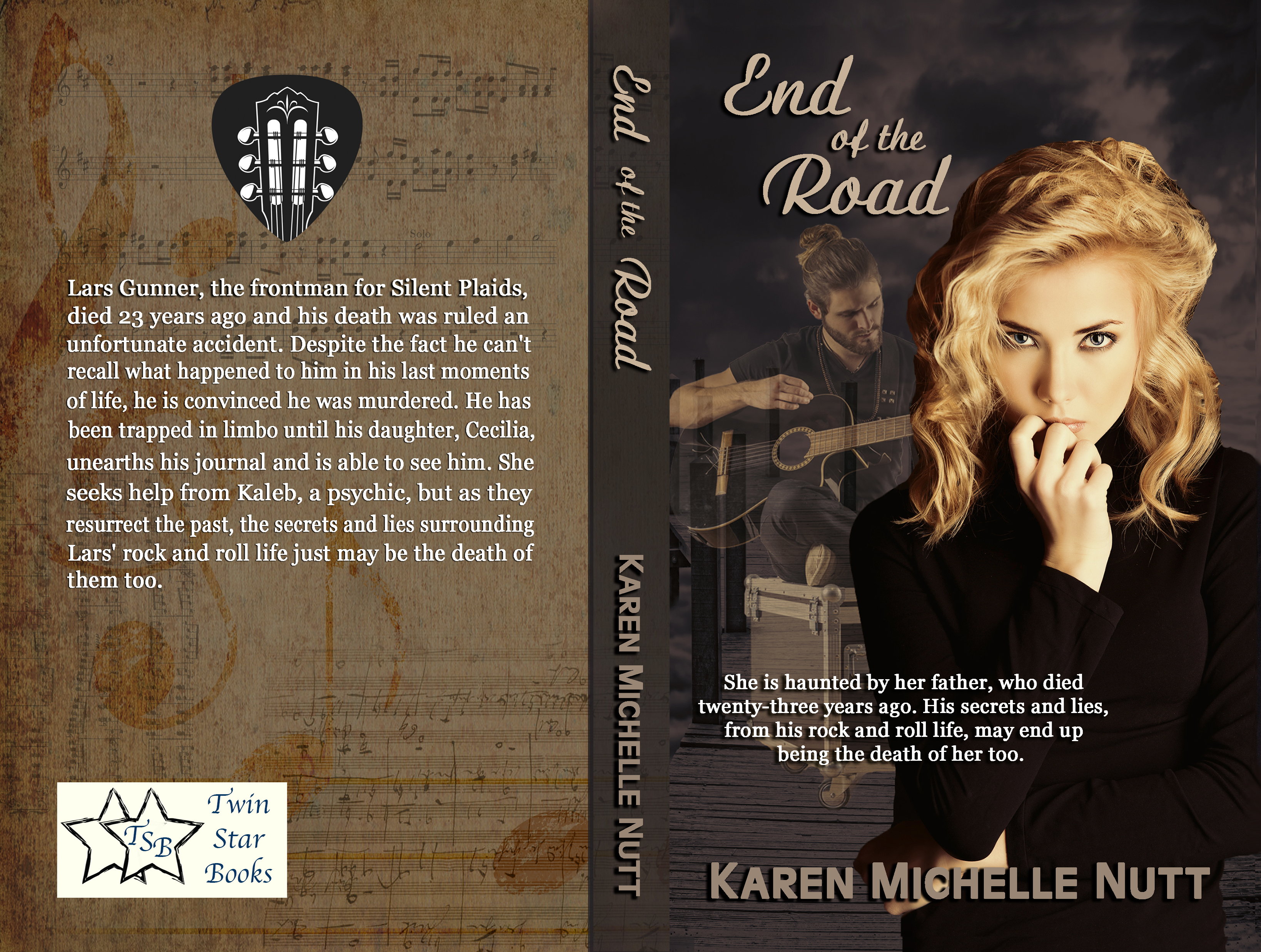 Book Video:
Save
Save
Save
Save
Save