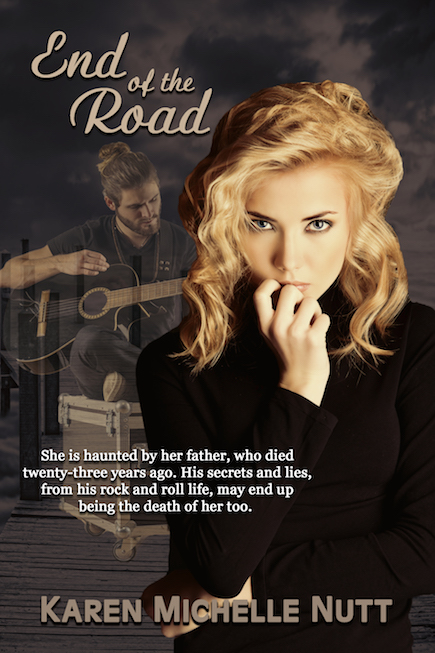 End of the Road (Ghost story/mystery/romance)
Rated: *Some language (17 years and older)
ISBN-13: 978-1976310584
ISBN-10: 197631058X
SW ISBN: 9781310385797
About the Book:
Lars Gunner, the frontman for Silent Plaids, died 23 years ago and his death was ruled an unfortunate accident. Despite the fact he can't recall what happened to him in his last moments of life, he is convinced he was murdered. He has been trapped in limbo until his daughter, Cecilia, unearths his journal and is able to see him. She seeks help from Kaleb, a psychic, but as they resurrect the past, the secrets and lies surrounding Lars' rock and roll life just may be the death of them too.
eBook: Amazon/ Amazon UK  / Barnes and Noble  / Smashwords / iTunes /Kobo
Print: Amazon US / Amazon UK / Barnes and Noble / Book Depository/ Createspace
Excerpt:
(It is coming up on the anniversary of rock star legend, Lars Gunner's death, 23 years and counting. Every year, Cecilia's mother remembers the good old days by watching old movies and drinking herself into oblivion. Worried, Cecilia pays her mother a visit.)
"He's here, you know," her mother whispered and her breath smelled like an ashtray.
"Who's here?" she asked.
Her mother moved away from her grip and walked over to the black roadie box, which had wheels and a handle to make transporting equipment, music sheets, and other such items from place to place that much easier. Her father had taken this one with him on the road since his first concert when singing for his supper hadn't been a joke but a reality. He never replaced it with a new one when the band had finally made it big and gourmet banquets were set out for them as if they were royalty. It was like having a lucky sock or coin, but his lucky item just happened to be a beat up old roadie box. Her mother had one too, but hers had been custom made with leopard fur and pink rhinestones.
Her mother's hand slid over the black box, pausing over the dent in one corner as if that particular dent held a fond memory. "Right after your father died, you would come in here and stare at this beat up old thing. I would ask you what you were doing." She glanced over her shoulder at her. "Do you remember what you said?"
She shook her head. Of course, she didn't. She was a toddler and those memories at that age were far and in between and a bit fuzzy at best.
"You would say: Daddy's playing his guitar and singing to me." Her mother pulled her wrap closer around her for what little good the thin piece of material would do to keep her warm. "You were always his little girl. Even in death, you loved him more than me."
Reviews:
4 1/2 Stars
A big thank you to NetGalley for the ARC. i am voluntarily reviewing this book. First time reading this author. I truly enjoyed the book. It had mystery, a ghost, romance and mayhem. What's not to like? It was a fun, fast read. I loved Lars! I rated it a 4.5. Let me know what you think. Enjoy. ~Susan Mu
4 Stars
The End of the Road by Karen Michelle Nutt is a lovely story of betrayal, redemption, and love. The author has weaved a tale displaying the full range of human emotion from betrayal from those closest to you to familial and romantic love.
This author has a lovely writing style that captivates the reader. Although I worked out who was the villain fairly early in the story; it was still an enjoyable ride to watch how the characters discovered it for themselves.
The characters were so well written that you were invested in their successes and failures, and hoped for a good ending all round.
I thoroughly enjoyed this book. It was a lovely light read that held the reader's attention until the end.
~Nerd View Reviews
Save
Save
Save
Save
Save