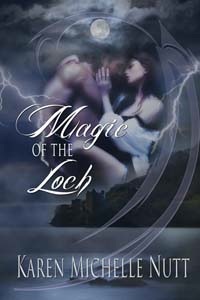 The Magic of the Loch
(Shapeshifter/mystery/paranormal)
978-1-61217-292-7 Paperback   
ISBN-13 #978-1-61217-293-4 Digital
E-book:$5.99     Print: $14.99
Words: About 97k
Cover Artist: Rae Monet
E-book Available at: The Wild Rose Press / Kindle  / NOOK /iTunes
Print Available at: The Wild Rose Press  /Amazon 

Blurb
Michaela Grant travels to Scotland for a holiday, knowing this vacation is her last. A medical condition threatens her life and any chance of a future—until she meets Alan MacLachlin, a man forced to exist between two worlds.
Alan is the legendary Loch Ness Monster. Once every fifty years he returns to human form in search of his soul mate, the one woman who can break his curse. He believes he has found forever with Michaela, but to claim it he must figure out how to save her life.
Michaela and Alan vow to take what time has to offer, but another threat looms. A sinister shape shifter with a vendetta against Alan is making Loch Ness his personal hunting ground. Now he's threatening Michaela. Alan must discover who the shifter is and stop him before it's too late.
Excerpt:
His touch felt so good, warm and gentle for such a large man. She found herself leaning into his palm. Kiss me. The thought whispered in her mind, but he somehow knew what she craved.
He took her mug from her hand and placed it on the table next to his as he leaned forward, his lips hovering over hers. "Just a taste. Aye?" His seductive whisper stroked over her mouth with the effect of a soft kiss. His hand slipped to the nape of her neck, drawing her closer as he deepened the caress.
Heat spread through her, warming her from the inside out. He tasted of the sea, whiskey and sweet temptation. The more she indulged, the more she wanted. The thick beat of awareness ran through her blood, making her heart beat faster. Her hands cupped his face. His five o'clock shadow barely prickled her palm.
The kiss ended if only to take a breath, but he didn't move away. His lips still hovered near hers as if to reclaim them again.
"I knew you'd be a good kisser." Her voice a hoarse whisper, laced her words like an invitation for more.
His lips slid into a seductive curve. "Did ye now?"
She nodded her head, still a little breathless.
"This was a mistake, ye know."
"It was?" She tried to move away, but he held her still.
"Shush. I only meant it was a mistake on my part to indulge with a promise of only one taste. I want so much more." His mouth covered hers again, taking her under his spell.
**********************************************************************************
Awards: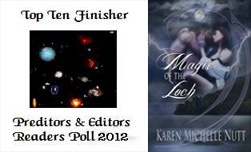 ***************************************************************************************************
Reviews
Bitten by Books
5 Tombstones Review
Michaela Grant was suffering from a brain aneurysm and decided to visit Scotland on what would probably be her last vacation. Following the advice of her landlady, Michaela went down to the pier to hire a boat that would take her to the middle of the loch, hopefully to see the Loch Ness Monster. Surprised that there was only one boat, Michaela decided to forge ahead and hope the owner would take her anyway. Her first impression of Alan MacLachlin was unfavorable, although she found him extraordinarily handsome. His brother, Hyatt, was much more polite and friendly, and Michaela agreed to go out on the boat with the brothers.
Alan MacLachlin was a cursed man. Doomed to spend only fifteen years on land, his only hope was to find and wed his soul mate, or he would face another fifty years in the loch. His instant attraction to Michaela frightened him and he worried that she would not find him worthy. How could a man tell a woman that he was a shape-shifter bound to the loch?
I enjoyed Michaela's courage in traveling to Scotland alone, especially since she knew she could die at any time. Hyatt was a likeable character, content with who and what he was, while Alan was restless and searching, trying to change his circumstances. The storyline was fascinating, and I liked the description of Drumnadroicht and the townspeople. I was captivated by Magic of the Loch and could not put the book down. This is a must-read for all true romantics.
Reviewed by Mary, at Bitten by Books
*************************
Ms. Nutt has created a wonderful romance surrounded by the legend of the Loch Ness Monster. Alan and Hyatt are two brothers cursed to spend eternity as the Loch Ness Monster. Every century they are given a short span of time to roam the earth as both human and the monster in order to search for a true love that will break their curse.
Michaela is suffering from a brain aneurysm and is given very little time to live, so she fulfills a lifelong dream and visits Scotland. Soon her world is full of missing people and sightings of "Nessie" the Loch Ness Monster, and an untimely love affair with Alan. Little does she know that Alan holds the key to the healing waters of the Loch and she holds the power to break Alan's curse. 
A tale of curses, folklore and revenge, Magic of the Loch is wonderful story for paranormal romance readers. Ms. Nutt has created a sweet romance spun from a legend and delivered a suspenseful story as well.
USA Today Bestselling Author
Catherine Bybee
PNR PARANORMAL REVIEWS
Michaela is a young woman suffering from a brain aneurysm who wants one last adventure before her death. She chooses a vacation to Scotland, hoping to get a sighting of the Loch Ness Monster. Instead she finds two brothers, Alan and Hyatt, who have a long and close connection with "Nessie." During her stay in Scotland, Michaela and Alan begin to fall in love, something Michaela does not want since she does not have much longer to live. But when several gruesome murders occur in the small village where she is staying, Michaela, Alan and Hyatt have to work together to catch a killer. And all the evidence points to the Loch Ness Monster as the killer.
This was a very good reinterpretation of the Loch Ness Monster story. I had never come across one before and this was a pleasant surprise. The characters are very well written and the story is fast paced right from the beginning. Also, the mystery part of the story is very good. I thought I knew who the "mystery shifter" was and it was a pretty big surprise when it was revealed. I thought I had it figured out about half way through, then found out I was totally wrong with the reveal. I am hoping this is the beginning of a series because there are several other characters besides Michaela and Alan who deserve a happy ending.
Reviewed by Felicia Wright
ParaNormal Romance Reviews
December 2011
Review by Stephanie Burkhart
Nutt pens a story that will leave you breathless with "Magic of the Loch." Alan and his brother, Hyatt, are cursed to haunt Loch Ness as preternatural creatures throughout time. Can love break the curse?
The story opens with a fast paced prologue that explains the curse Alan and Hyatt fall under. The curse can only be broken when the men find their soul mates. Fast forward to modern day Scotland. Michaela Grant suffers from an aneurysm. She travels to Loch Ness for a great adventure before her inevitable death. When she meets Alan, the sparks fly.
Unfortunately, there's another shifter who has claimed the land of the Loch. When the deaths start to add up, the sheriff's suspicion falls upon Alan and Hyatt. Alan is determined to protect Michaela, convinced she's his soul mate, but she has a mind of her own. Has Alan finally found the love of a lifetime only to have it brutally ripped away from him?
Nutt's writing is crisp and easy to read, engaging the reader from the get go. She uses a good economy of words to paint a vivid picture of the Loch. Alan and Hyatt's accents add an extra layer of authenticity to the Scottish setting. As a reader, I thought I was a patron of the Fiddler's Luck bar watching the story unfold before my eyes.
The best part of the story is the rich characterization. Alan is a noble soul, strong in his convictions and loyal to the bone. Michaela is spunky and forthright. She doesn't quite understand the attraction she has for Alan, but accepts it. Nutt's story focuses on the man, who is the creature, an aspect of paranormal stories that deeply resonates with me as a reader.
The loves scenes are sensual, embodying the attraction and intense feelings Alan and Michaela share. "The Magic of the Loch" will wrap the reader in its spell on the first page and won't let go until the end.
Stephanie Burkhart, Author
"Romance Under the Moonlight
****************************************************************************************************
I've been a fan of Karen Nutt's book since I had the pleasure of reading her Time Travel Romance, Lost in the Mist of Time, and I must say, Magic of the Loch did not disappoint. I am not one to read many romance novels, but when I do there are two things I look for:
Characters that jump to life and pull me into their story, and of course, a well twisted plot.
Magic of the Loch gives a new twist to the shape-shifter scene and drew me in from the first paragraph! I found myself holding my breath in places, engulfed in the tale unraveling on my computer screen.
I'm a sucker for stories that are Celtic in origin, something that Karen Nutt manages to keep fresh and unique!
The characters, especially, the main characters, Alan and Micheala, spring to life, sparks flying between them from their first encounter. Not to mention that even I, found myself thinking, where can I find a hunk like that?? To me, that is the true test of a romance novel, is the hero someone I myself would love to find? Is the Heroine someone I'd like to be like? Does it allow me to escape the humdrum reality of my day to day? Magic of the Loch exceeds that criteria, and left me longing for more.
The landscape came to life as if the author were sitting there, simply documenting what she saw, there are few writers who have that ability, and Karen Nutt is definitely in their ranks. I felt as if I were sitting in a pub watching the events unfold, as if any moment Alan and Hyatt would walk past and give me rakish grin. A prospect that could give any girl some wonderful dreams!
This is a well-written, fast-paced novel that kept me reading until the wee hours of the morning. I dare you to try to put this one down!
Martha L. McBryar, Author of The Scepter Series
**************************************************************************
 In a nail-biting, breathtaking read...
Michaela Grant is an American woman who has been diagnosed with a terminal condition –a brain aneurysm that could cause permanent disability or death if operated on. Her ex-fiance, Blake, is a surgeon who urges her to have the surgery done, but she refuses, choosing to live life to the fullest until her time comes. Her decision has caused them to split.
Michaela goes to Scotland, something she's always wanted to do. In the small touristy village of Drumnadrochit she meets two brothers, Hyatt and Alan McLachlin. Though Alan is gruff, she immediately begins to feel an attraction to him, and he to her.
As their relationship progresses, so does a series of murders in the small Scottish village. Accusations begin to fly amongst the locals, and the McLachlin brothers exhibit some odd tendencies, adding fuel to the speculation fire.
Can Michaela trust Alan? What does she really know about him? What he confesses to her is a secret only a handful of people in Drumnadrochit know, and can be the catalyst that spurs her to leave him and their newfound love behind, or give her renewed hope for a life together with him.
In a nail-biting, breathtaking read, Magic of the Loch will keep you on the edge of your chair until the last page. Without giving any spoilers, if you love mystical, romantic suspense that combines centuries-old legends with a modern setting, this is a book you won't want to miss.
Karen M. Nutt has woven a magical story of high-intensity intrigue and love with an unforgettable plot, and characters that truly find their 'forever love.'
~Cheryl Pierson, Author of Time Plains Drifter
*************************************************************************
Avid Readers:
"This is a fascinating story that hooks you from the beginning with a clever version of an old tale.  It provides you with a love story and a mystery that you want to solve with all the twists and turns.  One of my favorite stories by Karen Michelle Nutt." ~Reviewer, Cathy Nickol~
It's been done again. Magic of the Loch is like some of the others by this author, with the ability to draw you in and tie you to the characters in order to feel as they do, including all the love respect they share. Even after finishing the last page, you yearn for more and await the chance to greet the characters again like they were old friends. You laugh and you cry while you traverse the magical tale that is spun out before you. This is one of the ones I look forward to reading again and again as the bond of brothers that transcends time and is shaken up by love becomes yours to behold. ~Adryanna Coleman, reviewer
Review by Grave Tells
Full Review here:
First thing I have to point out is the speech. The author keeps up with that Scottish brogue throughout the book, and I can totally hear Sean Connery's voice speaking. It's pretty awesome. It's such a simple thing, but it totally got me. Another fairly simple thing is the way the magic worked. Shape shifters didn't need to strip down to shift, and when they came out of the water and shifted back to human, they'd be bone dry and clothed. So cool.
I really liked Alan and Hyatt's outlook on their lives as Loch Ness Monsters. Hyatt actually kind of likes being what he is, loves the water. Alan yearns for his soul mate which would break his curse, but he too loves the water. Hyatt likes to flirt with the humans, but Alan is the one that has truly had lives during his years on land, and when he finds Michaela, he doesn't plan on letting her go. I also liked Michaela's desire to live what's left of her life rather than risk ending up on life support with no quality of life. Under the circumstances, I'd choose the same path.
There's a cruel and mysterious villain. We don't find out who he is until just before the final showdown, and the author plays up all the suspects very well throughout, just ratcheting up the intrigue.
An interesting story with compelling characters and a sweet, slow-building love, Magic of the Loch is a fun mystery that will leave you with a smile on your face. GraveTells recommends it!
Rating: Magic of the Loch
BRAZEN READS REVIEWS BY ANGEL (Read the full review at Brazen Reads.)
"Overall, I felt this book was the perfect blend of the things I like in a story – a suspenseful mystery, a passionate romance and a lot of magic.  Also, even though I know it's wrong to judge a book by it's cover, I think the cover is beautiful.  When I'm not sure what I want to read, I base my selection on the book covers, the more romantic and mystical it looks, the better as far as I'm concerned.
This is a book I will probably be reading again – maybe when I finally get around to visiting Scotland."
Review:  Magic Of The Loch is a great magical paranormal read based on the Loch Ness Monster myth.  I would love to go to Scotland. I just can't imagine what I would do if I came face to face with Nessie.  For this reason, I admired Michaela.  She knew she was going to die and lived every day like it was her last and loved like there was no tomorrow.
I could just feel the magic as I was reading . I love when an author writes a wonderful paranormal shapeshifter book. I didn't put this book down and read all night long.  I  was so immersed in the mystery of the Loch Ness Monster and wanted to find out all that I could.  The magic between Alan and Michaela is so powerful that all they have to do is touch and they can feel it.  While I was reading, I was so hoping they could find a way to save Michaela.
I have always dreamed about going to Scotland and reading this book has only brought me closer to making a commitment to visit there. I could just imagine what everything looked like as the author gave such vivid descriptions. I could actually smell the water, hear the air, and feel the sun's warmth on my face.  This story was a great adventure and I hated to see it end. (REVIEWED BY CRYSTAL)
COFFEE TIME ROMANCE AND MORE REVIEWS
Rating: 5 Cups
Michaela is on the last trip of her life and her days are numbered. Her death will come at the hands of a tumor with no cure. Alan was antagonistic at first and she quickly realizes if she could pick the last man on this earth it would be Alan.
Alan and his brother have been cursed for centuries. Michaela is the one who can break the curse but can he tell her the truth despite her fate?
Alan and Michaela may never get the chance to figure it out as there is another with hate in their heart. The unknown shifter looks to destroy any chance of breaking the curse and a life of freedom.
Magic of the Loch is an emotionally packed story from anger to despair and every emotion in between. I was torn between whose story was more heart wrenching; Michaela or Alan and his brother. I dare you to read this book and be able to put it down just once. Karen Michelle Nutt builds a beautiful world full of vibrant characters and settings. Magic of the Loch is a story worthy of a second read because the first will never be enough.
Delane
Reviewer for Coffee Time Romance; More
 LONG AND SHORT REVIEWS (LASR)
Magic of the Loch by Karen Michelle Nutt
Michaela Grant travels to Scotland for a holiday, knowing this vacation is her last. A medical condition threatens her life and any chance of a future—until she meets Alan MacLachlin, a man forced to exist between two worlds.
Alan is the legendary Loch Ness Monster. Once every fifty years he returns to human form in search of his soul mate, the one woman who can break his curse. He believes he has found forever with Michaela, but to claim it he must figure out how to save her life.
Michaela and Alan vow to take what time has to offer, but another threat looms. A sinister shape shifter with a vendetta against Alan is making Loch Ness his personal hunting ground. Now he's threatening Michaela. Alan must discover who the shifter is and stop him before it's too late.
Michaela Grant is enjoying the wilds of Scotland and decides to take a break from her walk near the Loch. She bumps into Alan and his brother Hyatt and is instantly attracted to them both even though Alan seems quite rough around the edges. When Hyatt invites her onto the Loch for a tour, she decides to go along with it – No Regrets is her new motto since receiving bad news on her health. The tour becomes lunch and slowly the three of them get to know each other better. The icy beginning between Alan and Michaela melts into something far more wonderful than either can believe possible, but she also finds herself charmed by Hyatt. Not everything is as it seems, however. All three of them have far more going on beyond the surface. As they each explore their initially flirtatious friendship emotions get entangled and things become complicated.
This is a truly sweeping story, filled with epic emotion and deep characters strongly connected to each other. The author has done an amazing job in bringing the main players to vivid life. Despite the magical backdrop of the Loch Ness, the tall tales surrounding it and the beauty of Scotland, it's the characters, with issues and problems, hopes, dreams and amazing personalities that really shines through the pages. Readers who love a bit of angst, a lot of characterization and a dollop of fun mixed in with their stories will love this book. Despite the hint of magic and old-world-style storytelling I found myself drawn into the plot but particularly attached to the people and their situations.
The author has put a unique spin on the tale of the Loch Ness monster – the opening chapters explaining exactly how and why Alan and Hyatt find themselves "cursed" and bound by this magical conundrum, but enough mystery is left to weave through the entire story. Michaela is a sympathetic heroine, doing her best to live her life and enjoy herself, doing those things she thought there'd be years to do and keep positive even when life is throwing her a curve ball. While the writing, tone and plot were all really good – it was the richness of the characters and the way they instantly grabbed me and made me keep on turning the pages long past my bedtime that was really the best part of this story.
Reviewed by Fern at LASR
REVIEWED BY DENI AT SOOKIE STACKHOUSE BOOKS REVIEWS
If you had told me that someone wrote a mystery paranormal romance about a pair of Scots who are in reality the Loch Ness Monster, I would have laughed you out of the room. But strangely enough, Karen Nutt not only manages to make it a great little paranormal romance with a twist of mystery, but she makes it all work.
It all starts with Hyatt and Alan MacLachlin, and how they came to be the cursed. For they are the being that has come to be known as the Loch Ness Monster, cursed into a monster form and only allowed once every 50 years to take back human form. They are on land to find a soul mate, the one woman who will release them from the curse. They haven't had much luck so far.
A Twist on Beauty and the Beast
But then they meet Michaela Grant, a woman who is also out of time. She has been diagnosed with a brain tumor and knows she has only a handful of months to live. Her lifelong dream was to come to Scotland, to see the Loch Ness Monster, and so she is here. When she meets Alan there is a strange connection, that in time they have to acknowledge. But even once they do, and Alan knows he has found the woman who can break the curse, can he save her?
This alone would make a great paranormal romance, but then a mystery begins. There is a shape-shifter loose in the mountains that surround the Loch. It is hunting, and it appears that what it is hunting is Alan. Can they stop it in time?
Yes, this was not the be-all book of all times, but I have to tell you that Nutt spins a great little yarn here, and it is one that is thoroughly enjoyable. If you love paranormal romances, especially ones with a bit of mystery in them, this could be a great escape for a summer afternoon. Magic of the Loch is entertaining, fun and just the kind of book you want to escape your crazy life for a day or two.
Save
Save
Save