A Twist of Fate
(Previously published by Tease Publishing LLC)
Heat index: Sensual to stimulating (3flames) Paperback: 360 pages (approx. 91,000 words)
ISBN-10: 1607670062 ISBN-13: 978-1607670063
SW ISBN:  9781370669721
ASIN: B007H4CCH6
Print: $12.99  Ebook: $2.99
Print:Barnes and Noble / Amazon   / Createspace  /  Book Depository   /
E-book:   Amazon US / Amazon UK / Kobo / iTunes / Smashwords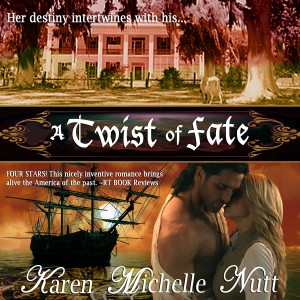 Audio version of A Twist of Fate is narrated by Mil Nicholson.
Audio available at: Audible US /  Audible UK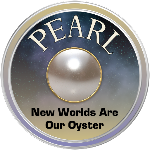 Has a twist of fate sent her back in time? This is a question which plagues Arianna Ward when she wakes up to find her memory in fragments, like a long forgotten dream.
Everyone claims her name is Annabelle. The year is 1814 and she's married to Captain Keldon Buchanan, a man who despises her. The more she learns about her life, the more she realizes why she's chosen to forget it. She's a liar and an adulteress. She doesn't understand why she wanted to destroy her marriage when her heart tells her she belongs with Keldon.
Keldon harbors his own secrets. He's the Highland Pirate and secrecy is the difference between life and death. He doesn't trust his wife, but he finds his heart softening to the woman his wife has become. If he didn't know better, he'd swear he's married to another woman and he's fallen in love with her.
Excerpt:
CHAPTER ONE
The Present
Blue Run Plantation, South Carolina (Arianna meets the gypsy, Carlotta)
"For the cost of my eyesight into the future, there is a small donation of twenty dollars."  She held out her hand and waited.
"Twenty …" she huffed.  "Fine."  She reminded herself this was for a good cause and pulled out a crisp bill from her purse and paid the hefty price.
Carlotta stuffed the money into a skull-adorned black box.  "Now, we shall see what the cards hold for you.  She shuffled the tarot cards before she turned them over revealing first the Death card, then the World card and then the Lovers card.  "This cannot be right."
"What?"
Carlotta chuckled nervously. "Sometimes the cards are not clear."  She scooped them up and put them back in a pile.  "Let me see your palm."
Arianna leaned forward and held out her hand.
The fortuneteller's brows furrowed as she concentrated, a look of fear passing over her features before she concealed her anxiety.
A primitive warning sounded in Arianna's mind.  She suddenly didn't want her fortune read.  She tried to pull her hand away, but Carlotta wouldn't release her.
"You have an interesting palm."  Carlotte pointed to the line that ran the course of her hand.  "This is your life line.  You will live a long life."
"What's the shorter one next to it mean?"
Carlotta didn't answer.  Her eyes rolled back in her head and her whole body jerked as if she was being controlled by another force.  She flung to one side then the other before she sat up ramrod straight.
Blood slid through Arianna's veins like cold needles and she tried to break free, but Carlotta's grip was like a vice.  As if this wasn't freaky enough, the woman began to hum.
Arianna froze and her eyes widened in surprise as she recognized the melody.  It was an old Scottish tune, she'd been haunted by as long as she could remember.  The melody lingered in her subconscious surfacing at odd moments like an annoying tick.  Her parents swore they never taught her the song and no one knew where she'd picked up the tune.
How did this fake fortuneteller know it?  Arianna again yanked her arm and this time pulled free.  She rubbed her bruised hand, staring at the woman with suspicion.
Carlotta blinked rapidly before she focused her gaze on Arianna.  "I am sorry.  Did I hurt you?"
"I'm fine," Arianna answered, surprised that her voice sounded calm.  "But I think I'll skip the fortunetelling, if you don't mind?"  She didn't wait for Carlotta to say anything, but stood and hurried toward the exit.
"Arianna," Carlotta called.
She halted and whirled around.  "How did you know my name?"
"Does it matter?"
She arched her brow.  "Yes, I believe it does.  Is this some kind of hoax?"
"You don't belong here." Carlotta dropped her fake accent.
"Excuse me?"
"There are souls out there … wandering … lost, but time always has a way of sorting out the mistakes.  You belong to Blue Run.  Your destiny intertwines with his."
"What are you talking about?"
Carlotta walked around the table to face Arianna.  "You must listen, for you don't have much time.  You will think you have met your end, but it won't be over.  You'll return to where you belong, and another woman will take your place of doom."
"Is this all a part of your theatrical presentation because if it is, I don't like it."
"In this other era, you will meet a very strong man with the blackest of hair."
"Did you hear me?"
"His eyes will be green, clear and sharp like a cat," Carlotta continued.  "He is called …" She chewed on her lower lip, but then her eyes lit up.  "The Scotsman.  He is called the Scotsman.  Trust him, for he will protect you.  He may feel mistrust for you because of the other woman's black heart, but in time, he will see you for who you really are.  He's your soul mate.  It will be his child you carry."
Terror had kept Arianna frozen in her spot, enduring Carlotta's eerie premonition, but now the woman had finished and Arianna took a step back.  "You're crazy."  She pointed her finger at her.
Thunder rolled shaking the rafters.  Dust and debris fell around Arianna and she held up her hands to protect her head.  Coughing, she turned and ran for the door, but a sharp pain to the back of her skull brought her to her knees.
"Watch out!" Carlotta warned.
Arianna's eyes widened as she watched the wood beam hurdling toward her.
***
Carlotta finished what she set out to do here and packed her belongings.  A crowd had gathered in the cramped foyer as the young paramedic frantically worked on Arianna, but in the end, he turned toward her friend, Megan and shook his head.
"Oh my God.  I can't believe it.  She can't be gone.  She can't."
Carlotta heard Megan's heartfelt cry and stepped forward, placing a hand on the young woman's shoulder.  "She's not dead," Carlotta told her.
Megan sniffed and wiped away the stream of tears running down her cheek.  She turned toward the paramedic as he pulled a sheet over Arianna's face.
"Listen to me," Carlotta insisted and Megan looked back at her again.  "Listen to your heart.  Arianna didn't die here tonight.  She went back to where she belonged, back in time."
"What are you talking about?"
"Don't take my word.  The proof is on her finger.  Your friend wasn't married, am I correct?"
Megan nodded, her brows furrowing.  "I don't understand what her being married or not has to do with it.
"Check the woman's finger for the proof of what I tell you.  Trust me, Megan," Carlotta insisted.
"How do you know my name?  Who are you?"
"Who I am is not your concern.  I only tell you what I know because Arianna would have wished you to know she is safe."
Megan held the fortuneteller's gaze for a moment longer before she knelt down.  She reached beneath the sheet for her friend's hand, surprised of how warm her flesh still felt.  She stared at the huge sapphire wedding ring that had been set in gold.  "This isn't hers."  Her voice was thick and unsteady.  She whipped back the sheet and stared at the woman who had lost her life.  "Oh my God!"  She covered her mouth with her hand.  The woman's haircut was slightly different without the streaks of pale-blond.  Her lashes were void of mascara, and she didn't have a sprinkle of freckles across her nose.  "This isn't Arianna," she said aloud, knowing how ridiculous she sounded.  How could this be?  She looked up wanting answers but Carlotta had already vanished.
Professional Reviews
~PNR Reviews~
PNR Paranromal Romance Reviews A Twist of Fate- World received its first review!
"a life changing 'Twist of Fate'..."
All I can say is WOW! This is my first reading of Karen Michelle Nutt's work, and I must say I am suitably impressed. The story flowed remarkably well and the characters were very loveable. I enjoyed the small history lessons throughout the story. The story was highly descriptive and made you feel as if you were there on the plantation with them . The storyline was developed and resolved at the end. This was my first story but it definitely won't be my last.
Reviewed by Breia Brickey
~ROMANTIC TIMES REVIEWS~
FOUR STARS!
This nicely inventive romance brings alive the America of the past, including the Battle of New Orleans. The heroine's absorption into the past is handled well, and the gradual acceptance of her change quite believable.
A visit to a fortuneteller has modern-day Arianna Ward waking in 1812 South Carolina. Not only is she living as Annabelle Buchanan, she has knowledge of things that don't yet exist. She owns slaves; her husband Keldon, hates her; and she's having an affair with another man.
As she works to convince those around her she's changed, she discovers Keldon is the Highland Pirate. Soon she falls in love with him. But Annabelle made many enemies, and Arianna becomes convinced that Annabelle's past will destroy Arianna's present and future, even as she tries to change history.
Susan Mobley
~GHOST WRITER Literary REVIEWs~
A Twist of Fate begins with Arianna. She is a beautiful woman who is working at a fund raiser, raising money to restore the Blue Run Plantation in South Carolina. Her life is changed when her friend tells her about a soothsayer. Arianna finds out that the fortune teller has a gift to see into the future, and decides to visit this fortune teller, and when she does her whole world is turned upside down. As the fortune teller reads the Tarot cards, a strange crack of thunder shakes the plantation, causing a large wooden beam to come loose. As the huge beam comes crashing down, Arinna is plundered in the head. Arianna is unconscious, but when she awakes, her world around her is different. Arianna opened her eyes but she doesn't realize that she is was now in the past; no longer in her time. She's lost in time in a strange place, learning that she is married to a man who despises her, and is stuck in a life that she doesn't want. She learns of her husband Keldon's secrets, and begins to understand him. Keldon was the Highland Pirate, who doesn't trust her and doesn't want to, he fights with his emotions, but then he realizes that he can't be strong, for his heart is beginning to melt. His feelings for Arianna begin to grow and he realizes that he's in love with her. Arianna begins to feel a lot different from when she hit her head, she even seems different to others around her. Will Keldon and Arianna realize that they belong together before she is swept back into her own time? Will love hold them together? Will they conquer the physics of time? Only the fate of time will reveal the truth of their hearts and destinies.
This is not the first book of 'Karen Michelle Nutt'' that I've read. I've read many of her books. She never ceases to amaze me with her talent as a writer. With each of her novels she brings back the edge of excitement and the thrill of romance. Oh, and don't let us forget about true love. She brings magic to the pages of her story, keeping your attention with spellbinding mystery. You can find everything in one of her stories, Romance, Action, Adventure, ect… I think this book should be on the New York Times Best Seller List. Way to go Karen Michelle Nutt, we can not wait until your next novel comes out.
Reviewer: Tabitha
~BITTEN BY BOOKS~
Review by Jennifer
****
The book starts off a bit slowly, and the "mechanism" for Arianna's time-travel feels a bit rushed and underdeveloped. On the other hand, A Twist of Fate more than makes up for this as it progresses, and the interplay between Arianna and the people she comes to love is what makes this story truly memorable. Her naivete eventually turns out to be endearing, and her compassion shapes the story.
I felt as though some of the story, dedicated to side characters, could have been brought out less in this book and possibly extended into a separate novel. While I certainly enjoyed them, they could have benefited from expansion and more length.
On the whole, I would recommend A Twist of Fate. The romance is handled beautifully, and the characters are sympathetic. A good choice, especially for someone who enjoys being lost in the people of a book.
~Coffee Time Romance Fascinating Time Travel~
A Twist of Fate is a fascinating time travel. The romance between Keldon and Arianna is delightful.
I love the setting of the southern plantation and genteel lifestyle. Although I would have liked to have known more about why Arianna and Annabelle switched places, the storyline was exciting and entertaining. I particularly think it is a stroke of genius placing a Scottish pirate in the American south. Ms. Nutt has written a gem of a tale.
Bonnie-Lass
Reviewer for Coffee Time Romance
Reviewer for Karen Find Out About New Books
~Amy Ramsey's Review~

Rating: 5 Stars
A Twist of Fate is a superbly written romantic love tale. I immensely enjoyed reading this book. Karen Michelle Nutt has vividly and emotionally wrote the plot and characters in a way that the reader will become enveloped, captivated and entranced in the story. I recommend this book to anyone who likes to read about paranormal, historical romance, time-travel genres.
Karen Michelle Nutt is an avid reader of history, romance, and the paranormal; she tends to combine the three in her writings. She lives in California with her husband, three fascinating children, a dog, named Shakespeare, and three cats that have everyone well trained. She enjoys travel, old movies, books, and a chance to weave a tale. For more information about Karen Michelle Nutt and her upcoming releases, visit her web site at www.kmnbooks.com.
Amy J Ramsey "Trinagon"
Website: www.trinagon.blogspot.com
Save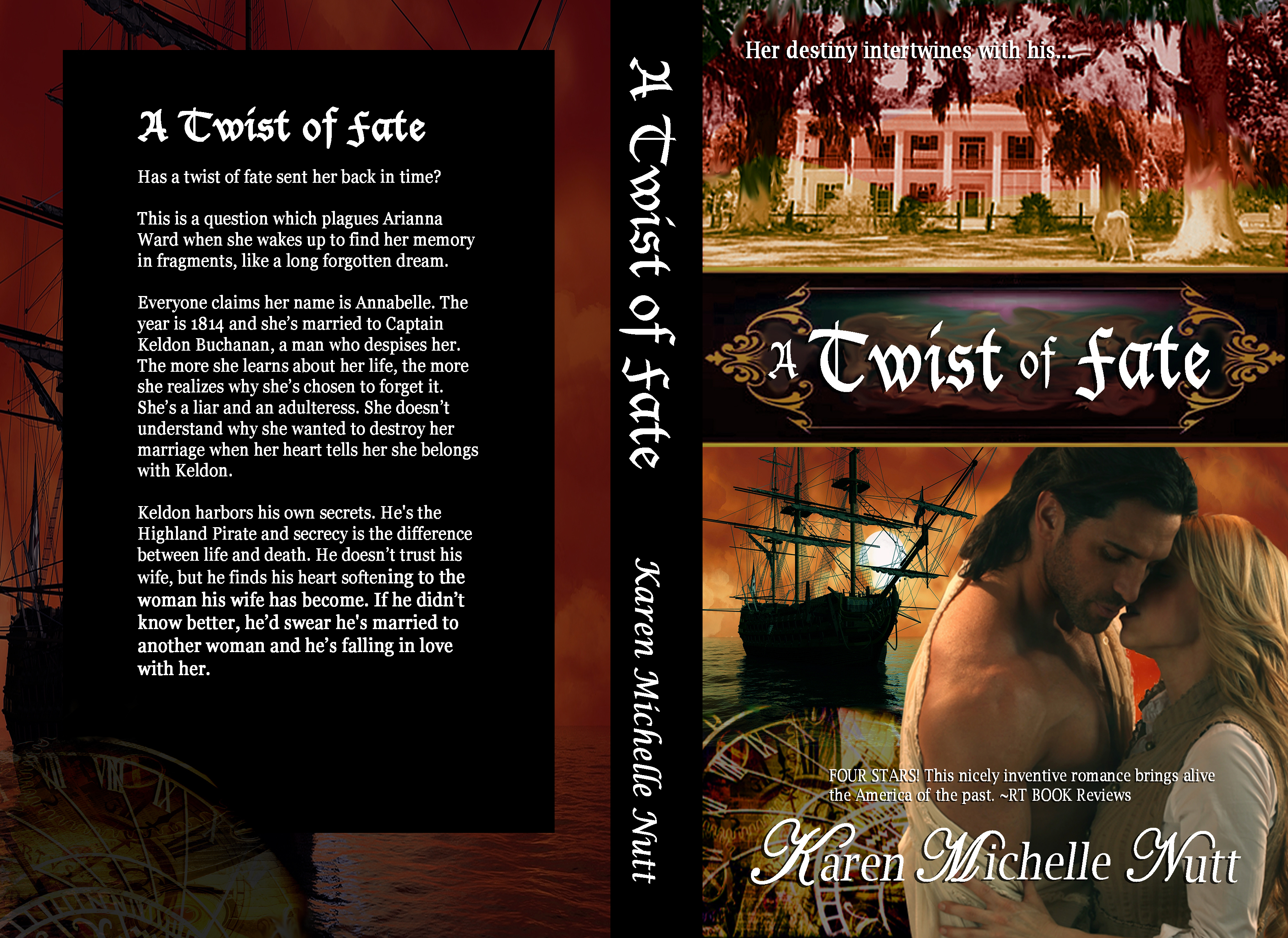 Book Video:
Save
Save
Save