At the Stroke of Midnight
Heat index: sweet to sensual (two flames) Pages: 104  (approx. 15,000 words)
Publisher: Otherworldly Romances; 1st,Revised edition (July 17, 2008)/ 2nd Edition Amazon 2014
ISBN-13: 978-1502383945  ISBN-10: 1502383942
Cover Artist: Karen Michelle Nutt/ Gillian's Book Covers "Judge Your Book By Its Cover"

Print: $7.98  E-book: $.99
E-book available at: Amazon US  / Amazon UK
Amazon Print US /Amazon Print UK
/  Barnes and Noble
Blurb:
Tricia Lancaster, a reporter for a small time newspaper volunteered to cover the story of Dean McCloud's life. Even though the actor died before she was born, she felt a connection to him. She thought if she wrote the story, her curiosity would be satisfied and she could move on with her life. When she's miraculously transported back in time and she finds out it's a few days before Dean killed himself, she realizes she has a chance to save him. However, after meeting the overconfident movie star, she's convinced he didn't kill himself. Someone else pulled the trigger.
Dean McCloud thinks Tricia is trippin' when she tells him she's from the future. However, when Tricia's predictions start coming true, Dean realizes maybe she's not a crazy chick after all. Someone wants him dead and they have until the stroke of midnight on New Years Eve to find out who or history will once again repeat itself.

Excerpt:



Pop, pop!
Tricia's eyes flew open. The loud popping sounds and the screams following them, made her catapult out of the chair with the need to take cover. However, fear was soon replaced by confusion and she stood straight, but kept her hands gripped on the head rest of the chair.
The last thing she remembered was watching Dean's final performance on the old television console. She glanced around the crowded room wondering how she slept through the caretaker setting up for the seventies costume party. More surprising, how come no one shook her awake.
The men had long hair and side burns and the women wore dark eye shadow, flowered tops and suede boots.
Tricia deduced the popping sound came from someone uncorking a champagne bottle. A woman in a tight short skirt and go-go boots was trying to pour the bubbly into two flute glasses.
"Hey, do you need a beer?"
"What?" She turned, seeing the Corona inches from her face before she looked up. "No, I'm …" Her eyes widened. "I must be dreaming. Dean McCloud?"
His cocky grin spread across his face.
Tricia was convinced she was still asleep, only she never dreamt with this much clarity. "Dean?" she asked again.
"That's me, Baby."
She looked around her, taking in the subtle differences that made the home seem more … McCloud-like, was all she could come up with for now. Dean sat down in the chair and snaked out a hand, grabbing her arm and pulling her onto his lap.
Her arms went around his neck, but that was simply preservation. It was not meant as a come on. Dean obviously thought otherwise. He smiled his eyes taking in every feature before his gaze landed on her lips. She knew the moment he decided to kiss her. His eyes turned a shade darker, and his eyelids closed halfway. Her heart pounded in her chest. She prayed if this was a dream she wouldn't wake up. Dean McCloud was going to kiss her.
"Ah, Chickie," he breathed and leaned forward.
She closed her eyes and relished in the way his tongue traced the fullness of her lips before slipping between them. While he tasted her, she clung to his shoulders. Passion inched through her veins, making her wish the kiss would go on forever.
She was kissing Dean McCloud, the man she dreamt about, with the contagious smile and polished moves. His hands moved to her waist holding her close. That felt too good. Her mind screamed it couldn't be happening. The man died over three decades ago, she thought as reality came hurtling down on her. She pushed him away, breaking contact as if his lips had suddenly burned her. A shadow of annoyance crossed his features until he must have realized panic rioted within her gaze.
*****
Dean loved these parties, women throwing themselves at him as if he were a god. This one was cute even in her odd attire. He loved the way her wild curls framed her pixie-like face. Simply enchanting, he thought as his fingers caressed a curly strand.
She seemed skittish, innocent, so unlike the other women who threw themselves at his feet. He had wanted a small taste of her before he let her go.
When his lips coaxed hers with tantalizing persuasion, surprisingly she hadn't objected. The pleasure was like sweet agony as she met his caress, as if she'd been waiting for him. How could he not have taken more? When her hand pressed against his chest, he knew it had been too much for her.
He hadn't meant to scare her. His fingers lightly caressed her arm. "Don't fly away little chick. I won't hurt you." This was a private party among friends to celebrate the wrap up of the last episode of The Long Trail, until the end of January when they would start filming again. Dean wondered who brought this intriguing gal. He didn't recognize her, and he knew he wouldn't forget such a striking woman.
"Forgive me," she said and he frowned, wondering why she felt the need for forgiveness.
"What is it you've done, Chickie?" he asked as his gaze landed on her lips. He wanted to sample them again.
"I have to know if you're real," she told him and he met her eyes. Her hands reached out and cupped his face before her fingers lightly caressed his ears then his nose, which caused him to chuckle. When her fingers touched his mouth, he took hold of her wrist halting her. He enjoyed her foreplay, but he wanted more. He tried to reclaim her lips but yet again she avoided him. Her head turned to the side and his kiss landed on her cheek.
He pulled back to peer at her. She tasted wonderful, like strawberries, all sweet. He wanted her, but he had enough ethics not to pursue this one. She screamed of commitment and he wasn't offering.
"Chickie, I need to tend to my other guests," he told her and not without regret. His fingers twirled a ginger-colored curl before he gently removed her from his lap and stood. Since she looked like she was about to pass out, he placed his hands on her shoulders and turned her so that she fell easily into the chair he had just vacated.
She gazed up at him with those big amber-colored eyes. Man, she was one foxy lady. He cupped her chin, gliding his thumb over her lips that were still swollen from his touch. He was tempted to take from her again, but then his gaze found hers and he knew it would prove too much… maybe for both of them.
He casually stepped back and melted away to join the others who were making bets on how many shots of whiskey Fred Mack could take before he fell on his face.
Professional Reviews:
~Ghost Writer Literary Review~ "Wonderfully Romantic Story"
The author takes us immediately to the heart of her story with Dean, the captivating movie star and Tricia his savior. This is a wonderfully romantic story. Modern and revealing!
Reviewer: Anastasia from Ghostwriter Literary Review
~Bitten by Books~ http://bittenbybooks.com/?p+1907
****1/2 Tombstones
I enjoyed this short story, although I hate to think of the 70's as being historical! I applauded Tricia's 21st century determination (in the face of Dean's less than enlightened macho attitude) to answer the questions about Dean's death and to do her best to prevent it. The characters were believable, as was the setting, and Dean's transformation is remarkable. I would recommend At The Stroke of Midnight to all time travel devotees.
~Mystique Books Reviews~
Four and Half Moons from Mystique Books Reviews!
Tricia Lancaster is obsessed with iconic seventies star Dean McCloud, who committed suicide at a young age. After sitting in one of Dean's chairs, while on a tour of his mansion, Tricia is transported to the past. Will Tricia be able to save Dean and change history?
Ms. Nutt pens a unique time travel with interesting characters and an unexpected twist. I was drawn into Tricia's struggle to save Dean's life, because she knows that their lives are somehow entwined. Dean is a likeable playboy, who deserves redemption. All in all, At the Stroke of Midnight is an enjoyable short story, which I highly recommend.
Marlene Breakfield, Reviewer http://www.mystiquebooks.com
~Trinagon Reviews Ramsey's Reviews ~
www.trinagon.blogspot.com
A Stroke of Midnight is a fabulous read that will take the reader on a fascinating and delightful journey back in time. Karen Michelle Nutt is a remarkable writer, who will impress any reader, by creating such vivid and lively characters, which compliments a cleverly designed plot. I would absolutely recommend this short tale to anyone interested in romantic time-travel genre.
~Paranormal Reviews~
"This is a groovy tale of time and fate!"
Karen Michelle Nutt puts a different spin on fate and time travel. I'm sure we would all love to be able to go back in time and change the future. This is a groovy tale of time and fate! Not only does the story grab you at the beginning, but the reader is thrown back in the 70s and goes along for the ride. Can you dig it?
Reviewed by Ruth Schaller
~Manic Readers~
****
At the Stroke of Midnight is when Dean McCloud, at the height of his career, blew his brains out. Tricia Lancaster feels drawn and connected to Dean for some reason she can't fathom. He died before she was even born but she's collected everything she can on him. She's finally convinced the paper she reports for to let her do a story about him on the anniversary of his death. His home has become a shrine, complete with tours and she starts her research with a visit. When she falls asleep in his recliner and wakes up in the '70's things really start to get interesting.
Dean McCloud is a lovable, exasperating but worthy of redemption, playboy. He just takes what's thrown at him and then moves on to the next one. Tricia is obviously different from the women he's use to. She's not offering and she actually scolds him. Dean thinks she's adorable but crazy when she starts talking about time running out and how she needs to save him from committing suicide. When she reveals some key details, Dean starts to believe maybe she's not so crazy.
At The Stroke of Midnight is an utterly charming enjoyable read. I was caught immediately and tripped right back to the '70's with Tricia. It's not your typical time-travel romance, having a delightful twist. Definitely worth reading, especially if you're in the market for something different.
IvyD, Reviewer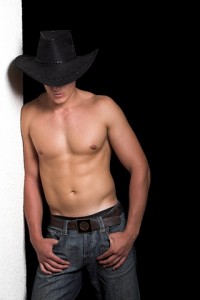 70s bad boy Dean McCloud. Will Trisha be able to save him?

Old cover 2007.