Lost in the Mist of Time Won 2006 Best Fantasy Award
Paperback: 458 pages (approx. 202,000 words)
Publisher: Amazon
Print: $32 $17.95  E-book: $9.99 $4.99

ISBN-10: 1493735039
ISBN-13: 978-1493735037
ASIN: B001C9N3CA
SW ISBN: 9781370668625
E-book Available at:
Amazon
Us / Amazon UK / Kobo/ iTunes / Smashwords
Print Book:
Amazon / Amazon UK/ Book Depository
Blurb:
Aislinn Hennessy pens tales of courage, loyalty, and true love, but her heroes of old are pure fantasy—figments of her imagination. She long ago gave up thinking a knight in shining armor would sweep her off her feet, but then she never expected to run him off the road either.
Sir Dougray Fitzpatrick has buried one wife and vows to never love again—but destiny has other plans for this 16th century Irish Lord. During a battle, a mist separates Dougray from his men and casts him into the future. Dougray must return to Dunhaven and to his century, but Aislinn follows him into the mist, leaving him no choice, but to take her home with him.
Conspiracies, feuds and unexpected violence are commonplace threats, but along the way, Aislinn and Dougray discover a surprise neither one expects: a chance for love even when they're Lost in the Mist of Time.
Excerpt:
The squeal of the tires and the rapid prayers from her mother in the back seat were all she could hear over her beating heart. The car spun to a stop on the opposite side of the road. For a long second, silence drummed like a gong of doom.
Aislinn took a deep breath and let it out again. "Is everyone all right?" A quick look verified her family was shaken but not harmed. "God, the man!" Aislinn undid her seatbelt and opened the car door, hitting the pavement. She ran across the roadway. Her brother and parents were close behind, but the mist drifted in patches, making it difficult for them to follow her.
"A.J., hold on!" Connor called out to her, but she didn't stop. Her heart pounded against her ribcage. What if she killed him? She didn't think she hit him but… She hurried on through the thickening mist.
 A groan reached her ears and she scanned the area below. The grassy area at the edge of the road dipped at a downward slope. She worked her way toward where she heard the groans. Finally, her gaze made out an outline of a man, lying like a discarded bundle draped in fur. She didn't hesitate, but ran toward him. His head rested on the rocks, as if they were soft pillows. At this moment, she wished they were. She knelt down beside him to assess the damage.
 He groaned again, his head lolling to the side. "He's breathing. That's a good sign," she murmured. She brushed his long dark hair out of his eyes, revealing the man's relatively handsome face, bronzed by wind and sun. He possessed a square jaw with a generous mouth. He sported a mustache and beard, which in her opinion, needed to be trimmed, but still it did not take away the fact his strong features held a certain sensuality.
 She then glanced at the man's strange attire of wool hide and thick mantle, and not far from where he'd fallen she caught sight of a large broadsword. She wondered why he was strolling down a deserted road dressed like he was heading to a medieval reenactment.
 She moved the thick cloak aside, her eyes widening in surprise at how his massive shoulders filled out his shirt. She took in the length of him and realized he was tall even for her standards. She towered over most men with her height of six feet, but this man had to be six-three or more. His legs were bare, muscular and thick. Viking legs came to mind. "He's gorgeous." She then shook her head, chastising herself for ogling an unconscious man when he could be bleeding to death. She looked him over for signs of injury. Her gaze caught the glitter of the amulet he wore. It was a spiral of intertwining lines that formed a circle, and in the center sat a large amber stone. For a moment, she forgot everything else and reached for the amulet, touching its fineness. Her brows drew together. "I've seen this somewhere."
 Before she could wrap her mind around where, the man grabbed her wrist and she lost her grip. Gasping in surprise, her gaze leveled on his eyes. Those pale, silver shards of glass narrowed with undeniable contempt.
 "Are ye a thief, young waif?" he asked in a voice that expected a prompt answer or suffer the consequences.
 Flustered beyond belief, she at first failed to realize he'd spoken to her in Irish Gaelic. But as fear was replaced by anger, she came to her senses and answered him in the language of choice. She was amazed that under the circumstances she could recall the words at all. "Lig amach mé!"
 He seemed stunned by her response and she wondered if she had misunderstood. Maybe he hadn't spoken to her in Irish. She repeated just as forcefully in English, "I said, unhand me."
 The man's grip tightened as his gaze slid over her. With his free hand he grabbed her chest and squeezed.
 "What in the hell," she cursed. 
 One dark brow shot up in surprise as if he'd never felt a boob before. Well, he wouldn't have time to indulge in his sick fantasy. She sent a powerful blow to his jaw, knowing right where to hit. Her father had trained her well. The man's eyes rolled back in his head as he lost consciousness.
Professional Reviews



~Ghost Writers Literary Reviews~
(Sept. 2007)
This is a long read, but worth every word. Karen Michelle Nutt did a marvelous job on writing this lengthy novel. Aislinn, a woman of our time ends up being greeted by a man named Dougray from the past. A mist that transports them from one time to another sweeps over them and Aislinn is lost in a new time, a past time. She battles with wanting to return to her land but she is stuck for a unknown length of time. Dougray a lord and a Clans owner, is responsible for Aislinn. They're at each other's throats all the time, but passions grow between them. Though they keep it to themselves; Aislinn finds friends and family but still others want to send her away. For her future antics are different from their time. She is very independent and full of spirit. A woman comfortable to wear her slacks and short hair but beautiful to the eyes, and full of opinions, she will not let know one tell her what to do. Dougray is very brave, strong and handsome, full of strong spirits also, he believes that things should be run like he see them. The conflict between their beliefs and opinions cause a spell bounding picture. They're attracted to one another, but can not let their selves go, because of past relationships that did not work out for reasons you will find out when you read this brilliantly written story for yourselves. This story has some very wonderful historic truths to it thought the characters are completely fictional. You will be swept away on this journey through time and you will feel as if you are there. Eighty-one Chapters of magical words that will keep you spellbound throughout the story. You won't get any sleep, once you pick up this book, not wanting to lay it down until you reach the end; the ending will leave you wanting more, but yet also satisfied .
This is one of the best books I have ever read, and I'm so looking forward to reading more from this author. I hope to see this turn into a movie.
Reviewer: Tabitha
~Lighthouse Literary Review~
After tragedy befell Dougray's first love, Ella, he promised never to find love again. One thing he cannot forget is Ella. Of course Ella's father solely blamed Dougray for his daughter's death and has sought revenge believing that dear Ella only married Dougray because she had lands and wealth when in reality Dougray had really loved her.
Aislinn Hennessey was enjoying a book signing when a woman steps up and hands her a decrepit leather bound book then disappears. It is a good thing that Aislinn can understand the Celtic language and make it out. Now boarding a plane, she heads to Ireland to search for answers never realizing she would find a whole lot more.
Lost In The Mist of Time is a story that spins with much creativity. The characters, strong in their actions and emotions, never knew that crossing time would bring a togetherness that would last through the years. The well-rounded secondary characters blend in to make the read even more dazzling in Aislinn and Dougray's search. It is a tale of loss and conquering that allows the reader to feel part of the time travel while feuds, hatred and heartbreak increasingly grow around them. Karen Michelle Nutt takes the reader to 16th century Ireland with luscious landscape and men who defend their country at any costs. She paints her characters with emotions that reach deep in a land that is not always full of happiness. Whether retrieving a sword for duty or protection, she fashions men that are willing to forbear and take on any task, and the strong, yet tender women who stand behind them. She pens a time where chivalry lives on and love triumphs.
Reviewed by: Linda
~New Book Review~
A Must Read
"SPOTLIGHT BOOK!"
NBR.org's book review of Lost in the Mists of Time
www.bookreviews.org.

Being a history buff, The Tittle of Lost in the Mists of Time and the setting in 16th Century Ireland, where my ancestors once called home, led me to read a romantic tale, which for me is very rare.
Karen Michelle Nutt has penned a very entertaining story filled with hilarity, strong complex characters, love, danger, fear, courage and a larger than life adventure that captured me completely. Lost in the Mists of Time is a fantastic tale, told by a gifted storyteller and will delight anyone that steps into this wonderful book and travels through the Mists of Time.

A Fantastic Tale! Gifted Storytelling! My highest Rating! A Must Read!
Ray Ward Editor6(at)newbookreviews.org
~Coffee Time Romance~
Adored This Romantic Tale
Rating: 5 Cups
Aislinn Hennessy is a best-selling steamy romance novel. Having learned several languages and self defense by her father growing up seemed odd, but during a family vacation in her father's native Ireland, his teachings become invaluable.
Dougray Fitzpatrick, Lord of Dunhaven, reluctantly engages in a sword fight with his former father-in-law, Fingham Butler's, men when he gets turned around in a dense fog. Upon exiting the fog, he finds himself in unfamiliar territory and in the direct path of a contraption that is barreling straight at him. When he regains consciousness, he is greeted by a worried Aislinn, who is speaking a strange dialect.
Over the course of two weeks Dougray and Aislinn, along with her brother Conner and her parents, Donagh and Francine, learn much about each other. Dougray is confused with the language and the dress, while Aislinn is baffled by Dougray's apparent lack of knowledge concerning everyday modern conveniences. Aislinn feels responsible after driving the car that hit Dougray, so she follows him back to the scene of the accident and they both disappear into the fog. What happens next is unimaginable.

Ms. Nutt has written a beautiful book. This book grabbed my heart from the first and proceeded to take me on an emotional roller coaster ride that had me cheering one minute, crying the next, and talking to the characters throughout. My heart went out to Aislinn and her plight, and I could have screamed in frustration at Dougray's hard-headedness. I absolutely adored this romantic tale.

Kathy
Reviewer for Coffee Time Romance
(Historical review)
www.coffeetimeromance.com/reviews.html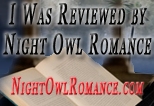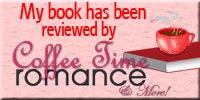 ***********************************************************************************************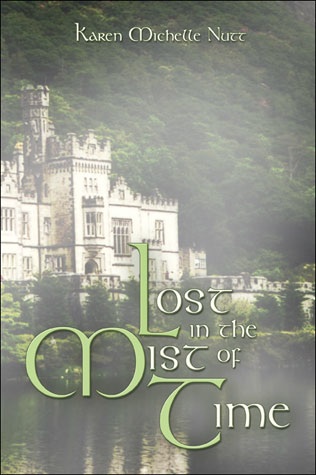 Old Book Cover:
I really loved this cover. It was how I pictured Dunhaven.
Save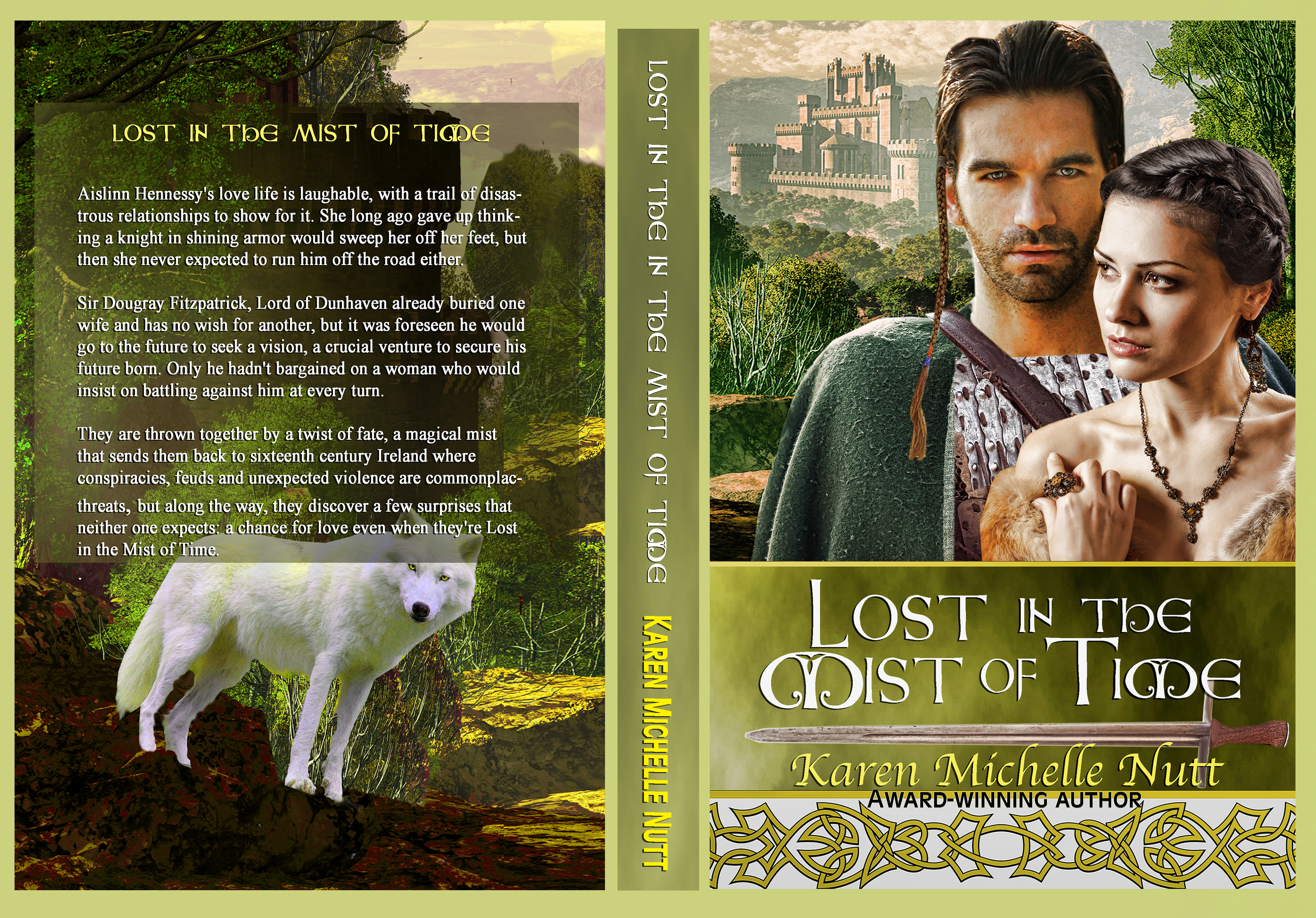 Book Video:

Save