Two Worlds Collided (Rock Star Romance)
Print: $10.98    Ebook: $2.99
#10 ISBN  1539707121  #13 ISBN 978-1539707127
#ASIN- B01M5ENGMO  SW ISBN-9781370872848
Heat index: 17+ years and older
Pages:  (about 63k)
Cover Artist: Karen Michelle Nutt (Gillian's Book Covers)
Available at:
Ebook: Amazon / Amazon UK / iTunes / Smashwords /Nook / Kobo
In Print: Amazon / Amazon UK / Barnes and Noble /Createspace / Book Depository
About Two Worlds Collided:
Evie Reid on a whim agrees to travel back in time to 1997 to change bad boy Bellamy Lovel's path of destruction. She's smart with a college degree, but she is still fan-girl crazy for the rock band, Civilized Heathens. Evie knows despite all Bellamy's smiles and enthusiasm on the stage, he's destined to end it all on one lonely night in a hotel room unless she can change his path.
Bellamy isn't keen on having Evie as his personal assistant, hired by his band mates to watch over him, and keep him on schedule. However, there is something about the woman that sparks his interest, despite his best to ignore her. When darkness threatens to consume him, he realizes she may be the only light that will chase the shadows away.
Excerpt
Her gaze landed once more on the letters printed on the door, stating roof access and the implications of Bellamy being up here registered as a warning bell in her mind. Dear Lord, why had they allowed such a thing in his unstable condition? Then she realized the band didn't suspect he was suicidal. They believed he had a drug and alcohol problem he was trying to kick.
Leon opened the door and they took a flight of stairs to another door and opened it. The bright sunlight blinded her at first until her vision adjusted. She spotted Bellamy standing on the ledge a few feet in front of her. Fear rose up inside of her like a tangible force that urged her to go to his rescue. Her legs carried her swiftly and her hands grabbed his dress shirt with some kind of wild print on it, and she yanked him toward her.
Bellamy's hands flew out in front of him as if to grab onto something to steady his fall. "What the–" Her cry of alarm muffled Bellamy's curse when she realized he was going to land on top of her, but at the last millisecond, Bellamy twisted, grabbing hold of her as he fell onto his back with her sprawled on top of him in an unseemly manner. Her hair had come loose from the knot at the back of her neck. Her glasses were askew on her nose and she tried to adjust them as she pulled on her blouse, which had risen above her waste. Bellamy's hot hands were on her flesh and for a moment she'd forgotten to breathe. She met his startled gaze and his lips pursed into a fine line.
"What is wrong with you, lady?" he said and shoved her away, not exactly rough but with a purpose to be as far away as possible from her.
She sat in a heap next to him, feeling a bit deflated that he didn't appreciate her attempt to help. "I was saving you," she said and lifted her chin.
"Saving me? Lady, you almost sent me tumbling over the edge."
"I most certainly did not," she sputtered. "And what were you doing up there, anyway? Who stands on a ledge and not think: Hey, I might fall to my death." She rolled her eyes and that seemed to set him off.
His nostrils flared and he looked like he wanted to say more on the matter, but then he turned toward Leon, who stood there with his arms folded against his chest and his lips appeared to be twitching as if he were holding back a full out smile.
"You need to fire the security guard," Bellamy stated, "that allowed this crazy broad up here." He flew to his feet and brushed off his white pants that were smudged with dirt from the gravel rooftop. He flipped his curly hair away from his bright and beautiful blue eyes. God, he was handsome. A lean five-foot-ten, he appeared taller than he truly was, or maybe it was because she was still sprawled at his feet.
Leon cleared his throat. "Bellamy, I want you to meet your personal assistant."
It took Bellamy a moment to realize what Leon meant, and then he shook his head. "No. Absolutely, no." He narrowed his eyes on her, and she scrambled to her feet as graceful as she could, considering how she ended up there.
"I'm Evie Reid." She extended her hand.
He stared at her outstretched palm for a second then leveled his gaze on Leon. "I don't need a personal assistant, and especially one who thinks attacking a person is a great tactic to get to know each other." He turned on his heels, and murmured something in Romanian, which she knew he spoke since his parents were both from there. She loosely translated it as Crazy chicks are not my thing.
"Well yeah," she shouted back. Then decided to play his game and spoke in Romanian too. "Good thing I'm not crazy then." Loosely translated of course, but that seemed to catch his attention for about a second. He turned around and met her gaze in what she believed was supposed to intimidate her, but she refused to look away. "Giving me the evil eye doesn't work." She stared back and he dropped his gaze first.
He harrumphed and grumbled something that she was sure hadn't been flattering, and continued on his way to the door that would lead him back inside the hotel.
"Well, that went splendidly," she muttered. "Why was he up here anyway?"
"Sorry, should have warned you. It's his thing. When we're about to begin a tour, he heads for the roof of the first hotel we stay at, to meditate and put him in the right mindset, or so he says." His shoulders lifted in a shrug. "For good luck, I guess," he added.
"And I just messed that up."
"Don't worry, I have hope he'll warm up to you. You did speak Romanian to him, right? Usually, he's thrilled."
Maybe, she thought, but not if he believed she was crazy.
Q and A
Q. What draws you to this genre?
A. No one knows for sure if time travel is possible, but authors have sent their heroes and heroines to the past and to the future with one stroke of a pen. The idea of time travel has always intrigued me with the question of "what if?" The possibilities are endless.
Q. What books have influenced your life the most?
A. Baby Island and The Ghost of Dibble Hollow were the first books that sparked my interest to want to read more. I was transported and I found words were magic, the story the enchantment, and the characters were my guides in the wondrous world the author had created.
Playlist
INXS songs of course.
1. I'm Just a Man
2. Disappear
3. Body Language
4. Building Bridges
5. By My Side
6. What Would You Do
7. Heaven Sent
8. Elegantly Wasted
9. Taste It
10. Strange Desire
11. Hear that Sound
12. Burn for You
13. Biting Bullets
14. Kick
15. Who Pays the Price
16. Newsreel Babies
17. We Were Thrown Together
18. Need You Tonight
19. Beautiful Girl
20. Know the Difference
21. Back on Line
22. Not Enough Time
23. Everything
24. Never Tear Us Apart
25. Faith of Each Other
26. Old World New World
27. Time
Do you have a favorite INXS song? If not, what is your favorite rock n roll band?
Reviews:
Five Stars Review from Paranormal Romance Guild
In 1997 rock star Bellamy Lovel the lead singer of the famous rock group Civilized Heathens committed suicide, he was twenty eight years old.  Now in 2007 Evie Reid and her two friends Lisa and Kelsey are running his fan club. Evie reveals to her friends that in 1997 her brother Bryce the photographer for the group asked Evie if she would agree to be Bellamy's assistant and see to it that he got to all his appointments on time. She turned down the job but did not reveal the reason which was that at the age of fourteen she attended a concert for the group and somehow wound up with Bellamy almost landing in her lap. The security guards assumed that she was to blame and ordered her to never show up for another concert and she took it to mean stay away for good.
When Kelsey heard the story she revealed that her mother has a spell that can send you back in time and if Evie returned to just before she was offered the job and she took it could she somehow turn Bellamy away from suicide. Was it possible that if she did take the job in 1997 she could have altered the course that Bellamy's life took? Lisa and Evie go along with Kelsey just to humor her but when Evie finds herself back in 1997 with her brother once again offering her a job as Bellamy's assistant she realizes that she actually went back in time and this time she is determined to save Bellamy's life.
Bellamy uses drugs and alcohol as a means of getting through the day. At the age of twenty-four an accident at a baseball game left him without smell or taste and after that his insecurities and depression got worse. A phone call to his father for help put his father in his car late at night to help his son only an accident would cost him his life. His death is something that Bellamy blames himself for and no matter how many times he tells himself it was not he can't get his heart and head to agree.
At first Bellamy is not happy to have what he calls a babysitter but little by little Evie grows on him and their relationship turns physical. He has never had a relationship but for some reason he can't separate himself from Evie. Evie hopes that her influence on Bellamy will keep him from taking his life and when her job is done and returns home she can only hope she has done enough. As soon as the job is over she is immediately zapped back to 2007 and has no idea if she did save Bellamy. I am not going to reveal if she did or not because that is something you need to find out for yourself.
Evie and Bellamy were wonderful characters and you could almost feel the pain he was going through in his life and the love she had for him. This was a beautiful love story and a genre I usually don't enjoy but this book was the exception and if you love time travel then you will love this story.
~Reviewed by: Linda Tonis, Member of the Paranormal Romance Review Team
TIME-TRAVEL: Lead singer of Civilized Heathens and self-destructive bad boy Bellamy Lovel ends his life in a hotel room in 1997. In 2007, on the ten-year anniversary of his death, the founders of his online fan club attempt something totally outrageous ~ time travel using a spell. Evie Reid doesn't believe her friend's spell will work, but she plays along anyway. Much to her surprise her essence ends up back in 1997 and she has one shot to save a man from a desperate choice and the world from a terrible loss.
Time travel using magic can often times be a tricky business for authors, but Ms. Nutt pulls it off in such an entirely believable way that this reader wished there actually was a way to travel back in time and change someone's path! Hearts will wrench while reading this compelling tale of depression and addiction, and readers will share the feelings of helplessness and anger while watching a loved one travel down a dangerous path they can't follow. Yet hope prevails as Evie does her best to turn the tide of Bellamy's behavior before she's slingshotted back to her future self. The only blots in this otherwise captivating romance are the various awkward info-dumps inserted into certain scenes and a few editing errors. However, they are easily forgiven and viewed only as speed bumps in the road less time-traveled. From the darkest depths of depression to the dizzying heights of redemption this enthralling time travel romance is music for the soul!
"A woman travels back in time to prevent a self-destructive rock star from committing suicide in Nutt's (Stake and Dust, 2015, etc.) romance.
Emerson Violet "Evie" Reid is the president of the fan club for the band Civilized Heathens—a club that's still going strong 10 years after its lead singer, heartthrob Bellamy Lovel, checked out of drug rehab and killed himself in a hotel room. (In his story, appearance, and persona, Lovel resembles the late singer/lyricist Michael Hutchence of the Australian band INXS.) Shortly before Lovel's death, Evie, a nurse, had a chance to become his personal assistant, but she refused the offer. Now she wonders whether she could have saved him. It turns out that Evie's friend Kelsey Parish knows a magical spell that could make another chance possible, so Evie travels back in time to her original decision point. After she agrees to work for Lovel, she has just three weeks to convince him that life is worth living—but she can't reveal what she knows about the future. As thrilling as it is to see her idol alive again, Evie's job won't be easy; he's moody, calls her "Book Marm," and makes remarks such as "You must have some nice tits under that oversized blouse." Evie resists his attempts at seduction, which only serves to intrigue him, and as he responds to her care, he begins to bare his soul. But is she in time to rescue him from self-destruction? Nutt brings out some very creaky tropes here, including the glamorous, desirable hero whose bad-boy behavior disguises his vulnerabilities; and the girl-next-door type whose nurturance, good listening skills, and patience get through to him when leggy supermodels can't. It's all patent wish-fulfillment fantasy, and the prose style doesn't avoid cliché either, using terms such as "sweet urgency" and "slice of heaven" during passionate moments. That said, Nutt shows skill in making her characters' emotions feel plausible, romantic, and erotic—and they will strike home for readers who relate to the novel's fangirl scenario.
Time travel and late-1990s rock add a twist to a standard good-woman/bad-boy romance."
FIVE STAR AMAZON REVIEWs
"I LOVED this book. I saw it first in Snippet Sunday and couldn't wait to read the whole thing. When it came out I bought it that day, but took my time to devour it. What a great story about redemption for both characters. Evie had to take a chance and move beyond the fears that held her bound. To be honest, she needed to go back in time rather than take the opportunity the first time because she needed the skills to deal with Bellamy. And Bellamy had such pain and depression and loss, he needed Evie to help him see the light. This was a serious subject (beyond the time travel) and Ms. Nutt handles it with grace, humor, and compassion. Read it. You get magic, romance, and connection. I highly recommend this tale." ~M.VARHALMI, Amazon Reviewer
"What happens when there was a chance to change something but you chose a different path and things went another way? This story gives you a chance to choose the first direction and see where it takes you. Sweet, sexy and heartbreaking, Bellamy. Ever dependable, dedicated and loving, Emerson. Come meet these two people and learn that sometimes fate does give second chances." ~Amazon Reviewer
"I really enjoyed this book--I love books with musicians as the main characters. I liked reading about the band and Eve going back to 1997. It was fun to imagine "what if..." and see what happened if things had turned out differently." ~Nancy Levine
"Two Worlds Collided was such a satisfying read, I spent all day glued to my Kindle to see how things were going for Evie and Bellamy! My only complaint is I wish it could have been longer! Not Enough Time indeed!" ~Roni Lynn
"I just read Two World Collided yesterday and fell in love with Evie. I was shocked when the time travel back in time by ten years actually worked. Bellamy, the rock star with deep depressive tendencies, was quite well developed and interesting. Evie, his nurse and assistant, really had trouble keeping herself on track. I've never been one to hanker after that rock star lifestyle or be a groupie. Bellamy was such a mess with his drinking and drugging and women. I thought Evie did a wonderful job of giving him a reason to live. It's a quick and very interesting read. You will enjoy this well-paced and intriguing novel by Karen Nutt. Give it a try!" ~Reading Maven

This book was amazing. Absolutely fantastic. I wasn't sure about the whole idea of merging a time-travel theme with a rock star romance but damn... it really worked. So well, that I didn't want this story to end.
Evie can't believe that her friend has just suggested they perform a ritual that will send her back in time to save the life of a suicidal rock star. One who she had a short run-in with during her teen years and almost had a chance to work for, at one point in time. But when she lands in the past and gets a phone call five minutes later, she instantly agrees to work for Bellamy with hopes of saving his life.
Bellamy doesn't want a baby sitter. And he doesn't need a boring girl, with no sense of how to enjoy herself, raining on his pity parade. When she starts to make him question his reckless ways, he can't help but want to impress the girl who should be easy to ignore.
For reasons he can't explain, Bellamy's drawn to Evie like a moth to a flame. But flames are dangerous and their time is limited. Evie does all that she knows to do in order to help Bellamy see that his life is worth living. Because once she goes back to the future, Bellamy's fate will be in his own hands.
The beginning made me a little nervous because we learn a bit about the rock star who took his life too soon and just moments later we are already in the thick of the time-travel. I was worried that the rush would hurt the story but once we arrived in the past, I was enthralled in the story.
I connected easily with Evie. She was a straight-shooting character and didn't shy away from Bellamy's attempts to get rid of her. Bellamy blew my mind. He was raw and real and layered with so much regret and emotion that he artfully hid behind his I-don't-give-a-damn persona. I fell in love with both of these characters long before they fell for each other.
The way this story was written was nothing short of beautiful. There were highs and lows where I could really feel Bellamy's struggles with the ghosts that haunted him and the addictions that he fought to end. I could see the glimpses of his soul slowly being pieced back together as he found a kindred spirit in Evie. It was just fantastic.
But don't let all of this talk about emotions and depression fool you. This book had a lot of steamy sex and plenty of surprising moments of pure romance. I think I mentioned to my husband how much I liked this story about ten times over the five hours it took me to read it. I laughed, I teared up, I blushed, and I even bit one of my fingernails off while reading a certain worrisome chapter.
In closing...
In the end, this book delivered things I hadn't even ordered, but I'm so glad I signed up to review it. I cannot praise this story enough. Five stunning suns! ~Dawn West
This is a story about taking action to make positive changes. It is about facing one's own fears in order to become a better version of yourself. It is not all hearts and flowers. There are dark days and dastardly deeds, honest desires but backsliding events.
While Evie seems to only be gone for moments in one lifetime, weeks in another, the time shift develops over years.
Well written, with characters you will love even when you are angry at them, you won't know until the story ends if it was worth taking this risk. ~Laura's Interests Reviews

This book took off on page one and didn't slow down until the last page. I personally loved that Karen Nutt at the end of the story gave a picture of the how things actually turn out. I love epilogues and so many writers leave them out, this was not under epilogue just the last chapter of the book. I also appreciate how she brings to life depression, grief, drug addiction, and suicide. She handles these sensitive subjects very well. She really takes you into the head of Bellamy who is suffering from all of these problems.
In the book We have 3 friends who are still hung up on a singer who committed suicide 10 years before. They run a fan club and schedule events since more then just the 3 of them are still hung up on Bellamy Lovel and the Civilized Heathens.
One night Evie and her friends come up with an idea to send Evie back in time. Evie had the chance before Bellamy died to be his assistant 10 years earlier and  decided not to. When she goes back in time instead of saying to to the job she takes it. It is up to her to help Bellamy so he lives.  She will be brought back in time before she knows if it works or not though. Evie is a little afraid of changing time and tries not to change too much.
This is really a wonderful book. It is filled with romance, and as I said mental health issues. The book in a way actually brings awareness without being a text book. I am very glad I was able to read this book. ~Teresa Noel, T's Stuff Reviews
This was an amazing book to read. I really enjoyed this book and looking forward to reading more of her books. This happens to be my first book that I have by this author and I was just stuns on how beautiful this was.
The characters were very well written and you could feel there emotions with them. I fell in love with Evie and Bellamy. There Romance was not easy at first they had to work on it. Of course when it was all good there was some steamy hot sex scenes.
This was a well written beautiful story that I didn't want to end. I wanted more. Best book I have read this year.
Highly recommend to time travel romance/ rock star fantasy reader lovers. You will not be disappointed. ~Stacey Schneller, from Books, Dreams, Life
Five Stars Review from World Travel Film, A.K Smith's Review
I've always loved time travel so when I had the opportunity to receive a free copy of Two Worlds Collided for an honest review on my blog, www.wordstravelfilm.com I was very interested. Let's see, What's not to like about rock 'n' roll and time travel? Both subjects I love, and when they are mixed together in an interesting love story, you'll discover a plot full of what if's and a journey of hope.  Imagine your favorite musician, one you would love to meet in person, maybe even have dinner with suffers an untimely death. His music is gone, his personality is tarnished, and you receive the opportunity to change fate. Fifty years ago this could have been a story about Elvis, who wouldn't have wanted to go back in time and save him?
Evie Reid gets the opportunity to go back to the late 1990's and try to save her favorite rock star. Karen Michelle Nutt is great at developing her characters and creating an inventive plot. It's a quick read, but well-paced and you will become sucked in. I loved the real character of Bellamy, and my curiosity to know what will transpire, kept me glued to the pages. A little steamy, a little sad, but well written. If that's your type of book, pick this up, you won't be sorry. I give it five stars. ~A.K. Smith
Everyone has dreamed of going back and changing things. What if it were possible? Evie's favorite rock singer died when she was a young woman who was working as a nurse. She is now the head of his fan club, and she and her friends remember the beloved singer from a decade earlier. Then the chance of a lifetime comes and. Evie can go back and save him. Years before, she had had the chance to accompany him with his band in order to keep him on schedule, but she had turned the job down. This time, she won't. Perhaps she can be enough of an influence to save his life. Will it be safe to do so? How will he react to her?
This is an exciting story about second chances. Both Evie and Bellamy, her beloved singer, are well-developed characters. The interaction between them is realistic and interesting. A reader wonders, while perusing this story, if Evie will be successful, and even if she is, will she go back to her time and remember the past, or will she live those years all over again? Perhaps she will not save him but will learn something important. Time travels can go many ways. Is there a single timeline or many simultaneous ones? These are questions one might consider while reading about Evie's and Bellamy's adventure. Without giving away the ending, it can be said that the pace is quick. This is a fast, easy read with its steamy moments. Character development is weaved nicely around actions that lead to an exciting ending. For those who love time travel stories, this one will leave you happy that you picked it up. ~Laura Hogg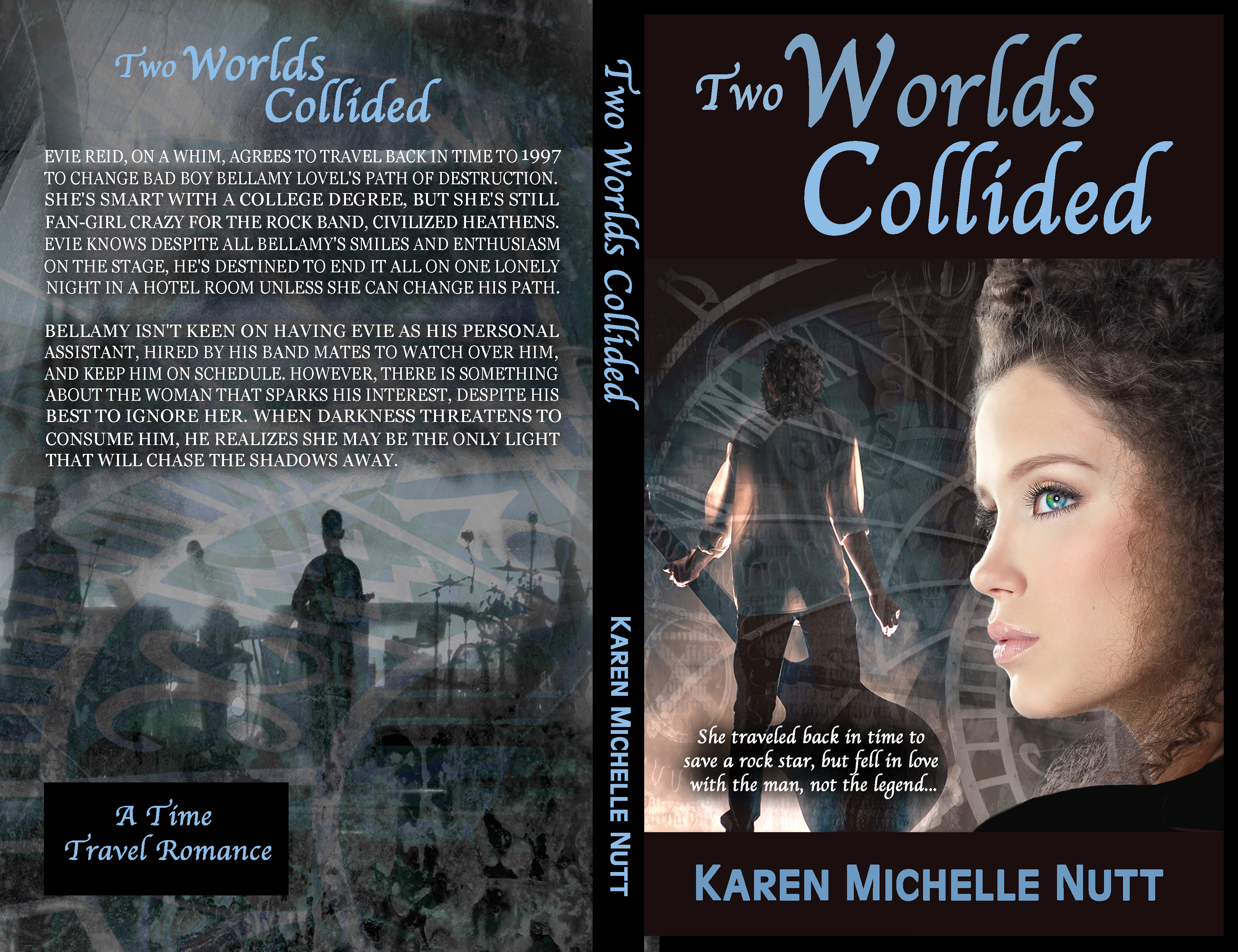 Save

Book Video:
Save