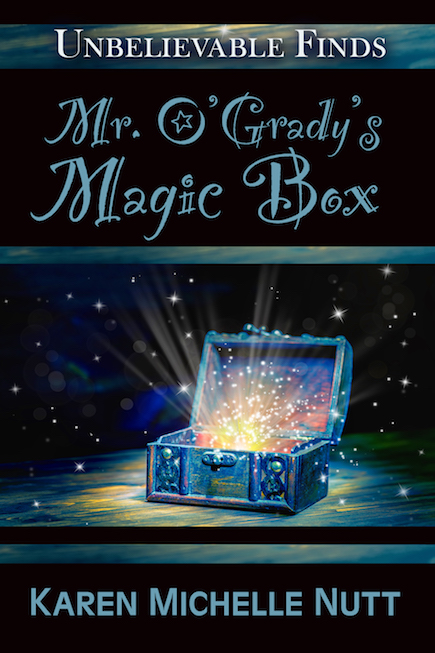 Mr. O'Grady's Magic Box (UNBELIEVABLE FINDS )
This sweet tale surrounds Aubrey and Ian. They shared a whirlwind romance, but it ended abruptly with no closure.  Aubrey's arrival at the inn will give Ian a chance to explain why he left her,  but will it be enough for her to forgive him? Can a romance gone wrong be rekindle into something more profound? 
Publisher: Twin Star Books
Digital ISBN:
ISBN-13: 978-1983431814
ISBN-10:1983431818
ASIN# B078P5NVWY
SW ISBN: 9781370920426
Rating: Sweet
Release date: Oct. 14, 2011
Category: Romance/ light Paranormal / contemporary/
Word Count: 45k (approximate)
Print: $8.95       E-book: 99¢
E-book Available at:
Amazon US / Amazon UK / Nook/ Smashwords
Print:
Amazon / Barnes and Noble / Book Depository / Createspace
Mr. O'Grady's Magic Box was originally a 10k short story winner of the Beacon Books Contest and featured in the anthology, Object of Romance. The anthology has since been discontinued. Mr. O'Grady's Magic Box has been re-edited and enhanced to make this 45k tale of romance and magic. I hope you'll enjoy Aubrey and Ian's story.)
Blurb: Aubrey Jules, a reporter from Unbelievable Finds is sent to investigate a box, which is reputably older than time and crafted by the wee folks. Mr. O'Grady, owner of the bed and breakfast in Dana Point, California and owner of the magic box, convinces Aubrey to wish for a soul mate, When Ian Quinn, the man who abandoned her ten years ago, walks in, she's convinced the faeries have a wicked sense of humor.
Excerpt
Reaching the bottom step, Aubrey's gaze shifted to the front door as an amazing specimen of masculinity walked in. She was positive it was Mr. O'Grady's grandson. The gardening belt around his waist also was a dead giveaway he wasn't a guest.
With the sun shining behind him, she could only admire his broad shoulders and chest, tapering nicely down to a tight waist and slim hips. My, my, his faded blue jeans fit him all too well. Now if he would step further into the foyer so she could see his face clearly. As if on command, he took a few steps forward only to be stopped by the couple with the brochures. Perfect. She could admire the man without him noticing her.
Dark hair trimmed at his ears and longer in the back, straight nose, strong jaw—exquisite perfection brushed with a touch of wildness and…something familiar.
Her eyes narrowed then widened when recognition hit her like a slap in the face. Her book and papers in her hand were forgotten as everything went numb. The book slipped from her grasp and smacked the ground like a gavel, startling everyone into silence.
His gaze riveted to hers while her papers swirled in the air liked she'd thrown confetti. She turned away. "Oh dear God, let him stay where he is," she mumbled under her breath.
No such luck. He flew to her rescue, his strides long and sure. Flustered, she bent down to pick up the book at the same time he knelt down. Their foreheads smacked together in the process.
His deep familiar chuckle strummed down her spine like caressing fingers, making her heart dance in her chest. No, it can't be him. This is Mr. O'Grady's grandson. He'd be an O'Grady, too.
Not if his father married Mr. O'Grady's daughter. Her nasty conscience mocked her, not letting her deny the truth.
Aubrey slowly lifted her gaze to meet his. Her heart stopped and started again with the intent of bursting from her chest. His features may have matured from a young man to now, but the eyes were the same dark blue and the way he smiled with a crooked curve of his lips couldn't be duplicated by anyone but him. He wasn't an apparition; he was truly here.
"Are you all right?" he asked, concern lacing his words as he stared at her.
She shook her head, feeling off centered. "What?"
"You look like you've seen a ghost." He handed her the book, his fingers brushing hers. Then he really looked at her. His crystal dark-blue gaze locked with hers, surprise registering before he realized his vision wasn't playing tricks on him. "Aubrey?" His voice lowered to a husky timber.
At least the bastard had the decency to remember her name. "Hello, Ian." She could have won an academy award with those two words. Her voice sounded cool and calm when on the inside she wanted to scream. It had been ten years, and in seconds, all the feelings she thought were buried came blasting to the surface with a vengeance. "Fancy meeting you here. I believe the last time we saw each other, you were perfecting your disappearing act." She moved away, retrieving the papers, hoping he'd slink off somewhere. He didn't. His quick hands retrieved her papers near the stairs.
Reviews:
"Sweet and romantic, centered about an ordinary object that becomes extraordinary in the light of love. I recommend it!" Reviewer: Jeanne Treat, author of Dark Birthright
"Carved Celtic Box linked to the realm of Fairies and their magic. A must have for the collection of any lover of sweet romance and true love." Stephanie McGrath PNR
"Magical things are important to me. Ms. Nutt weaves a story that is full of dreams coming true. Any story that involves fairies is close to my heart. I could not get enough!"
Krista, Reviewer for Coffee Time Romance