Th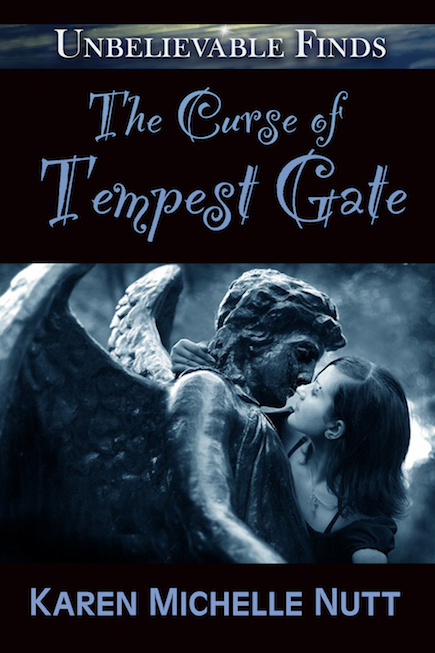 e Curse of Tempest Gate :Unbelievable Finds 
(paranormal romance)
Print: $6.99       E-book: $0.99
Publisher: Twin Star Books
Page Count: 99
ISBN-13: 978-1983448782
ISBN-10: 1983448788
SW ISBN: 9781370984039
Ebook AISN: B078PQWVRR

Ebook available at:
Amazon US / Amazon UK / Smashwords / Nook / iTunes / Kobo
Print Available At: Amazon / Barnes and Noble / Book Depository

About the Book:
Two entities need Clarity to break the curse that binds them but only one will demand her heart.
Clarity Shaw, a reporter for Unbelievable Finds, investigates the curse of Tempest Gate, despite the warnings to stay clear of the cemetery. She may be a paranormal investigator but she's skeptical about the stories regarding an angel statue that comes alive and the legendary devil's chair that holds its victims captive.
Excerpt for The Curse of Tempest Gate
She chewed on her lower lip, debating if she should give the chair a try. "The stories surrounding the chair were meant to scare people," she reminded herself, trying to forget Hester Higgins ominous warnings about the entity of Samael feeding off a person's deeds. "Sordid deeds." Her worse offense was taking extra cream home from the nearby coffee shop to use later at home. She couldn't imagine Samael getting high off of that. Besides, the legend of the chair was probably invented to scare away vandals.
With a shrug of her shoulders, she plopped down in the chair, facing the Archangel Michael, who appeared to be eyeing her with disdain. "Don't look at me that way. I had to sit here. I work for a magazine—and I'm talking to a statue." She shook her head. It must have been the knock to her head. It made her loopy. She lifted her camera, facing the lens toward her. At arm's length, she snapped a self-portrait of herself sitting in the chair. She looked at the picture on her screen, thinking it looked okay, but something in the corner of the photo caught her attention.
The clouds shifted overhead and the photo became shadowed. She had to magnify the picture, bringing the image closer to the screen. Her heart beat faster in her chest. A shadow in the shape of a man stood behind her off to the left of where she sat. She whipped around in her seat, half expecting to see the figure looming over her, but there was nothing there.
Her body relaxed and she sat back in the seat, studying the image once again. She might have dismissed the figure as a trick of the light if there hadn't been two glowering red eyes staring back at her. "Now that's creepy."
The shadows deepened overhead. With a frown, she glanced up at the storm clouds moving in fast from the other direction to join the ones hovering overhead. She had to go now. Her windbreaker wouldn't repel a downpour and she'd end up drenched. She flew to her feet, but something whipped around her waist like a vice and yanked her back into the chair. She let out a gasp of surprise as she glanced down at the ivy wrapping around her, binding her as securely as ropes would. She struggled against the plant determined to keep her prisoner, but her fingers were useless against the vine's strength.
You're sitting in the devil's chair. The annoying voice in her head reminded her in a tone of how-stupid-can-you-get.
A scream crawled up her throat in a roar of denial. "Demons are not real! They are not real," she yelled again.
"Oh, but they are," a deep voice momentarily broke through her tirade.
Her limbs froze and her heart threatened to stop. The Archangel Michael stepped down from his base, his wings spread wide in a ruffle of feathers that sliced through the air. He no longer was a frozen stone effigy, but flesh and blood. His hair was seven shades of gold and his eyes as blue as the sky. Her mouth dropped open, but no words left her lips.
"I believe you asked for my service." He bowed before her with a generous display of courtesy.
She let the scream come loose, bellowing like a banshee set free to find its prey.
Professional Reviews
~Ramsey's Book Reviews~
For Curse of Tempest Gate
Rating: 5 drops of blood
Pages: 54
Reviewed by Amy Ramsey
www.trinagon.blogspot.com
When Clarity Shaw arrived at the Tempest Gate Hotel in Salem, New Hampshire, all she expected to do was research and report on the mysterious happenings behind the legend of The Curse of the Tempest Gate Cemetery. Clarity has a particular interest in this legend since it was supposed to involve one of her distant ancestors'. While checking into the Hotel, Clarity is told of some interesting tales surrounding the history of the cemetery and it's superstitions. Hester, the Hotel's receptionist, recalls a sense of familiarity toward Clarity, but is unable to place what it is.
With persuasion from Hazel and warnings from Mr. Donner, Clarity sets out to complete her investigation and bring truth to her readers, for she is a reporter of a paranormal magazine company. Entering the cemetery, Clarity wanders the grounds until she comes to a stone effigy of an archangel. Noticing the remarkable realistic nature of the stone effigy, Clarity is bewitched by it's handsome, yet sincere features and feels some attachment to it. Shocked at her thoughts, she backs into the the Devil's Chair, another stone effigy..... And the cause for her investigation.
Setting upon the Devil's Chair, Clarity wakes up the supernatural being lurking within it's stone prison and at the same time, when otherworldly beings can mingle with mortals on All Hallow's Eve, the effigy of the archangel, Michael comes to life. Determined to break the curse her ancestor bestowed upon two men centuries ago, Clarity finds herself in the middle of a reoccurring battle to the death between good and evil and a love that has withstood time itself. Will she be able to breaks it's curse for good and send evil back to where it belongs or is history meant to repeat itself time and time again?
In all my years of reading I have never come across a story written quite like this one. The Curse of Tempest Gate is like finding a needle in a haystack. As I came to the end this fantastic tale, I was left with a tear in my eye and a sense of satisfaction and pleasure. Karen Michelle Nutt is truly gifted in her craft of weaving a tale. She has wrote some amazing stories, but this one is now, above and beyond, my favorite. I love the story line which flowed swiftly and smoothly throughout the story. The characters and background settings were perfectly blended to give the reader the sense of realism towards the events and emotions depicted. I could visualize the aura of good surrounding Michael, the archangel, as well as seeing in my minds eye the evil emanating from the Devil's Chair and Samael. My thanks goes out to Karen Michelle Nutt for allowing me to experience her unique realm of Angels. Karen's creative tales always make me want to read more from her and I have not yet been disappointed. THANK YOU KAREN!!!
~Coffee Time Romance~
Review for The Curse of Tempest Gate
Clarity Shaw goes to a small town to research her first story for the paranormal magazine, Unbelievable Finds. Heading to the cemetery, after some preliminary conversations with the locals, she finds the devil's chair that is said to be haunted, as well as, the Adonis like statue of the Angel. When both come alive to reveal stunning men determined to have her break an ancient curse, she finds that leaving may be impossible as one of the two has captured her heart.
Michael has stood sentry over the Devil's Chair and his arch nemesis, Samael, since they were cursed by the witch so long ago. When Clarity awakens him and he can finally break the curse, he is driven by his feelings for her to try to protect her by his feelings for the fiery reporter. Accepting of an eternity of his imprisoned existence, he attempts to sacrifice himself to protect her.
Together they will battle an evil as old as the curse itself. Selflessness, the only thing that the lovers when the curse had been cast had lacked, will break the curse. But will they save each other or be overwhelmed by Samael and his desire to be free?
A well wrought ghost story, this tale of angels and demons trapped in a cemetery to battle for all time will have the reader flipping the pages to see if the curse is broken. Although the connection with Michael is fast and hot, the passion between these two characters is believable and wrapped up nicely. I would love to read more of these characters as the author left it open in a way that suggests other stories about the writers of Unbelievable Finds.
Virginia, Reviewer
Ghost Writer Literary Reviews
Clarity is a reporter for Unbelievable Finds, and has decided that the first article that she wants to do will be about the curse of The Tempest Gate Cemetery; a tale told to her as she was growing up. She has a hard time believing in the paranormal, but that doesn't stop the chills she gets when she receives numerous warnings from others once she gets into town.
Intent on getting some photos of the Devil's Chair and the Stone Angel Warrior in the town's graveyard and stories from the locals, Clarity doesn't realize that she's key to the two entities freedom as she steps into the cemetery... or that she may never come out again.
The storyline was good, and I enjoyed the curse aspect of this, especially when Nutt added in a conversation with a ghost. Gotta love that.