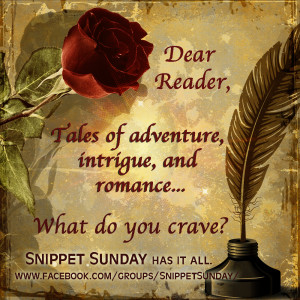 Welcome to Snippet Sunday.
If you missed the last weeks snippet from
The Gryphon & His Thief, here's the link. Chapter Six #1
Set up for this week: Calli has left Darrien handcuffed to the bed and has made her escape. Darrien is feeling sorry for himself, but that is about to change.

This scene is in Darrien's POV.

I have skipped ahead just a wee bit.

*The excerpt may have been modified to fit the 8 sentence limit.

***********************************************************
The little minx did not realize the danger she posed, not only from the person who hired her, but from him as well. His beastly side would sooner or later demand justice for her stealing the stone, and he feared no matter his feelings for her, it would prove not enough, and the beastie would win.
He stared at the cuff surrounding his wrist and cursed again for being caught unaware. With his other hand, his fingers slid over the cool metal. "I am even a bigger fool," he grumbled, not because of the binds that held him fast, but because the handcuffs weren't anything special. They were not fashioned out of iron, but some other mundane metal of no consequence, nothing that would hamper his strength and abilities. He may not be able to shift into the Gryphon because of the small quarters, but he could still shift into his elemental form. He let the elements slide over him and transform his body to ether.
************************************************************
Darrien is free at last. Oh Calli, you better run. lol
Until next week, take care.
If you're interested in knowing more about The Gryphon and His Thief, here's a blurb: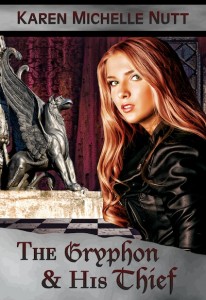 Available at:
Ebook: Amazon / Amazon UK / ARe / OmniLit / iBook / Nook
In Print: Amazon / Amazon UK / Barnes and Noble /Createspace

Blurb:
Some Treasures are Priceless…
A long time ago, a Gryphon shifter's duty was to guard and protect the people of the tribes, but Darrien Andros failed to keep his human wife safe from harm. Cursed for the crime, he must guard everything in the Museum of Cursed Antiquities forever, never to truly live and never to die. Centuries have passed, but when he encounters a thief, who uncannily resembles his dead wife, he is convinced he has a second chance.
Calli Angelis is hired to steal Hecate's Stone from the Museum, believing she would be returning it to its rightful owner. She never really trusted the person who hired her and now Darrien makes her doubt her motives, too. He also has her questioning the possibility of reincarnation when the attraction between them ignites into something she can no longer ignore.
As the two work together to unravel the mysteries behind the stone, it becomes apparent an old and dangerous enemy from Darrien's past is determined to have history repeat itself.
*****If you're a writer (regardless of published/unpublished status) come join us and share a snippet of your work in progress, a new release, or an oldie but goodie.
Hashtags: #8sunday #snippetsunday #SPeekSunday
Participating Authors are listed at these sites:
Weekend Writing Warriors for Eight Sentence Sunday