Publishing by Rebecca J. Vickery
*** 10 Novels/Novellas for the special price of 99 cents each ***
Sale dates: December 1 – 31, 2014
Reckless Destiny by Madeline Baker
Let Nothing You Dismay by Linda Swift
Frankie by Molly Dillon
Loving Luc by Vicki Crum
Seeking Shelter by Rebecca J. Vickery
The Devil's Wolf by Karen Michelle Nutt
A Court Lady by Clova Leighton
Chances Are by Laura Shinn
A Matter of Tea and Other Stories by Charles T. Whipple
The King's Daughter by Miriam Newman
Price good for ebook versions at most online book retailers.
[Dates may vary at some retailers.]
amazon.com * smashwords.com * barnesandnoble.com
kobobooks.com * flipkart.com * itunes.apple.com
Please watch for future sales.
Sign up for our Newsletter at: http://rebeccajvickery.com/
Here's the line up!
When: Monday, October 27, 2014
Meet the Authors, Books, 28 Contests, and 28 chances to win a Prizes!
Time: 8:00 AM PDT to 10:00 PM PDT
Time zone conversion http://www.timebie.com/timezone/cdtpdt.php
____
08:00 AM Karen Michelle Nutt
08:30 AM Lorrie Farrelly
09:00 AM Kristy McCaffrey
09:30 AM Vicki Crum
10:00 AM Kelley Heckart
10:30 AM AJ Nuest
11:00 AM Sarah Grimm
11:30 AM Denise Moncrief
12:00 pm Dani Harper
12:30 pm C. Shell Romance Author
01:00 pm Sarah McNeal
01:30 pm Cheryl Pierson
02:00 pm Kirsten Lynn
02:30 pm Donna Augustine
03:00 pm Linda Mooney
03:30 pm Cherley Grogg
04:00 pm Shayna Matthews
04:30 pm Railyn Stone
05:00 pm Linda Broday
05:30 pm Maureen Bonatch
06:00 pm Cecilia Corona
06:30 pm Kathleen Rice Adams
07:00 pm Barb Betts
07:30pm C.M. Bowen, Author
08:00 pm Kaye Spencer
08:30 pm Jacquie Rogers
09:00 pm Michelle Zunker Ziegler
09:30 pm Racquel Kechagias
Centuries before The Wolfman and Bram Stoker's Dracula became Halloween favorites, the ancient Greeks and Romans loved tell scary stories about monsters, ghosts and the afterlife.
I'd like to carry on the storytelling tradition at KMN Books Blogspot with the Halloween FLASH FICTION BASH!
 OCT. 1 to Oct. 31. Thirty one days of FREE stories form 31 authors!
Some of the authors are also giving away extra goodies, and at midnight on Oct. 31st there will be a grand prize drawing. 3 GRAND PRIZES FOR 3 LUCKY WINNERS!
Don't be late and bring a friend! We promise we won't bite... unless asked.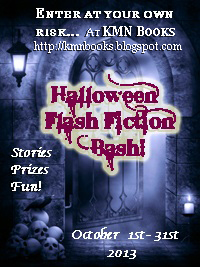 Halloween Flash Fiction Bash at KMN Books!
For the month of October, I'm looking for Flash Fiction Tales to celebrate Halloween. Let your creative minds take flight! All post must be 50 to 1000 words with a beginning, middle and end to your tale. (No erotica please. Keep it PG13 :)).
Along with your Flash Fiction Tale, you may promote one of your latest releases or dig up an oldie but goodie.

Giveaways for this event would be fabulous, too!
What do you need to send me?
1. Flash Fiction post
2. Jpg. of your book and blurb
3. Author bio, and photo(optional)
4. Link to your website and link to order your book
Don't have an idea for a tale?
Here's some Flash Fiction ideas:
1. Vampire theme: Vampirism is spread by infected sand fleas, making surfing and partying at the beach a very dangerous lifestyle.
2. Zombie theme: A woman gives up her baby for adoption. Years later, her child sets off in search of his/her birth mother. Unfortunately, he's been dead for six months…
3. Werewolf theme:A werewolf is mistaken for a dog and accidentally sold at a pet store.
4. Loch Ness Monster: A pet store in Scotland sells adorable lizards. Months later, shocked parents discover that their children's pets are growing… and growing…
5. Creatures: A woman steals a valuable painting, but she is soon confronted by the night watchman who happens to be a gargoyle.
6. The latest diet craze: Kidnapping skinny people and switch your brain with theirs.
7. A psychic medium captures spirits with her mind, and traps them inside a Mason jars. She decides collecting ghosts a selling them is both profitable and fun until...
If you'd like to participate, please contact me to reserve your day!
Contact me at: kmnbooks (at) yahoo (dot) com
Subject line: Halloween Flash Fiction Bash
Chat soon,
Karen
Here's the line up. Remember the direct links to each author's post will not work until the day the post goes live! Here's the general link to KMN Books:
http://kmnbooks.blogspot.com
Dec. 17
Celia Yeary
-  "Gifting" 3 copies of A Christmas Wedding (Nook, Kindle or PDF)
Dec. 18 Dawn Luedeke- contest
Dec. 19
Liz Flaherty
- Contest to win a Tea cup, saucer and tea!
Dec. 20
Susan Macatee
- giveaway-PDF book and $10 Gift Certificate
Dec. 21 Gerald Costlow- contest.
Dec. 22 to Jan. 2nd Closed. Have a safe and happy holiday! Come by in 2013 for more fun!
Dec. 14 Stephaine Burkhart
Dec. 15 Dianne Harstock- Giveaway: PDF copy from her backlist
Dec. 16 Cheryl Pierson-giveaway
Dec. 17 Celia Yeary
Dec. 18 Dawn Luedeke
Dec. 19 Liz Flaherty
Dec. 20 Susan Macatee- giveaway-PDF book and $10 Gift Certificate
Dec. 21 Gerald Costlow
So you want to be an author. Mystical Press is here to help you reach your goal. Authors don't be shy either, Mystical Press offers a variety of online classes and so much more. Stop by KMN Books Blogspot and chat with Arial and A.J.. Don't miss their special offers!
http://kmnbooks.blogspot.com/2012/09/mystical-press-and-publishing.html
Find a new author, a great read…and win stuff.  From January 12 through January 24, thirteen powerhouse authors have teamed up for the Amazing Authors Event. Here's the lineup:
Jan. 12.  Caroline Clemmons (historical & contemporary genre fiction)
Jan. 13. Beth Trissel (historical & light paranormal romance)
Jan. 14. Roseanne Dowell (romance)
Jan. 15.  Cathie Dunn (historical fiction & romantic adventure)
Jan. 16. Maggie Toussaint (romance & mystery with a Southern dash)
Jan. 17. Patsy Parker (paranormal fantasy romance)
Jan. 18. S.G. Rogers (fantasy, romantic fantasy, young adult fantasy)
Jan. 19. Linda LaRoque (western contemporary & time travel romance)
Jan. 20 Jacquie Rogers, (dragons, princesses & romance)
Jan. 21. Karen Nutt (paranormal romance)
Jan. 22. Anna Kathryn Lanier (sensual contemporary & historical westerns)
Jan. 23. Barbara Edwards (riveting romance with an edge)
Jan. 24. Ginger Simpson (historical & contemporary romance)
On the last day of the tour, Ginger Simpson is going to post some fun and easy questions you must answer for the chance to win free reads. (Hint: there will be a link to each author's post so you can quickly double check).
Please join us!  We're looking forward to meeting you.