W is for Werewolf
A werewolf is a lycanthrope, which is a human who can shape shift into a wolf form. In mythology it is believed a person can become a werewolf by being bitten by another werewolf. They shift only when the moon is full and they lose all sense of being human, preying on humans and animals alike. Some African tribes still believe in this.
The Irish have a different take on werewolves. The werewolves aren't man-eating creatures and they could change from wolf to human at will.
They also believed the wolves protected children, guarded wounded men, and have also guided a lost person to safety.
The Giraldus Cambrensis, who lived in 1185, wrote down these Irish legends.
One legend is about the people of Ossory, who had the power to change into wolves whenever they wanted. When an Ossorian became a wolf he would leave his body at home as if he were dead. He would leave strict orders with at trusted friend not to move the body. If someone moved the body and the wolf couldn't find it, he would remain a wolf for the rest of his life. In his wolf form, he lost all human aspects and would attack sheep and cattle, as any other wolf would do.
Another legend concerning the Ossorian people is that St. Natalia cursed them for their sins. Two Ossorians, a man and a woman would live in the shape of wolves for seven years. After they completed the cycle, they would return home and another couple would take their place.
In Irish folklore the werewolf motif is found throughout history. There are tales about wolf-men tribes that lived in County Tipperary. The ancient kings of Ireland would ask for their help when threatened by war. There are other tales about half-men, half-wolves living in the mountain regions.
It was also believed a wolf talisman would ward off evil.
Though the werewolf legends have survived, the wolves did not. The last wolf spotted in Ireland was in 1786.
In Moon Shifter and in Soul Taker, my werewolves are from the Irish Clan the Mac Tire. They can shift at will. The older werewolves can shift from one reality to the other without having to strip down to their bare bum.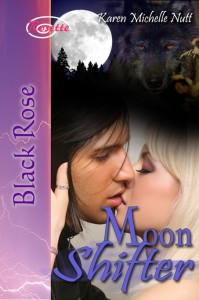 Sydney believes she is a monster, a werewolf. She flees before Grayson can help her adjust, but Grayson must find her. Sydney's body is still changing and the were-lust will drive her crazy if not sated. He has until the full moon to help her tame the wolf inside and convince her she's his soul mate. If he fails, he loses her forever.
Sydney still craves Grayson's touch, but can her heart forgive him for making her one of the Mac Tíre?
Available at Wild Rose Press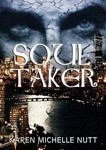 No soul is safe…
A vampire from the Grim Sith sept is sucking the souls out of young women from the Boston area, but this sinister crime is far worse than a vampire seeking substance. He's selling the souls to the highest bidder and it seems business is booming.
A vampire, a werewolf, and a Necromancer are a most unlikely team, but Garran, Harrison, and Isabella plan on putting a kink in the dubbed Soul Taker's plans. It's personal now. One of their friends has fallen victim to the Soul Taker's charms, but to stop him from hurting anyone else, their efforts may involve raising the dead.
E-book Available at: Amazon Kindle
Here's the list to the other A to Z Challenge participants. Have fun hopping!!
This is the 15th day of the A to Z Challenge.
O is for Omens
Do you really believe a four-leaf clover will bring you luck? Or if you see a penny and pick it up, you'll have good luck?  How many of you have a St. Christopher medal in your car?  Maybe you wear a talisman of some sort or perhaps it is simply a lucky shirt.  Many people believe in charms and their magical properties of luck and protection.  Whatever it may be, you are not alone. Below are a few omens and good luck charms that may or may not be familiar to you.
Animals
Never disturb the swallow's nest. They are wise birds and will take note of your behavior. They will either give you a reprimand, or perhaps if they think you are worthy, grant you a kindness.
If you happen to find a horse's back tooth, you should carry it with you as long as you live, for you will never want for money.  Remember you have to find it by chance, not by extracting the tooth yourself.  You cannot give it to someone else for the charm will be broken.
If a dog follows you home it is a good omen.
Sparrows are thought to carry the souls of the dead. So it is bad luck if you kill one.
If a bird flies through your house, there will be important news, but if the bird cannot get out, the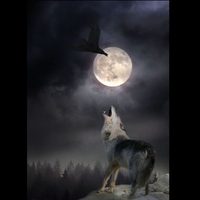 news will be death.
Do you visualize a raven when they think of macabre writings of Edgar Allan Poe and his preoccupation with omens of death? It was unlucky in Wales to have a crow cross your path. However, if two crows crossed your path, the luck was reversed. "Two crows I see, good luck to me".
Greeks thought dogs could foresee evil. If you have your new-born baby licked by a dog, your baby will be a quick healer.
Howling dogs mean the wind god has summoned death, and the spirits of the dead will be taken.
If a black cat walks towards you, it brings good fortune, but if it walks away, it takes the good luck with it.
Insects
If there is a butterfly in your room, it means great pleasure and success, but you must not catch it, or the luck will change.
A cricket in the house is good luck.  If you kill it, all the other crickets will come into your house and eat your clothes.
Body
Ringing in the ears means news will soon be received. Three sneezes in a row means: a sign for more definite results.
If your palm itches, you will receive money, but if you itch it, your money will never arrive.
If your ear tingles, it means you are being talked about. Some believe if it is the right ear, it is for spite, but if it is the left year it is for love. (Others reverse this omen.) If you think of the person, friend, or acquaintance that is likely to be talking about you, and then mention the name aloud, the tingling will cease if you have guessed the right one.
Items
KNIVES crossed are a bad omen. If a knife or fork or scissors falls to the ground and sticks in the floor you will have a visitor. (Do you think this goes for tile floors?)
If an acorn falls from an oak tree and strikes you, it is a sign that good fortune will be yours.
When you leave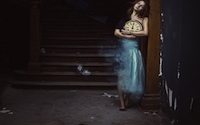 a party, you should throw a slipper. This will bring you good luck. (Is this why Cinderella marries a prince? lol)
If you have breakfast by candlelight on Christmas morning, you will have good luck.
A horseshoe lost by a horse and found by you with the open end facing your way, is good luck. You must hang the horseshoe over the door with the open end up so the good fortune doesn't spill out.
If you find a purse made from weasel's skin, you will never be without money.
At one time salt was a rare commodity and believed to have magical powers. If spilled salt the omen was family problems or death. To ward off this bad luck, one must throw a pinch of salt over the shoulder then all will be well.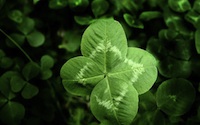 Clovers
A four-leaf clover represents God's Grace; therefore, good luck.
A white clover is held in high esteem by the Celts of Wales.  It is thought to ward off evil spirits.  
Druids held the four-leaf clover in high regard considering them good luck.
Other
When seeing a shooting star if you make a wish it will come true. (Hmm, hasn't so far. Lol)
If a flame of candle flickers and turns blue, there is a spirit in the room.
A chill up your spine means someone in the future is walking on your grave.
A person born on Halloween will have the gift of communicating with the dead.
BIRTHDAYS
"Monday's child is fair of face,
Tuesday's child is full of grace,
Wednesday's child is full of woe,
Thursday's child has far to go,
Friday's child is loving and giving,
Saturday's child works hard for its living;
But a child that's born on the Sabbath-day
Is handsome and wise and loving and gay."
Which birthday omen is yours? Do you have any omens to share?

Print:Barnes and Noble
E-book: Amazon
In my historical time travel, A TWIST OF FATE, a fortuneteller interprets her vision. She has seen Arianna's death, but she also predicts Arianna will travel back in time where her true path awaits, and where she will find true happiness.  Is this good omen or bad omen? lol

P.E.A.R.L Finalist for Best Time Travel 2008
Has a twist of fate sent her back in time? This is a question which plagues Arianna Ward when she wakes up to find her memory in fragments, like a long forgotten dream.
Everyone claims her name is Annabelle. The year is 1814 and she's married to Captain Keldon Buchanan, a man who despises her. The more she learns about her life, the more she realizes why she's chosen to forget it. She's a liar and an adulteress. She doesn't understand why she wanted to destroy her marriage when her heart tells her she belongs with Keldon.
Keldon harbors his own secrets. He's the Highland Pirate and secrecy is the difference between life and death. He doesn't trust his wife, but he finds his heart softening to the woman his wife has become. If he didn't know better, he'd swear he's married to another woman and he's fallen in love with her.
Thank you so much for visiting. Come by tomorrow for P is for Paranormal. Here's the list to the other A to Z Challenge participants. Have fun hopping!!
***Free Photos from Desktop Nexus
This is the 13th day of the A to Z Challenge.
M is for Magical Mirrors
I bet you're wondering how an ordinary mirror could be magical. At one time they were thought to be a gateway to another realm.
Now, we look at them to check our appearance and brush our hair. We might even have mirror or two that is strictly for decoration.
From the beginning of time, humans were able to gaze at their reflections in pools of water. Very few animals recognize their own reflection. These first humans who caught sight of their reflection in a pool of water, loch or river, may have been startled at what they saw. Perhaps this is where the earliest superstitions first began.
Superstitions
To gaze at your own reflection was believed to be a way to enter another world where you could divine your future. Some believed if the image was distorted it meant their would be a death.
Breaking a mirror brings seven years bad luck. (Who hasn't heard that one?) Romans believed that it took seven years for the soul to renew itself. They believed the reflection in the mirror was their soul. So if you broke the mirror, it would shatter your soul.
However, you could overcome this stroke of bad luck if you buried the pieces deep in the ground, or threw the broken pieces of glass into a river that flowed south.
A mirror falling from a wall was a sign that someone was going to die.
At one time it was common practice to cover all the mirrors in the house if someone died. This would prevent the soul of the decease from being trapped in the glass by the devil.
Another superstition is that you can find out whom you're going to marry by sitting in front of the mirror and eat an apple. Then you must brush your hair, and your future beloved will appear behind you in the reflection.
The first time a couple locks gazes in the mirror, this is a sign they will have a long and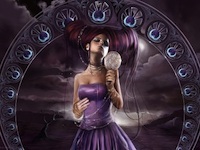 happy marriage.
The legend that a vampire cannot see his or hers reflection in a mirror is due to the belief vampires do not have souls.
Bad luck will follow you if you gaze at your reflection with only candlelight to light the room.
Actors do not look at their reflection over another's shoulder for it will bring bad luck.
Infants were not allowed to gaze into a mirror for the first year of their life, for fear bad luck will befall the child.
Tidbit of History
Greek or Roman mirrors were disks of metal with a polished face. These mirrors usually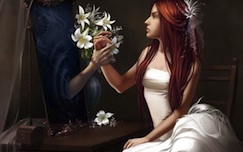 had a handle attached, and some had a design etched or painted on the back.
Mirrors were used for fortune telling and scrying. John Dee, the astrologer and court magician for Elizabeth I of England was supposedly an excellent scryer.
In the 17th century, mirror making was a secret process monopolized by Venetian Republic. To furnish the Palace of Versailles Hall of Mirrors, Jean Baptiste Colbert, French Minister of Finance at the time, hired Venetian workers to create these mirrors. After the completion of the Hall of Mirrors, it is believed the Venetian Republic sent secret agents to poison the workers so to keep the mirror making process a secret.
Illusionists used 'smoke and mirrors' to make it look like objects appeared and disappeared. The mirrors are extended and retracted amid a burst of smoke.
A Chinese magic mirror is an art creation. The face of the bronze mirror projects the same image cast on the back. The effect is due to the curvatures on the front. This ancient art that can be traced back to the Chinese Han Dynasty (206 BC – 24 AD).
Mirrors or Reflective Devices used in Literature
Oscar Wilde's novel, "The Picture of Dorian Gray": The portrait is the magical mirror in this tale, reflecting the true visage of Dorian Gray's soul.
Narcissus of Greek mythology: Narcissus wastes away while he admires his reflection, and think of nothing else.
The Lady Shalott by Tennyson. She possesses a mirror that enables her to see the people in Camelot. Only the curse prevents her from seeing Camelot directly.
I only named a few. Can you think of others? Hint for one: "Mirror, mirror on the wall..."
So the next time you look into a mirror, reflect on what you see. Perhaps you're peering at your soul, or maybe you'll see your future as you floss your teeth, or brush your hair. Then again, maybe it is simply your reflection smiling back at you, and encouraging you to take on the day.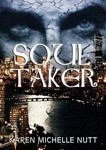 Tidbit from my tale Soul Taker: Alexander traps the souls he steals in Witch Balls, colorful glass baubles.

Blurb:
No soul is safe…
A vampire from the Grim Sith sept is sucking the souls out of young women from the Boston area, but this sinister crime is far worse than a vampire seeking substance. He's selling the souls to the highest bidder and it seems business is booming.
A vampire, a werewolf, and a Necromancer are a most unlikely team, but Garran, Harrison, and Isabella plan on putting a kink in the dubbed Soul Taker's plans. It's personal now. One of their friends has fallen victim to the Soul Taker's charms, but to stop him from hurting anyone else, their efforts may involve raising the dead.
Here's the list to the other A to Z Challenge participants. Have fun hopping!!
**Public Domain photo:

An illustration from page 30 of Mjallhvít (Snow White) an 1852 icelandic translation of the Grimm-version fairytale.
**Magic Mirror Free Desktop Photo: http://abstract.desktopnexus.com/wallpaper/1328278/ ***Magic Mirror Free Wallpaper Photo http://mi9.com/wallpaper/magic-mirror_13720/
Are our heroes heartthrobs or heartbreakers? Or are they just the same thing? No matter what they are they make our hearts beat a little faster.
Valentine's Day is just around the corner and we're chatting about those heartbreakers. We love those sexy heroes, but what about when those heroes aren't so perfect?

Hop on over to KMN Books and for the Heartbreaker Blog Hop!
What makes us fall in love with the wickedly alluring imperfect hero?
http://kmnbooks.blogspot.com/2013/02/heartbreakers-wickedly-alluring.html
Almost 300 bloggers have giveaways and posts about those men we love! 
But that's not all....
We have THREE grand prizes. You as a reader can go to EACH blog and comment with your email address and be entered to win. Yep, you can enter over 200 times!

1st Grand Prize: A Kindle Fire or Nook Tablet
2nd Grand Prize: A $100 Amazon or B&N Gift Card
3rd Grand Prize: A Swag Pack that contains paperbacks, ebooks, 50+ bookmarks, cover flats, magnets, pens, coffee cozies, and more! (Sorry, USA resident for the swag)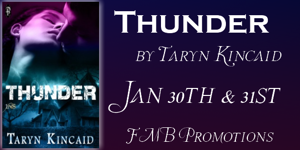 At KMN Books: Taryn Kincaid is a multi-published author or sensual romances. She writes for Decadent Publishing, Carina Press and The Wild Rose Press.  Here's a sneak peek at Book 2 in her 1Night Stand series: Thunder!   ***Giveaway***
1  

Ebook copy of Lightning or Thunder by Taryn Kincaid + swag. (Ends Feb. 6th)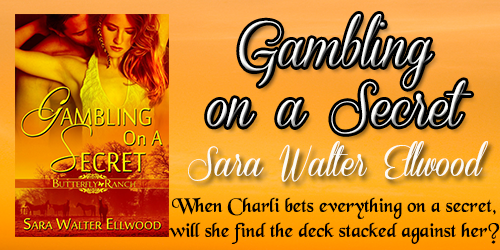 Sara Walter Ellwood is at KMN Books today to tell us about her passion for writing and what keeps her motivated to pen such exciting tales. You're also in for a few treats. Not only do you get a sneak peek at her new release: GAMBLING ON A SECRET, she also has prizes to give away! Come by and find out how you may be dealt in on this game of fortune.  http://kmnbooks.blogspot.com/2013/01/day-job-vs-my-passion-by-sara-walter.html
J.P. Sloan pens science fiction tales, urban fantasy, and horror stories. He's here today to share a sneak peek at his newest release: The Curse Merchant. Sit back, and enjoy! **Popcorn and soda optional. (At KMN Books)

Dec. 22nd At KMN Books: I'm thrilled to have fantasy author, Gerald Costlow here today to share his sweet and amusing story of his Christmas in Korea. You're sure to have a chuckle. He also has a sneak peek at his new release: Crazy Jack. I had a chance to review this story and I just loved it and I'm sure you will, too.

***CONTEST: Gerald is giving away an ebook copy of Crazy Jack to one lucky winner! Come by KMN Books for all the details. You don't want to miss adding this tale to your Christmas stocking!
http://kmnbooks.blogspot.com/2012/12/gerald-costlow-shares-is-his-christmas.html
Dec. 19th At KMN Books: Liz Flaherty pens romance tales for The Wild Rose Press, Carina Press and Sillhouette. Her new romances Jar of Dreams will be released January 2013! Sounds fantastic readers and you can pre-order it now! 
***CONTEST: Liz is giving away a cup and saucer (and maybe a teabag or two) to a lucky commenter. Come by KMN Books to find out how you may win this wonderful Christmas present!!
At KMN Books: Dawn Luedecke is an author of western and paranormal tales. She breathes life into her characters and you'll remember them long after you've closed the book. Dawn is here today to share her Favorite Kind of Christmas Magic and give us a sneak peek at two of her books from The Wild Rose Press. Let's give her a warm welcome!
Please leave all comments and questions at KMN Books:
http://kmnbooks.blogspot.com/2012/12/dawn-luedecke-and-christmas-magic.html
See you there!!
Here's the line up. Remember the direct links to each author's post will not work until the day the post goes live! Here's the general link to KMN Books:
http://kmnbooks.blogspot.com
Dec. 17
Celia Yeary
-  "Gifting" 3 copies of A Christmas Wedding (Nook, Kindle or PDF)
Dec. 18 Dawn Luedeke- contest
Dec. 19
Liz Flaherty
- Contest to win a Tea cup, saucer and tea!
Dec. 20
Susan Macatee
- giveaway-PDF book and $10 Gift Certificate
Dec. 21 Gerald Costlow- contest.
Dec. 22 to Jan. 2nd Closed. Have a safe and happy holiday! Come by in 2013 for more fun!