********************************************************************
Derek hated to think it, but if Tim paid a visit to the McBrides, he hoped the vamp ended it here, drained them and moved on because if one of the McBrides survived, the nightmare continued at another poor schmuck's home.
Reaching the gate, his hand gripped the padlock. It wouldn't stop him and he pulled out his tools from his jeans' pocket to pick the lock. He could easily jump the fence, but it was better to take the time now and have an easy escape route, if there proved a need. It took less than a minute.
He opened the gate and slid in, only to halt his movements when he noticed the black lab sitting on his haunches, staring at him with a curious tilt of its head. He was glad he had the heads up on the pet. "Good…boy," he said as he slowly fished into his jacket with multiple pockets containing all sorts or weapons. This pocket just happened to be filled with dog biscuits. He kept a box in his truck. Made it easier to deal with the four-legged animals when he invaded their territory.
*********************************************************************************
The family's pet is alive and well. Does that seem to be a good sign? Just a thought.

*****Victory Tales Press is looking for stories for their anthology. Would you like to participate? Here's the link for more information.
*****If you're a writer (regardless of published/unpublished status) come join us and share a snippet of your work in progress, a new release, or an oldie but goodie.
Hashtags: #8sunday #snippetsunday
Participating Authors are listed at these sites:
Weekend Writing Warriors for Eight Sentence Sunday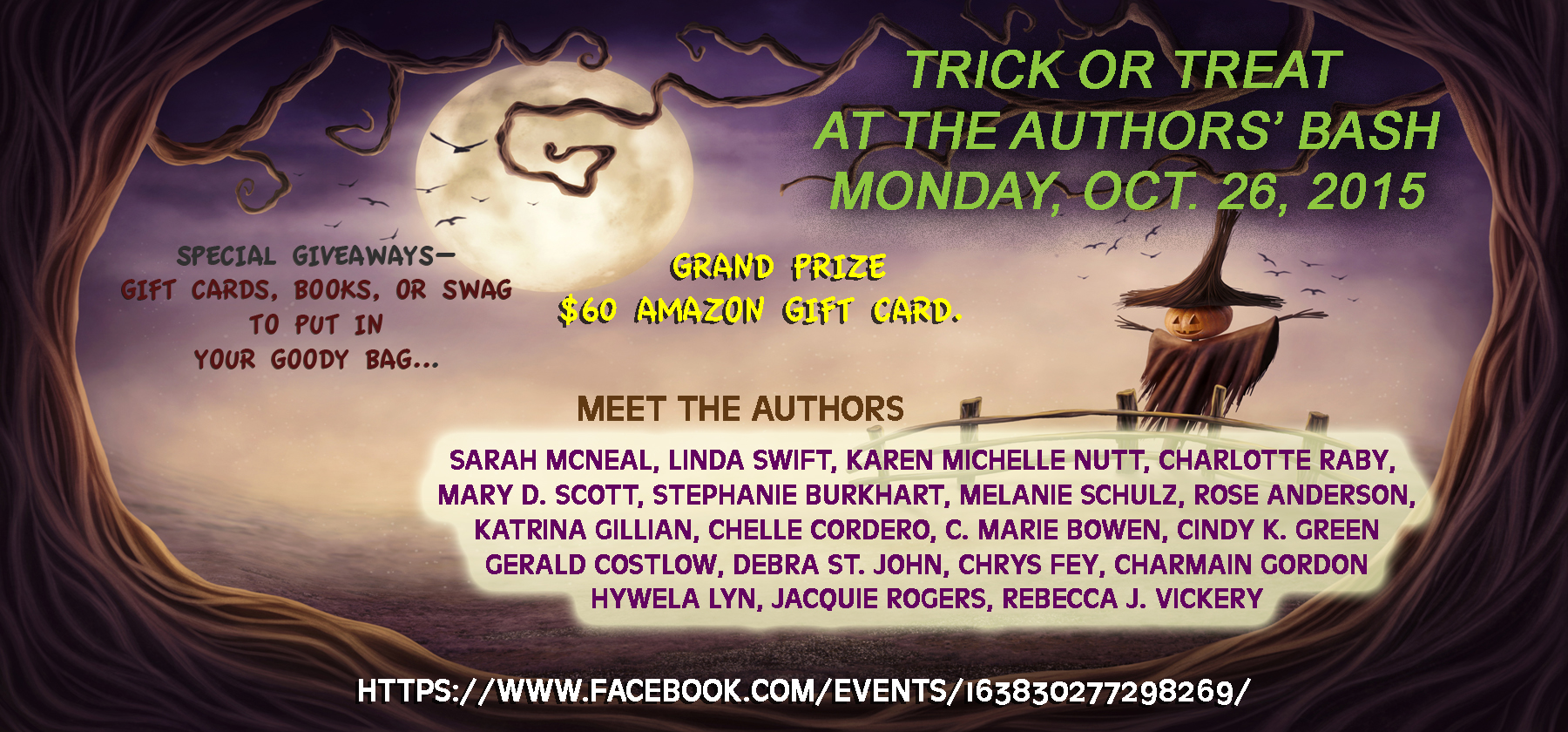 The big Trick or Treat at the Authors' Bash starts tomorrow! Stop by and meet the authors. Ask questions, read the excerpts, play the author's games and win prizes. So much fun!! To be entered to win the Grand Prize of a $60 Amazon Gift Card, all you have to do is comment on one or all the authors' posts and you're entered to win. Hint: Each comment you make is worth a entry. https://www.facebook.com/events/163830277298269/
In the Mood for some more partying? Stop by Must Love Breeches Anniversary Party! I'll be giving away an eBook copy of one my Time Travel Tales. Winner's choice.

https://www.facebook.com/events/148106295541470/
 Trick or Treaters stop by on Oct. 26, 2015. Meet the authors and stick around for the party and you'll have a chance to win some treats.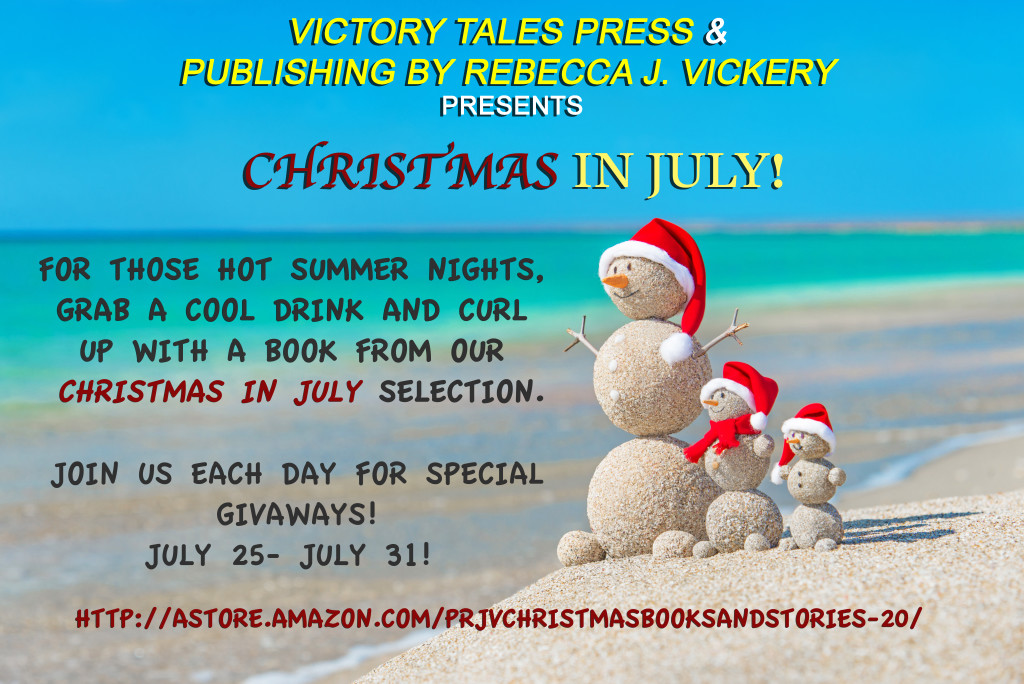 Stop by daily between July 25 through July 31st to win anything from free books, gift cards, or swag from our authors.
Share stories about your holidays or how you keep cool during the summer. We love recipes too, or just pop in to say hi.  We're giving away gifts everyday to fill those Christmas stockings! https://www.facebook.com/events/1649596658592412/
Check out our Christmas in July books here: http://astore.amazon.com/prjvchristmasbooksandstories-20/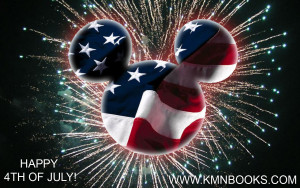 Celebrate with the Summer Sales Event!
99 cent sale!
Fated to Be Yours (Anthology) - is only $1.99!
This is 4 complete short stories. My tale is Flowers and Fangs!
Enjoy the Celebration!!
VICTORY TALES PRESS is looking for Romantic tales for our
Myth, Legends and Midnight Kisses,
2015 Halloween Collection!
The approach of autumn and the Halloween Season has a varied appeal. Some would rather celebrate All Saints Day and forget the scary stuff, or some love the chilling tales of legends. This autumn VTP's anthology will spotlight romances with a theme of legends and myths. It can be a made up legend or myth, or perhaps an old one with your own special twist. It's up to you.
The short stories can be any genre as long as there is a romance and a mention of a legend or myth. (The romance doesn't have to be the main focus.) The stories may have a western, fantasy, history, time travel or even adventure theme. They can be eerie tales and capers, too.
Vampires, witches and werewolves have a variety of legends you can draw from, and you can add your own special mythology to it.
What if there was an outlaw from the 1800s, who buried his treasure and someone from now found it? Perhaps it was cursed...
How about a civil war legend like the angel's glow legend... Where the soldiers' wounds actually glowed and those who did, had a better chance of surviving. What if there was an actual angel...vampire...fairy...or perhaps a special woman or man who had the power of healing...
Maybe your legend is an item that has the power of finding a soul mate...
It can be anything. Let your imagination guide you.
What are we looking for?
Any LEGEND or Myth themed romance (sweet to sensual) with a word count between 10,000-20,000. If your tale is slightly shorter or longer, this is okay. The word count is only an estimation guide.

When do we need the stories?
Now until Sept. 15th. The sooner you can email your submission the better. We will do some light editing only, but we will need time to read through all submissions.

Please send submissions to kmnbooks @ yahoo . com (no spaces).
Please put 2015 HALLOWEEN COLLECTION in the SUBJECT LINE. 
I can't wait to read your tales! Any questions, please don't hesitate to email me.

Karen
VTP Anthology Coordinator
Our recent Releases!
Available NOW!

Ebook and Print

Five complete sweet to sensual romances from five multi-talented authors in settings that are sure to fill those hot summer nights with romance. There's a tale for everyone. Fans of contemporary stories will enjoy a small town romance, a hot summer suspense, and a tale of second chances. Historical and paranormal fans will be delighted too with a post-civil war story of forgiveness, and a pre-civil war tale with a western show, secrets, and a whole lot of magic.
Four complete sweet to sensual romances from four multi-talented authors in settings that are sure to warm your heart. There's a story for everyone. Let magic and myths come alive, be swept away by the historical past, enjoy a charming contemporary setting, and be lured into the paranormal world. Love awaits...
Smashwords
Kindle
Nook
Amazon Print
B & N Print

Karen Michelle Nutt
Website
Blog
Amazon Author Page
Facebook
Twitter
Fan-tastic
Summer Sale!
Click here for more information.
Summer Sale - June 1 thru August 31, 2015
A Fan-tastic 99 cents Each!
Arrow Through the Heart - Stephanie Burkhart
That Special Summer - Linda Swift
Take Five (Collection) - Linda Swift
Changing the Future - Paula Martin
Dream of Paris - Paula Martin
His Leading Lady - Paula Martin
The Stars at Night - Celia Yeary
The Gryphon and the Thief - Karen Michelle Nutt
Twilight's Eternal Embrace - Karen Michelle Nutt
Legends of Winatuke (box set) - Sarah J McNeal
Familiar Shadows - Bert Goolsby
Chances Are - Laura Shinn
A Court Lady - Clova Leighton
Jessie's Girl - Amanda Ashley
Abby's Bodyguard - Margaret Mayo
A Vampire's Tale - Adrian Scott
Charles - Adrian Scott
Revenge - Adrian Scott
Crazy Jack - Gerald Costlow
Case of the Missing Succubus - Gerald Costlow
Charlotte's Resurrection - Linda Swift
Becca's Paranormal Collection - Rebecca J. Vickery
Young Witchcraft - Stephanie Burkhart
Stopped Cold - Gail Pallotta
Seeking Shelter - Rebecca J. Vickery
A Fan-tastic Deal $1.99 Each!
Passion's Promise - Madeline Baker
Masquerade - Amanda Ashley
Midnight and Moonlight - Amanda Ashley
Maiden's Song - Amanda Ashley
The Grand Experiment - John Duncklee
Rachel's Retribution - Margaret Mayo
The King's Daughter - Miriam Newman
Fated to Be Yours (Anthology) - Victory Tales Press
Be My Always (Anthology) - Victory Tales Press
A Fan-tastic Sale $2.99 Each!
Tales of Western Romance - Madeline Baker
In the Shadow of the Hills - Madeline Baker
Dixie Cup Assassin - Jerry Boehner
Surviving With Love - Rebecca J. Vickery
Margo - Molly Dillon
The Devil's Galley - Michelle Rodriguez
Loving Luc - Vicki Crum
A Fan-tastic Price, Just $3.99!
This Time Forever - Linda Swift
Copyright © 2015 Publishing by Rebecca J Vickery, All rights reserved.

Gotta have a reward for surviving your taxes! Treat yourself to an eBook and enjoy the savings.
Check out Rebecca J. Vickery Publishing and Victory Tales Press' books at All Romance eBooks for your 25% off AREBLAST BARGAINS!
My tales at Rebecca J. Vickery Publishing are:
Some Treasures are Priceless… A long time ago, a Gryphon shifter's duty was to guard and protect the people of the tribes, but Darrien Andros failed to keep his human wife safe from harm. Cursed for the crime, he must guard everything in the Museum of Cursed Antiquities forever, never to truly l 
more...
Soul Taker
By: Karen Michelle Nutt
Published by: Publishing by Rebecca J. Vickery
A vampire, a werewolf, and a Necromancer are a most unlikely team, but Garran, Harrison, and Isabella plan on putting a kink in the dubbed Soul Taker's plans. It's personal now. One of their friends has fallen victim to the Soul Taker's charms, but to stop him from hurting anyone else, their e 
more...
VTP - Flowers and Fangs is featured in the Fated to be Yours Collection along with three other fabulous tales!
Fated to be Yours
By: VTP Anthologies
Published by: Victory Tales Press
Four complete sweet to sensual romances from four multi-talented authors in settings that are sure to warm your heart. There's a story for everyone. Let magic and myths come alive, be swept away by the historical past, enjoy a charming contemporary setting, and be lured into the paranormal world. Love awaits...