25 Days of Holiday Blogging! 25 Winners! $25 Wild Rose Press Gift Certificate!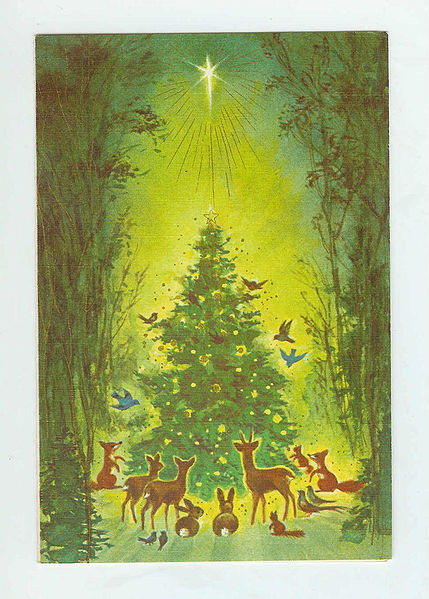 The 25 Days of Christmas Blog Event with The Wild Rose Press Authors!
To be eligible to win an Ebook copy of Magic of the Loch answer this question:
**MAGICAL QUESTION**: What are some Christmas traditions you follow or find interesting? Don't forget to leave your email so I may contact you if you should win.

Don't forget to enter the Rafflecopter for a chance to win $25 Gift Card!
Magical Traditions of Christmastime:
http://thewildrosepress.blogspot.com/2013/12/magical-traditions-of-christmastime.html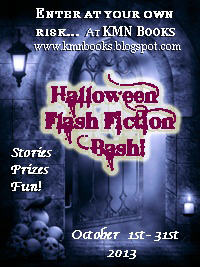 Don't forget to enter the Flash Fiction Bash Rafflecopter for additional prizes! Enter daily for additional chances!
31 Authors, 31 Free Reads!
Oct. 1

Jeannie Treat- FREE

EBOOK to all and a chance to win

(Signed Print copies of her Dark Birthright Saga) in the

Grand prize Giveaway!



Oct. 3 Rebecca J. Vickery / win an eBook
and a chance for the Grand Prize giveaway 3 more eBooks

Oct. 4 Gerald Costlow -Giveaway 2 copies of
VTP 2012 Paranormal Collection--Contest ended, but you can still read his FREE STORY!
Oct. 6
Savanna Kougar
- Giveaway Prize: of Kandy Apple and Her Hellhounds
Oct. 12
Shelli Rosewarne
- new Zombie Romance release. And lots of Goodies for the Giveaway!
Oct. 13 Kelley Heckart-Giveaway: $5 Amazon Card

Oct. 14 Layla Hunter
Oct. 15 Beth Caudill
Oct. 16 Terry Spear

Oct. 17 Theresa Holland Ryder
Oct. 18 Debra St. John

Oct. 19 SJ Thomas
Oct. 20 Deborah Macgillivray
Oct. 21 Teri McGlade

Oct. 22 Steph Burkhart

Oct. 24 Matthew Pizzolato- Giveaway $10 Amazon Gift Card
Oct. 25 Lindsay Downs- Grand Prize giveaway
Oct. 26. Laura Strickland- Giveaway-Gift certificate to TWRP
Oct. 27
Rosemary Gemmell- Giveaway: eBook copy of
Mischief at Mulberry Manor
Oct. 28-31st Snarkology Paranormal Blog Hop--Karen Michelle Nutt (me) Win a Zombie Cameo Necklace!

Oct. 28 Hywela Lyn- Giveaway $10 TWRP Gift Card
Oct. 29 Cara Marsi/ giveaway

Oct. 30 A.J. Nuest- Grand Prize Giveway
Oct. 31 Nicole Zoltack
Nov. 1 Vincent Nutt- Alive Zombie Flash Fiction
Centuries before The Wolfman and Bram Stoker's Dracula became Halloween favorites, the ancient Greeks and Romans loved tell scary stories about monsters, ghosts and the afterlife.
I'd like to carry on the storytelling tradition at KMN Books Blogspot with the Halloween FLASH FICTION BASH!
 OCT. 1 to Oct. 31. Thirty one days of FREE stories form 31 authors!
Some of the authors are also giving away extra goodies, and at midnight on Oct. 31st there will be a grand prize drawing. 3 GRAND PRIZES FOR 3 LUCKY WINNERS!
Don't be late and bring a friend! We promise we won't bite... unless asked.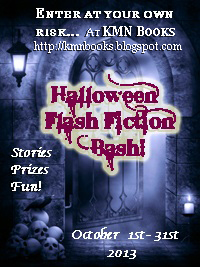 Halloween Flash Fiction Bash at KMN Books!
For the month of October, I'm looking for Flash Fiction Tales to celebrate Halloween. Let your creative minds take flight! All post must be 50 to 1000 words with a beginning, middle and end to your tale. (No erotica please. Keep it PG13

).
Along with your Flash Fiction Tale, you may promote one of your latest releases or dig up an oldie but goodie.

Giveaways for this event would be fabulous, too!
What do you need to send me?
1. Flash Fiction post
2. Jpg. of your book and blurb
3. Author bio, and photo(optional)
4. Link to your website and link to order your book
Don't have an idea for a tale?
Here's some Flash Fiction ideas:
1. Vampire theme: Vampirism is spread by infected sand fleas, making surfing and partying at the beach a very dangerous lifestyle.
2. Zombie theme: A woman gives up her baby for adoption. Years later, her child sets off in search of his/her birth mother. Unfortunately, he's been dead for six months…
3. Werewolf theme:A werewolf is mistaken for a dog and accidentally sold at a pet store.
4. Loch Ness Monster: A pet store in Scotland sells adorable lizards. Months later, shocked parents discover that their children's pets are growing… and growing…
5. Creatures: A woman steals a valuable painting, but she is soon confronted by the night watchman who happens to be a gargoyle.
6. The latest diet craze: Kidnapping skinny people and switch your brain with theirs.
7. A psychic medium captures spirits with her mind, and traps them inside a Mason jars. She decides collecting ghosts a selling them is both profitable and fun until...
If you'd like to participate, please contact me to reserve your day!
Contact me at: kmnbooks (at) yahoo (dot) com
Subject line: Halloween Flash Fiction Bash
Chat soon,
Karen
Travel to where time holds no boundaries for romance...  http://www.amazon.com/Karen-Michelle-Nutt/e/B002BLLBPE/
Just a few reasons why Linkedin is a great tool for authors...
Google Points: LinkedIn gives you "Google points" for the sites you link to from LinkedIn. It also ranks very high on Google.
Feature Your Book: In the "Publications" section, you can list details about books--synopsis of each book and a link your book's page on Amazon,  another online retailer, or even your website.
Import Your Contacts: LinkedIn makes it easy to connect with the people you know by allowing you to import your contacts into the system without worrying about spam. You'll see your contacts and those who already have an account on LinkedIn. You can send those people a LinkedIn connection request.
Groups on LinkedIn: You can find all kinds of business-related topics here, and can join as many groups as you like. Get involved. Top contributors in a group receive extra exposure. You can also subscribe to daily or weekly email digests from the groups.
Start a Group: If you have the time, (lol--I know, who has time?)-- you can start your own group on LinkedIn, which is free and it will provide excellent visibility.
Get Recommendations:  You can send out recommendations for your books, for you as an author, blogger posts, etc... Recommendations are displayed on your profile and add credibility to what you do. Reach out to your contacts and ask for recommendations. Remember in return, you should give some recommendations, too.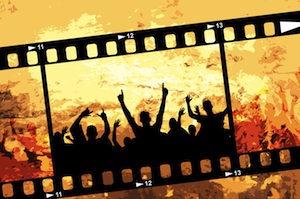 Use Endorsements: This allows people to easily click a button and "endorse" your skills and expertise. You can add the skills you want to be known for when editing your profile. Link
edIn will automatically ask your connections to endorse you. In return, you can endorse those in your network. LinkedIn makes it easy to do. Edorsements will give you credibility, too.
Share Content: The news feed on LinkedIn isn't as active as the news feed on Facebook, but people still check it out. LinkedIn users can subscribe to daily emails for summarized details. I share on LinkedIn at least several times each week if not more. I include my new blog posts, event announcements, etc.
Want publicity? There are lots of periodical editors and TV producers you can network with. Who knows maybe one will like your book and make it into a movie.

Ice-skating has become a holiday tradition, too. We can date ice-skating back to 3000 B.C.  Leg bones from large animals were used as the blades and skates were tied on with leather straps. The Dutch word for skate is 'schenkel' which means leg bone. The oldest pair of ice skates was found at the bottom of lake in Switzerland.
CHRISTMAS in JULY July 24 - July 31st
Once a year is not enough for Christmas and Winter Holiday decorations, movies, books and stories. Please join the authors as we post our Holiday book titles, share recipes and decorating, and discuss movies.
What would Christmas or the Holidays be without gifts? Stop by Rebecca J. Vickery's for a list of free books! http://rebeccajvickery.blogspot.com/
What about holiday sales! Don't you just love them? Here's some 99 cent deals:
Magic of the Loch is on sale for only 99 cents at The Wild Rose Press and at Amazon!It's a big savings from its usual ticket price of $5.99. So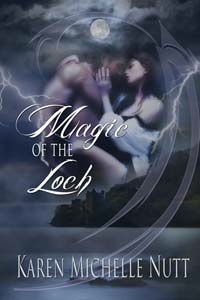 if you haven't picked up a copy, here's your chance to own it for less than a buck!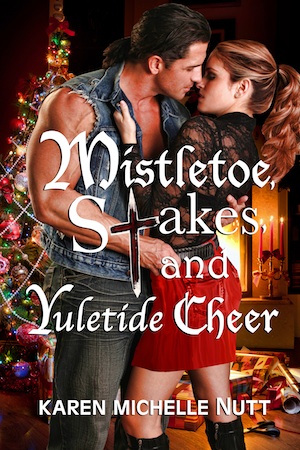 Mistletoe, Stakes and Yuletide Cheer is only 99 cents for the Christmas in July Celebration! "Cassandra is a hunter--but she's the one stabbed through the heart when she finds out her new boyfriend is the vampire she's been sent to slay!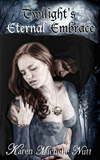 Twilight's Eternal Embrace
E-book: Kindle
If Bram cannot find a way for Adryanna to survive the blooding ritual, the romance is doomed. They seek help from Sheerin, Bram's cousin, who believes he's found a way for the Lathe Sith to survive, but others in the Oiche Sith clan do not wish for them to succeed.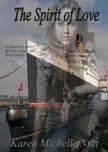 The Spirit of Love
Ebook Available at:
Kindle
Nook
Smashwords
A tragic accident leaves Brynna and Travis devastated. Instead of turning to each other for comfort, they drift apart. However, they must complete one more assignment—set on an old ship, The Queen Mary, during Yule, one of the most haunted times in the Celtic calendar. It is believed souls of the dead prevail and anam cara—soul friends can visit.
Will Travis and Brynna confront the spirit of love, allowing them a chance to heal and find their way back to each other?
Moon Shifter
Available at Wild Rose Press
It is forbidden for a moon shifter of The Mac Tíre clan to change a human and save them from death. Grayson Quinn, the alpha of the pack ignores the ancient rule when Sydney Carlisle, his fiancée is ravaged by one of his own kind.
Wants some Freebies? 
WANTED:  JoBeth Riley is an outlaw, but Sheriff Jace Kelly is determined to steal her her heart. Use this
Coupon Code: DM84T
and claim your FREE READ! Are you stuffing those Christmas stockings?
https://www.smashwords.com/books/view/64772
Ride the Storm with the
Storm Riders
... Change the past and rewrite the future... Christmas in July with Rebecca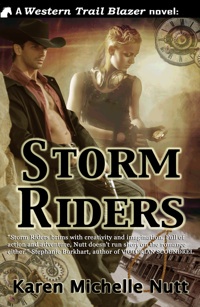 J. Vickery Publishing and Western Trail Blazer!
Coupon Code: FJ33B

Seasons Greetings from Sandy the Snowman! It's that time of the year again!
CHRISTMAS in JULY July 24 - July 25!
Once a year is not enough for Christmas and Winter Holiday decorations, movies, books and stories. Please join the authors as we post our Holiday book titles, share recipes & decorating, and discuss movies.
What would Christmas or the Holidays be without gifts?

Click on the link beside the titles you want and grab a free read from our authors. 
Christmas Dessert Decadence (recipes): Smashwords 
Give it All You've Got by Linda Swift: PublishingbyRJV 
The Cattlemen's Ballby Celia Yeary: PublishingbyRJV
Last Assignment by Les Williams: PublishingbyRJV
Death at the Whistling Swan by John D. Nesbitt: PublishingbyRJV
O'Halloran's Hell by Adrian Scott: PublishingbyRJV
Deirdre by Miriam Newman: Smashwords 
The Trouble With Fishing by Rebecca J. Vickery:
Smashwords Use Coupon Code: JD93E
***Please be sure to check within the comments as authors and followers will be adding links to other freebies, participating blogs, and fun links as well. Tell all your friends!  http://rebeccajvickery.blogspot.com/
I'm giving away a free Kindle copy of MISTLETOE, STAKES, AND YULETIDE CHEER on J

uly 24th and July 25!


Amazon Kindle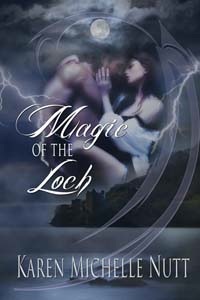 Magic of the Loch is on sale for only 99 cents at The Wild Rose Press and at Amazon! It's a big savings from its usual ticket price of $5.99. So if you haven't picked up a copy, here's your chance to own it for less than a buck!
W is for Werewolf
A werewolf is a lycanthrope, which is a human who can shape shift into a wolf form. In mythology it is believed a person can become a werewolf by being bitten by another werewolf. They shift only when the moon is full and they lose all sense of being human, preying on humans and animals alike. Some African tribes still believe in this.
The Irish have a different take on werewolves. The werewolves aren't man-eating creatures and they could change from wolf to human at will.
They also believed the wolves protected children, guarded wounded men, and have also guided a lost person to safety.
The Giraldus Cambrensis, who lived in 1185, wrote down these Irish legends.
One legend is about the people of Ossory, who had the power to change into wolves whenever they wanted. When an Ossorian became a wolf he would leave his body at home as if he were dead. He would leave strict orders with at trusted friend not to move the body. If someone moved the body and the wolf couldn't find it, he would remain a wolf for the rest of his life. In his wolf form, he lost all human aspects and would attack sheep and cattle, as any other wolf would do.
Another legend concerning the Ossorian people is that St. Natalia cursed them for their sins. Two Ossorians, a man and a woman would live in the shape of wolves for seven years. After they completed the cycle, they would return home and another couple would take their place.
In Irish folklore the werewolf motif is found throughout history. There are tales about wolf-men tribes that lived in County Tipperary. The ancient kings of Ireland would ask for their help when threatened by war. There are other tales about half-men, half-wolves living in the mountain regions.
It was also believed a wolf talisman would ward off evil.
Though the werewolf legends have survived, the wolves did not. The last wolf spotted in Ireland was in 1786.
In Moon Shifter and in Soul Taker, my werewolves are from the Irish Clan the Mac Tire. They can shift at will. The older werewolves can shift from one reality to the other without having to strip down to their bare bum.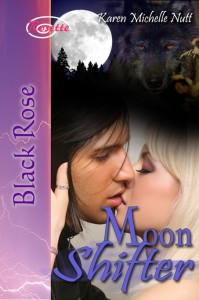 Sydney believes she is a monster, a werewolf. She flees before Grayson can help her adjust, but Grayson must find her. Sydney's body is still changing and the were-lust will drive her crazy if not sated. He has until the full moon to help her tame the wolf inside and convince her she's his soul mate. If he fails, he loses her forever.
Sydney still craves Grayson's touch, but can her heart forgive him for making her one of the Mac Tíre?
Available at Wild Rose Press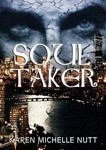 No soul is safe…
A vampire from the Grim Sith sept is sucking the souls out of young women from the Boston area, but this sinister crime is far worse than a vampire seeking substance. He's selling the souls to the highest bidder and it seems business is booming.
A vampire, a werewolf, and a Necromancer are a most unlikely team, but Garran, Harrison, and Isabella plan on putting a kink in the dubbed Soul Taker's plans. It's personal now. One of their friends has fallen victim to the Soul Taker's charms, but to stop him from hurting anyone else, their efforts may involve raising the dead.
E-book Available at: Amazon Kindle
Here's the list to the other A to Z Challenge participants. Have fun hopping!!
This is the 15th day of the A to Z Challenge.
O is for Omens
Do you really believe a four-leaf clover will bring you luck? Or if you see a penny and pick it up, you'll have good luck?  How many of you have a St. Christopher medal in your car?  Maybe you wear a talisman of some sort or perhaps it is simply a lucky shirt.  Many people believe in charms and their magical properties of luck and protection.  Whatever it may be, you are not alone. Below are a few omens and good luck charms that may or may not be familiar to you.
Animals
Never disturb the swallow's nest. They are wise birds and will take note of your behavior. They will either give you a reprimand, or perhaps if they think you are worthy, grant you a kindness.
If you happen to find a horse's back tooth, you should carry it with you as long as you live, for you will never want for money.  Remember you have to find it by chance, not by extracting the tooth yourself.  You cannot give it to someone else for the charm will be broken.
If a dog follows you home it is a good omen.
Sparrows are thought to carry the souls of the dead. So it is bad luck if you kill one.
If a bird flies through your house, there will be important news, but if the bird cannot get out, the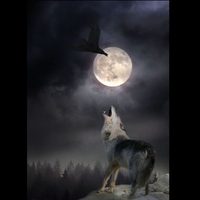 news will be death.
Do you visualize a raven when they think of macabre writings of Edgar Allan Poe and his preoccupation with omens of death? It was unlucky in Wales to have a crow cross your path. However, if two crows crossed your path, the luck was reversed. "Two crows I see, good luck to me".
Greeks thought dogs could foresee evil. If you have your new-born baby licked by a dog, your baby will be a quick healer.
Howling dogs mean the wind god has summoned death, and the spirits of the dead will be taken.
If a black cat walks towards you, it brings good fortune, but if it walks away, it takes the good luck with it.
Insects
If there is a butterfly in your room, it means great pleasure and success, but you must not catch it, or the luck will change.
A cricket in the house is good luck.  If you kill it, all the other crickets will come into your house and eat your clothes.
Body
Ringing in the ears means news will soon be received. Three sneezes in a row means: a sign for more definite results.
If your palm itches, you will receive money, but if you itch it, your money will never arrive.
If your ear tingles, it means you are being talked about. Some believe if it is the right ear, it is for spite, but if it is the left year it is for love. (Others reverse this omen.) If you think of the person, friend, or acquaintance that is likely to be talking about you, and then mention the name aloud, the tingling will cease if you have guessed the right one.
Items
KNIVES crossed are a bad omen. If a knife or fork or scissors falls to the ground and sticks in the floor you will have a visitor. (Do you think this goes for tile floors?)
If an acorn falls from an oak tree and strikes you, it is a sign that good fortune will be yours.
When you leave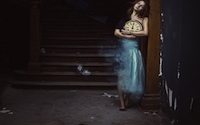 a party, you should throw a slipper. This will bring you good luck. (Is this why Cinderella marries a prince? lol)
If you have breakfast by candlelight on Christmas morning, you will have good luck.
A horseshoe lost by a horse and found by you with the open end facing your way, is good luck. You must hang the horseshoe over the door with the open end up so the good fortune doesn't spill out.
If you find a purse made from weasel's skin, you will never be without money.
At one time salt was a rare commodity and believed to have magical powers. If spilled salt the omen was family problems or death. To ward off this bad luck, one must throw a pinch of salt over the shoulder then all will be well.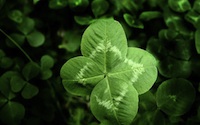 Clovers
A four-leaf clover represents God's Grace; therefore, good luck.
A white clover is held in high esteem by the Celts of Wales.  It is thought to ward off evil spirits.  
Druids held the four-leaf clover in high regard considering them good luck.
Other
When seeing a shooting star if you make a wish it will come true. (Hmm, hasn't so far. Lol)
If a flame of candle flickers and turns blue, there is a spirit in the room.
A chill up your spine means someone in the future is walking on your grave.
A person born on Halloween will have the gift of communicating with the dead.
BIRTHDAYS
"Monday's child is fair of face,
Tuesday's child is full of grace,
Wednesday's child is full of woe,
Thursday's child has far to go,
Friday's child is loving and giving,
Saturday's child works hard for its living;
But a child that's born on the Sabbath-day
Is handsome and wise and loving and gay."
Which birthday omen is yours? Do you have any omens to share?

Print:Barnes and Noble
E-book: Amazon
In my historical time travel, A TWIST OF FATE, a fortuneteller interprets her vision. She has seen Arianna's death, but she also predicts Arianna will travel back in time where her true path awaits, and where she will find true happiness.  Is this good omen or bad omen? lol

P.E.A.R.L Finalist for Best Time Travel 2008
Has a twist of fate sent her back in time? This is a question which plagues Arianna Ward when she wakes up to find her memory in fragments, like a long forgotten dream.
Everyone claims her name is Annabelle. The year is 1814 and she's married to Captain Keldon Buchanan, a man who despises her. The more she learns about her life, the more she realizes why she's chosen to forget it. She's a liar and an adulteress. She doesn't understand why she wanted to destroy her marriage when her heart tells her she belongs with Keldon.
Keldon harbors his own secrets. He's the Highland Pirate and secrecy is the difference between life and death. He doesn't trust his wife, but he finds his heart softening to the woman his wife has become. If he didn't know better, he'd swear he's married to another woman and he's fallen in love with her.
Thank you so much for visiting. Come by tomorrow for P is for Paranormal. Here's the list to the other A to Z Challenge participants. Have fun hopping!!
***Free Photos from Desktop Nexus