Posts Tagged 'linda swift'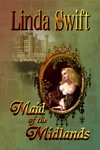 "Every book has two stories -- the one created by the author and the one about how the book came to be."
Linda Swift is the guest author today at KMN Books with her journey into publishing her historical romance, Maid of the Midlands. Let's give her a warm welcome. 
Contest: Leave your comments at KMN Books Blogspot about a challenge you've had in "getting it right" and you'll have a chance to win a digital copy of Maid of Midlands.