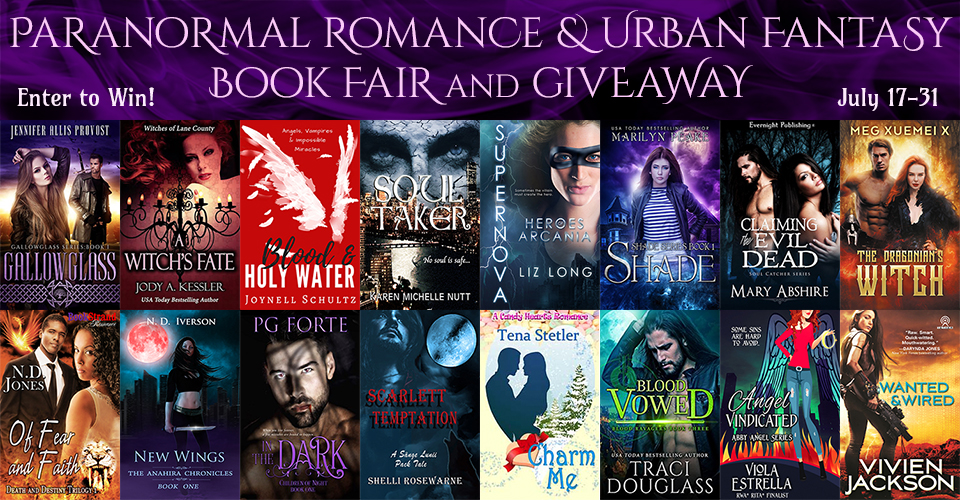 A Kindle Fire Loaded with 80 Paranormal Romance & Urban Fantasy Ebooks!
Paranormal romance and urban fantasy readers, this event is made for you! From July 17-31 enter to win our grand prize, a Kindle Fire HD 8 tablet filled with 81 PNR/UF ebooks from authors like Gena Showalter, Christine Feehan, J.R. Ward, Bella Forrest, Dannika Dark, and Jeaniene Frost, among other favorites, not to mention 30+ books written by our giveaway's super talented sponsoring authors. Or, you could win one of two $25 Amazon gift cards.
....and then stop by our Book Fair, where you'll find loads of great books from your favorite indie authors.
Enter to win:
I'm giving away a copy of Soul Taker!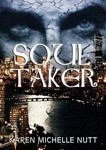 No soul is safe…
A vampire from the Grim Sith sept is sucking the souls out of young women from the Boston area, but this sinister crime is far worse than a vampire seeking substance. He's selling the souls to the highest bidder and it seems business is booming.
A vampire, a werewolf, and a Necromancer are a most unlikely team, but Garran, Harrison, and Isabella plan on putting a kink in the dubbed Soul Taker's plans. It's personal now. One of their friends has fallen victim to the Soul Taker's charms, but to stop him from hurting anyone else, their efforts may involve raising the dead.
E-book Available at:
Print Available at:
Audible is narrated by
Guy Veryzer
.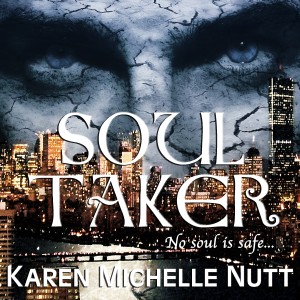 Good luck and

Stay cool this summer!
Karen
Save
Save
Save
Save
Save
Save
Save

Paranormal Romance Addicts:
You can never have enough books, am I right? Here's your chance to add books to your library and have a chance to win Up To $2,500 In Gift Cards. Everyone Who Enters Wins A Massive, Steaming-Hot Library!
Hot for paranormal romance? Discover your new favorite series with this 50 author giveaway featuring some of the hottest New York Times & USA Today bestsellers as well as many, amazing breakout authors!  Best Part?  Everyone who enters will win a MASSIVE paranormal romance library!
Check out all the book covers of the amazing books you'll be getting free just for joining!  (Because YES everyone who enters wins a full, steaming hot paranormal romance library!)
Hurry and enter now because this giveaway ends June 31st! Click Here For Details & To Enter Free Now >> https://ilovevampirenovels.com/win2500cards-june-2017/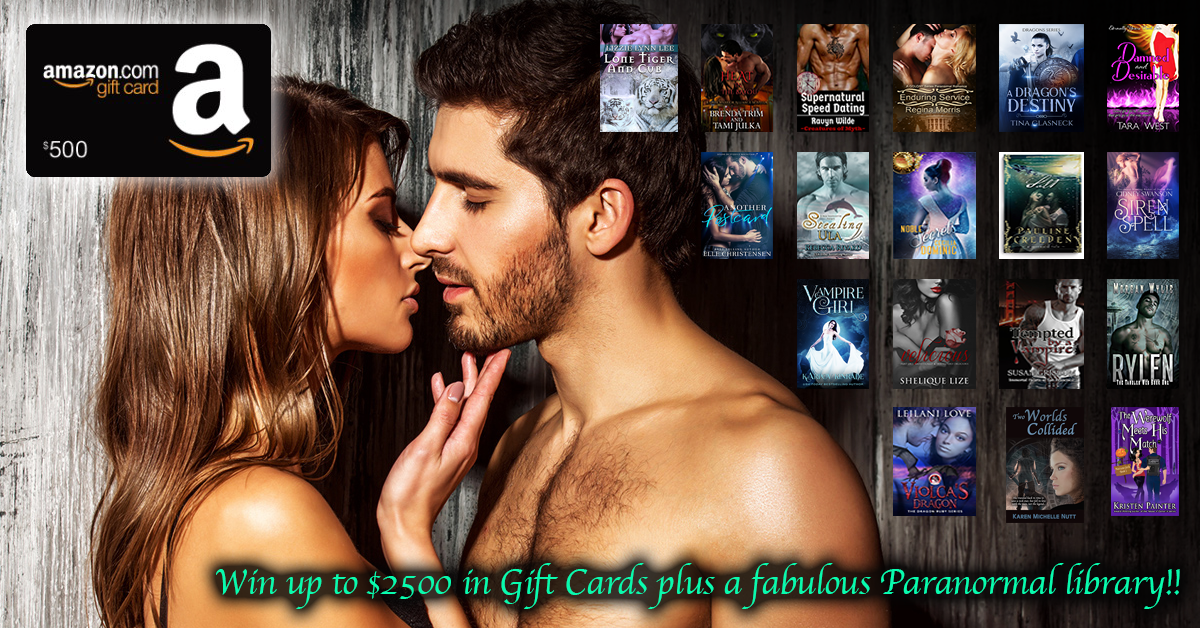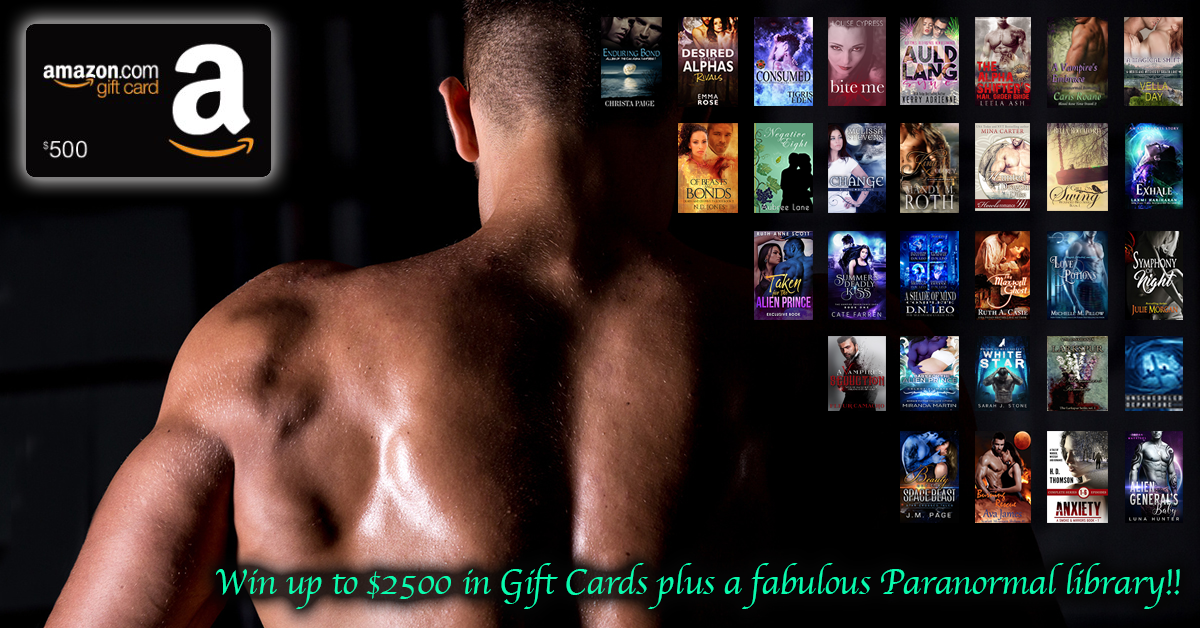 We're giving away five (five) $500 Amazon gift cards to the top winners
Everyone who enters wins a full, digital library of paranormal romance from some of the hottest New York Times, USA Today bestsellers, as well as, fantastic breakout authors!
Everyone gets free books from: Mandy M. Roth, Bella Roccoforte, Caris Roane, J. M. Page, N. D. Jones, Michelle M. Pillow, Brend Trim and Tami Julka, Kerry Adrienne, Pauline Creeden, Cecilia Dominic, Calinda B, Emma Rose, Lizzie Lynn Lee, Susan Griscom, Christa Paige, Vella Day, Kristen Painter, Laxmi Hariharan, Miranda Martin,  Shelique Lize, Aubree Lane, Tigris Eden, Ruth A. Casie, Ruth Anne Scott, Leilani Love, Melissa Stevens, Rebecca Rivard, Karpov Kinrade, Tina Glasneck, M. Gaskiernia, H.D. Thomson, Sarah J, Stone, Mina Carter, Xyla Turner, Cidney Swanson, Morgan Wyile, Tara West, Regina Morris, Leela Ash, TM Franklin, Julie Morgan, Luna Hunter,  Elle Christensen, Ravyn Wilde,     Karen Michelle Nutt, Fleur Comacho, Cate Farren, Jennifer Bardsley, and D. N. Leo
When entering the giveaway, don't forget to sign up for every author's newsletter to be eligible for the grand prize.
Save
Save
Save
Save
Save
Save
Save
Save
Save
Save
Save