It's Six Sentence Sunday! This is the third tidbit from my upcoming release (August 2012) with The Wild Rose Press: Magic of the Loch.
Location: Drumnadrochit Scotland, which lies at the head of Urquhart Bay on Loch Ness and is the focal point for interest in the Loch Ness Monster.
Continued from last week: This is Alan and Michaela's encounter on the pier. Alan just saved Michaela from being toppled into the loch by his German Shepherd. Alan isn't pleased to have a visitor and tells her she's trepassing. If she wants to take a tour of the loch, she needs to call ahead.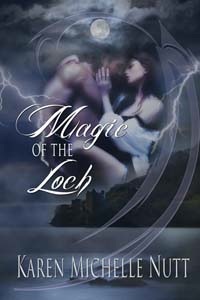 SIX SENTENCE SUNDAY #3:
His (Alan's) blue eyes, like a flickering flame of a gas stovetop sparked with intent to burn.
What an unpleasant man. If she possessed the strength, she'd push him in the loch to cool off his hot temper.
Intent on giving him an off-handed retort, her mouth opened only to clamp shut again at the sound of a deep chuckle behind her. Michaela turned her head and glared at the new arrival with the warped sense of humor.
"I'm sorry, for my brother's behavior," the man, who stood an inch or two taller than Hot Head next to her, announced with a meaningful glint in his eyes.
*************************************************************************************
If you'd like to participate with the Six Sentence Sunday here's what to do:
1) pick a project – a current Work in Progress, contracted work or even something readers can buy if you're published
2) pick six sentences
3) post 'em on Sunday
See? Easy. Want to play? See the site for information on how to do just that:http://sixsunday.com
If you have a Twitter account, you can add the hashtag #sixsunday to your tweets when you tweet a link to your Six Sentence Sunday post. If you're a writer (regardless of published/unpublished status) come join us!