THE CONTEST IS CLOSED AND THE WINNER IS... DENISE HOLCOMB! CONGRATULATIONS!
THANK YOU EVERYONE FOR PARTICIPATING INT HE HOP.

Valentine's Day is celebrated on February 14 and is the day of romantic gestures. People hand out cards and buy chocolates and flowers for the people they love. It's all about the romance, but what if you and your one and only love kept missing each other, or perhaps he or she wasn't even from this century? If given the chance, would you travel back in time to find him or her?
For this Valentine's Day post, I'm focusing on what we would do for love as we explore the possibilities of 'what if'?
From finding a portal to using a time machine or any other method that manipulates time and space, time travel romances have been an appealing notion to many. Who doesn't want to visit medieval Ireland or Scotland or even the wild, wild west? What if you could stop someone from making a life-shaping mistake? The possibilities are endless.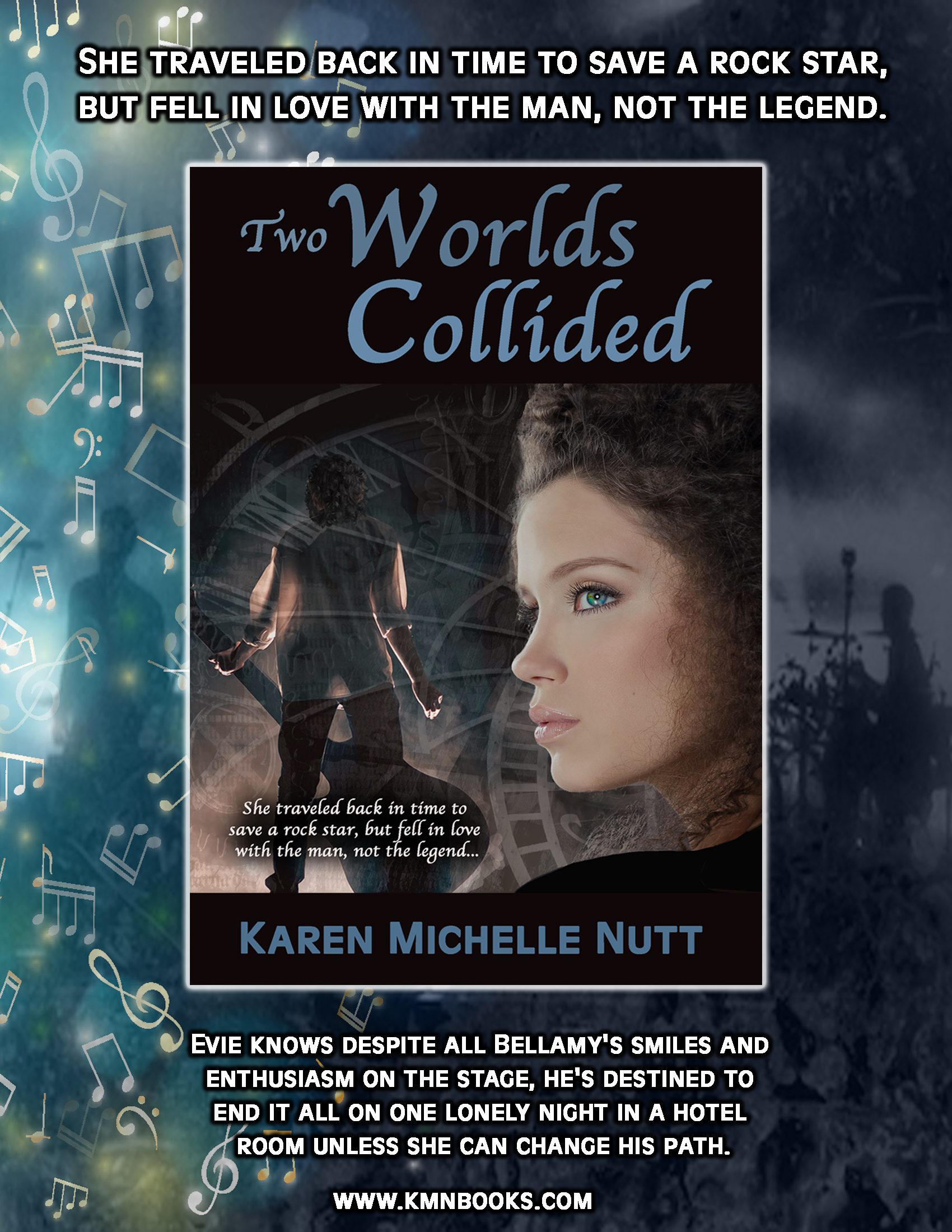 In my time travel tale,
Two Worlds Collided

, Evie travels back in time from 2007 to 1997 to save Rock Star, Bellamy Lovel from ending his life. A ritual is involved and her essence, not her body, travels along the timeline to a point where she merges with her younger self. Changing the past is not an easy attempt, and changing someone's destiny proves even more of a challenge.
There are rules to time travel. You can't travel back in time to the same event line twice. It's a one-time shot. Everyone has choices, a fork in the road that can lead to two totally different outcomes. Doesn't mean one path will be what you hoped for, but it's an option if you know the other path totally sucks.
To travel back in time to change someone's past, the correct variable must be present to make the time travel a success. Evie had those variables. She had crossed paths with Bellamy when she was young and would have crossed paths with him again, but she'd taken another path. She was supposed to be with him on the final tour where he ended his life. Last, she possesses an item that belonged to Bellamy. She had the anchor to the past and she had an anchor to come back to the present because of her friends that would be waiting for her return.
Sounds easy, right? Well, bad-boy Bellamy doesn't always cooperate with her plans to nudge him in the right direction. Every move she makes doesn't give her a clear picture to what he'll decide in the end.
About Two Worlds Collided:
Evie Reid on a whim agrees to travel back in time to 1997 to change bad boy Bellamy Lovel's path of destruction. She's smart with a college degree, but she is still fan-girl crazy for the rock band, Civilized Heathens. Evie knows despite all Bellamy's smiles and enthusiasm on the stage, he's destined to end it all on one lonely night in a hotel room unless she can change his path.
Bellamy isn't keen on having Evie as his personal assistant, hired by his band mates to watch over him, and keep him on schedule. However, there is something about the woman that sparks his interest, despite his best to ignore her. When darkness threatens to consume him, he realizes she may be the only light that will chase the shadows away.
Available at:
***
****For my giveaway****

One lucky winner will receive a $10 Amazon Gift Card, and an eBook copy of Two Worlds Collided gifted through Amazon. (PDF is available upon request.) If you've already purchased Two Worlds Collided, feel free to choose another one of my books to be gifted to you if you should be the lucky winner.
What do you need to do to win the prize?
Leave your email in the comments

Answer the question? If you time traveled, where would go and why? (The old west? The 50s? Medieval Scotland? Old west? Choose a place. Or would you just go far enough back so not to make that mistake again!)
Good Luck! I'll announce the winner on Feb. 15th.
Free to all: A recipe for Chocolate Peanut Butter Truffles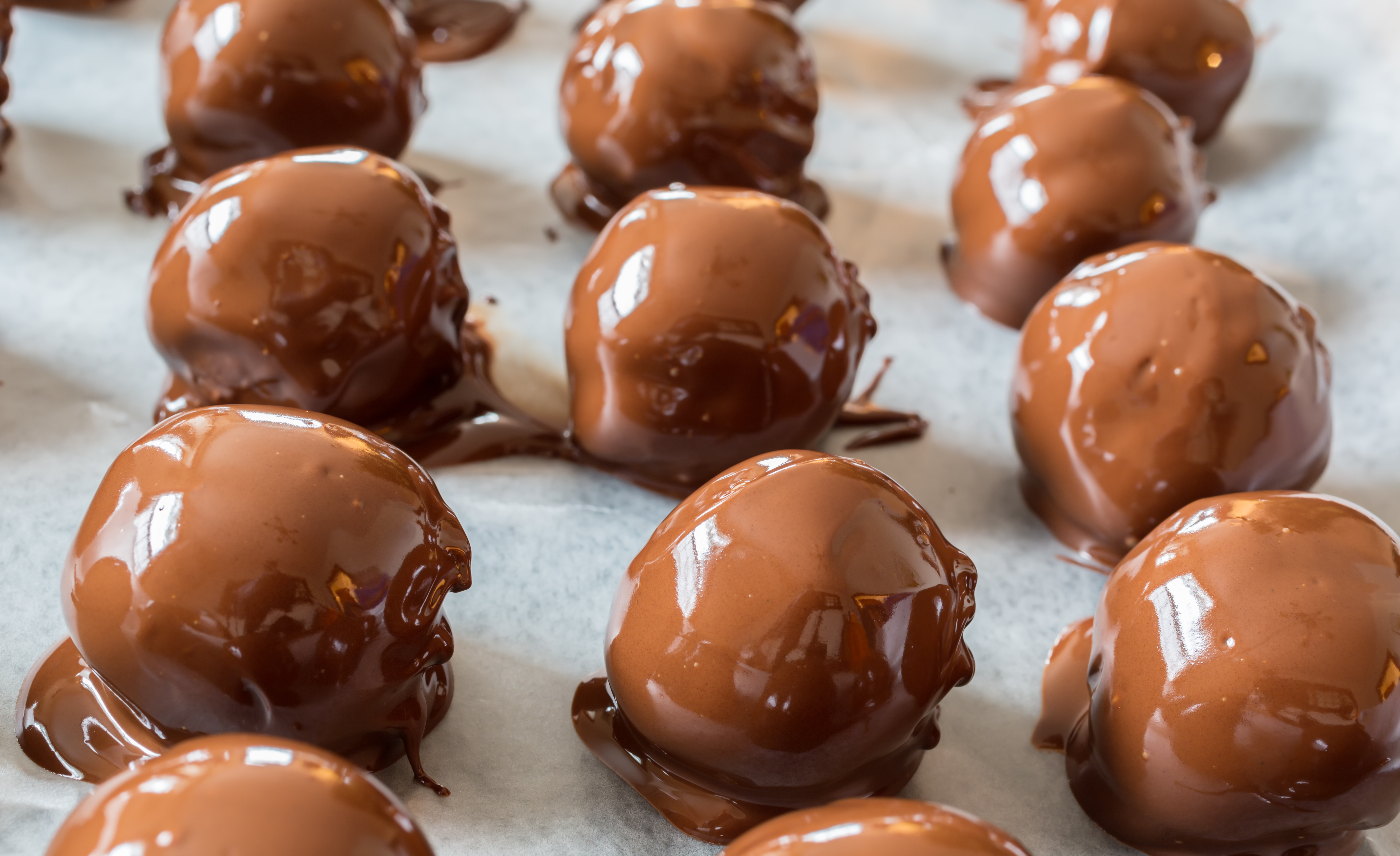 Ingredients
Roll of refrigerated peanut butter cookie dough (I prefer Pillsbury)

A bag of semisweet chocolate chips (2 cups) ( I prefer Nestle)

Optional (Chopped Peanuts)
Heat oven to 350°F.
Shape cookie dough into 1 1/4-inch balls and place 2 inches apart on a cookie sheets.
Bake until light golden brown (Usually 8-9 minutes). Cool on cookie sheets 5 minutes. Refrigerate 10 to 15 minutes or until completely cooled. Meanwhile, line the cookie sheet with waxed paper and them set aside.
In medium bowl, microwave chocolate chips uncovered on High 60 to 90 seconds, stirring until smooth.
Dip cooled cookie balls, one at a time, into the melted chocolate and place them on the cookie sheet. (You may have to reheat chocolate)
(Optional- If you like, also add chopped peanuts on top of the cookie before the chocolate sets.)
Refrigerate truffles about 10 minutes or until coating is set.
Enjoy!
Don't forget to hop on over to the other blogs for more fun and a chance to win more prizes. Also, enter the Rafflecopter for the grand prize.
***
Save
Save
Save
Save
Save
Save
Save