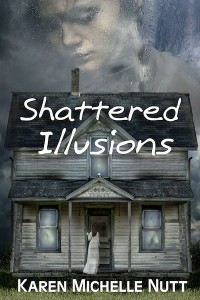 Shattered Illusions (Short Story)

Publisher: Rebecca J. Vickery Publishing
Ebook: $0.99
#SW ISBN-13: 9781311781338
#ASIN-
Heat index: sensual to stimulating (1 flames) Pages: 25
Cover Artist: Gillian's Book Covers, "Judge Your Book By Its Cover"
Available at:
Ebook: Amazon / Amazon UK / ARe / OmniLit / iBook / Smashwords /Nook /Kobo
In Print: Amazon  / Amazon UK / Barnes and Noble /Createspace/Book Depository
Blurb:
Brona lives in an isolated house on the cliffs which overlook the sea. She arrives home to find the door ajar. Her husband is out of town and her sister, who is staying with her, has disappeared.
Blood-stained floors appear and disappear, low whispering voices greet her, and a storm outside rages causing the lights to flicker. Brona must put her fears behind her and unravel the mystery that haunts this house.
Save
Save
Book Video:

Save